tutorial, commentary, study resources, plot, and web links
The Angel at the Grave first appeared in Scribner's Magazine in February 1901 and was collected in Edith Wharton's compilation of short stories Crucial Instances published later the same year. Scribner's was a New York company which went on to present the work of F. Scott Fitzgerald, Ernest Hemingway, and Thomas Wolfe. Many of its authors have been Pulitzer Prizewinners – including Edith Wharton herself.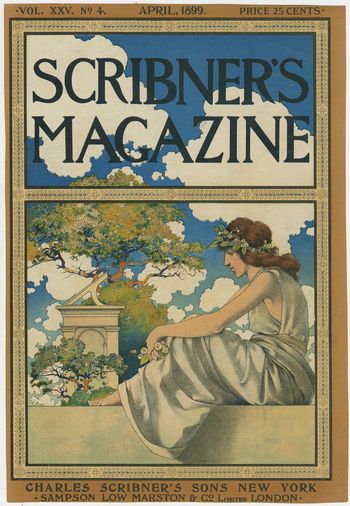 cover design by Parish Maxfield
---
The Angel at the Grave – critical commentary
This is a story which is poised very delicately between a tragedy of wasted spirit and a redemptive tale of long-suffering patience finally rewarded. Paulina Anson is a figure of female self-sacrifice. She rejects the early offer of love from Hewlett Winsloe, and chooses to remain at home rather than go to New York. The house which symbolises the life and work of her grandfather starts out as a place of comfort for her, but gradually becomes a living tomb. Even her creative efforts in writing her grandfather's biography come to nothing, and eventually she feels that her life has been wasted.
The success of the redemptive ending depends a great deal on its credibility. Corby intends to write an article commenting on Anson's pamphlet on the amphioxus, which demonstrates missing evolutionary links between the invertebrate and the vertebrate world. We are expected to believe that this will restore interest in Anson's work, possibly make Corby famous, and will validate Paulina's long-unrewarded dedication to her grandfather. This is rather a lot to ask, and any idea that there might be some romantic link between the two believers ('she looked as though youth had touched her on the lips') should be tempered by the observation that Paulina is by this stage of the tale a middle-aged woman and Corby a 'fresh-eyed sanguine youth'.
---
The Angel at the Grave – study resources

Edith Wharton Stories 1891-1910 – Norton Critical – Amazon UK

Edith Wharton Stories 1891-1910 – Norton Critical – Amazon US

The Angel at the Grave – eBook format at Project Gutenberg

The Angel at the Grave – eBook format

The Angel at the Grave – hardback edition

A Historical Guide to Edith Wharton – Amazon UK

The Cambridge Introduction to Edith Wharton – Amazon UK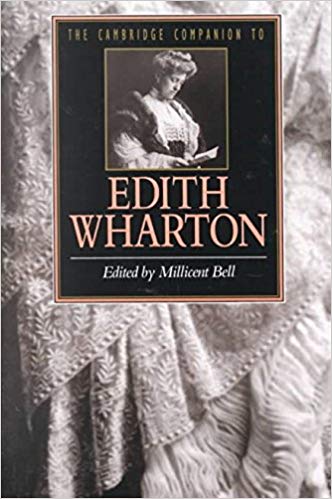 ---
The Angel at the Grave – plot summary
Part I   Paulina Anson has grown up in the New England house of her grandfather, a celebrated Transcendentalist philosopher. She is the only member of the family who can read and understand his works. When a young New York scholar visits the house and marriage seems a possibility, she turns him down because she refuses to go to New York.
Part II   She devotes herself to the house and to the memory and work of her grandfather. By the age of forty she has written his definitive biography, but when she takes the manuscript to his publisher they tell her there is no longer any public interest in his work. She then tries to understand how and why her grandfather's reputation has faded when those of his contemporaries (Emerson and Hawthorne) remain alive. She concludes in despair that both she and her grandfather have wasted their lives.
Part III   Subsequently, she is visited by a young scholar George Corby who wants to write an article on one of Anson's early anatomical discoveries. When Paulina produces the long-forgotten pamphlet from the archives, Corby is ecstatic. She warns him that she has ruined her life guarding her grandfather's legacy – but he argues that by staying in the house she has saved from oblivion a work which will now bring his reputation back to life.
---
The Angel at the Grave – main characters
| | |
| --- | --- |
| Orestes Anson | a New England transcendentalist philosopher |
| Paulina Anson | his grand-daughter |
| George Corby | a young researcher |
| Hewlett Winsloe | a young man and suitor to Paulina |
---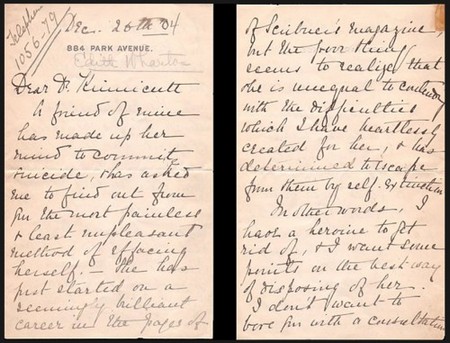 Edith Wharton's writing
---
Further reading
Louis Auchincloss, Edith Wharton: A Woman of her Time, New York: Viking, 1971,
Elizabeth Ammons, Edith Wharton's Argument with America, Georgia: University of Georgia Press, 1982, pp.222. ISBN: 0820305138
Janet Beer, Edith Wharton (Writers & Their Work), New York: Northcote House, 2001, pp.99, ISBN: 0746308981
Millicent Bell (ed), The Cambridge Companion to Edith Wharton, Cambridge: Cambridge University Press, 1995, pp.232, ISBN: 0521485134
Alfred Bendixen and Annette Zilversmit (eds), Edith Wharton: New Critical Essays, New York: Garland, 1992, pp.329, ISBN: 0824078489
Eleanor Dwight, Edith Wharton: An Extraordinary Life, New York: Harry N. Abrams, 1994, ISBN: 0810927950
Gloria C. Erlich, The Sexual Education of Edith Wharton, California: University of California Press, 1992, pp.223, ISBN: 0520075838
Susan Goodman, Edith Wharton's Women: Friends and Rivals, UPNE, 1990, pp.220, ISBN: 0874515246
Irving Howe, (ed), Edith Wharton: A collection of Critical Essays, London: University of North Carolina Press, 1986,
Jennie A. Kassanoff, Edith Wharton and the Politics of Race, Cambridge: Cambridge University Press, 2004, pp.240, ISBN: 0521830893
Hermione Lee, Edith Wharton, London: Vintage, new edition 2008, pp.864, ISBN: 0099763516
R.W.B. Lewis, Edith Wharton: A Biography, New York: Harper and Rowe, 1975, pp.592, ISBN: 0880640200
James W. Tuttleton (ed), Edith Wharton: The Contemporary Reviews, Cambridge: Cambridge University Press, 1992, pp.586, ISBN: 0521383196
Candace Waid, Edith Wharton's Letters from the Underworld, London: University of North Carolina Press, 1991,
Sarah Bird Wright, Edith Wharton A to Z: The Essential Reference to Her Life and Work, Fact on File, 1998, pp.352, ISBN: 0816034818
Cynthia Griffin Wolff, A Feast of Words: The Triumph of Edith Wharton, New York: Perseus Books, second edition 1994, pp.512, ISBN: 0201409186
---
Video documentary
---
Other works by Edith Wharton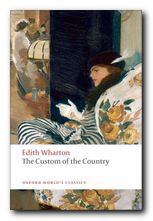 The Custom of the Country (1913) is Edith Wharton's satiric anatomy of American society in the first decade of the twentieth century. It follows the career of Undine Spragg, recently arrived in New York from the midwest and determined to conquer high society. Glamorous, selfish, mercenary and manipulative, her principal assets are her striking beauty, her tenacity, and her father's money. With her sights set on an advantageous marriage, Undine pursues her schemes in a world of shifting values, where triumph is swiftly followed by disillusion. This is a study of modern ambition and materialism written a hundred years before its time.


Buy the book from Amazon UK


Buy the book from Amazon US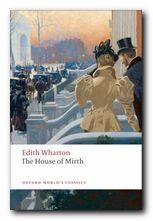 The House of Mirth (1905) is the story of Lily Bart, who is beautiful, poor, and still unmarried at twenty-nine. In her search for a husband with money and position she betrays her own heart and sows the seeds of the tragedy that finally overwhelms her. The book is a disturbing analysis of the stifling limitations imposed upon women of Wharton's generation. In telling the story of Lily Bart, who must marry to survive, Wharton recasts the age-old themes of family, marriage, and money in ways that transform the traditional novel of manners into an arresting modern document of cultural anthropology.


Buy the book from Amazon UK


Buy the book from Amazon US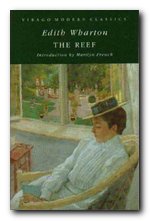 The Reef deals with three topics with which Edith Wharton herself was intimately acquainted at the period of its composition – unhappy marriage, divorce, and the discovery of sensual pleasures. The setting is a country chateau in France where diplomat George Darrow has arrived from America, hoping to marry the beautiful widow Anna Leith. But a young woman employed as governess to Anna's daughter proves to be someone he met briefly in the past and has fallen in love with him. She also becomes engaged to Anna's stepson. The result is a quadrangle of tensions and suspicions about who knows what about whom. And the outcome is not what you might imagine.


Buy the book from Amazon UK


Buy the book from Amazon US
---
Edith Wharton – web links
Edith Wharton at Mantex
Biographical notes, study guides to the major novels, tutorials on the shorter fiction, bibliographies, critiques of the shorter fiction, and web links.
The Short Stories of Edith Wharton
This is an old-fashioned but excellently detailed site listing the publication details of all Edith Wharton's eighty-six short stories – with links to digital versions available free on line.
Edith Wharton at Gutenberg
Free eTexts of the major novels and collections of stories in a variety of digital formats – also includes travel writing and interior design.
Edith Wharton at Wikipedia
Full details of novels, stories, and travel writing, adaptations for television and the cinema, plus web links to related sites.
The Edith Wharton Society
Old but comprehensive collection of free eTexts of the major novels, stories, and travel writing, linking archives at University of Virginia and Washington State University.
The Mount: Edith Wharton's Home
Aggressively commercial site devoted to exploiting The Mount – the house and estate designed by Edith Wharton. Plan your wedding reception here.
Edith Wharton at Fantastic Fiction
A compilation which purports to be a complete bibliography, arranged as novels, collections, non-fiction, anthologies, short stories, letters, and commentaries – but is largely links to book-selling sites, which however contain some hidden gems.
Edith Wharton's manuscripts
Archive of Wharton holdings at the Beinecke Rare Book and Manuscript Library
© Roy Johnson 2014
---
Edith Wharton – short stories
More on Edith Wharton
More on short stories
---