best-selling introduction to study skills for the arts
This is a set text on one of the Open University's humanities foundation courses, and it has quite rightly become a best-seller. The Arts Good Study Guide can be used as an introductory workbook or as a source of reference. It deals with reading and note-taking, essay writing, working with numbers, and preparing for examinations. It starts with getting yourself organised and managing your time, then goes on to the core study skills for subjects in the arts and humanities. These are reading skills and taking notes, various approaches to studying, writing skills, and then the central issue of writing essays. There's a useful section on what is particular to studying the arts – questions of analysis, meaning, and interpretation.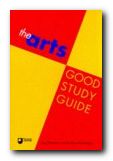 It also deals with how you communicate your ideas and opinions; what constitutes evidence; and how you might conduct your own research or projects. Finally, there is a section on revision and examination skills, dispelling some myths about exams, pointing to some of the common pitfalls, and providing tips on the best approach This is a text-heavy book – no pictures – but all the advice is intensely practical and based on real-life examples. The main features worth recommending are its use of realistic examples and the friendly manner in which it addresses the reader. It engages you as actively as possible by posing questions, highlighting important points, setting short quizzes, and breaking up the exposition into manageable chunks.
This approach to active and [in educational jargon] 'open' learning is particularly suitable for anyone embarking on a distance-learning course, or students engaged in any form of independent learning. In fact there are now separate versions for sciences and social sciences. There are suggestions for further reading, there's a full index, and at its current price this is exceptionally good value.
© Roy Johnson 2002
---
Ellie Chambers and Andrew Northedge, The Arts Good Study Guide, Milton Keynes: The Open University, 2002, pp.276, ISBN: 0749287454
---
More on study skills
More on writing skills
More on online learning
---