short stories from a 'new woman' of the 1890s
Kate Chopin was an American writer who is now best known for her novel The Awakening (1899) which was 're-discovered' in the 1960s. But in fact she was a professional and quite successful author in her own lifetime who earned part of her living by placing her short stories with magazines. Her stories embrace the modern tradition, created in the late nineteenth century, of describing situations or dramatic episodes, then leaving them to speak for themselves.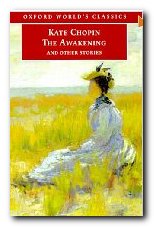 Without doubt she was what many people would call 'ahead of her time'. It is no surprise that with the reassertion of women's rightful place in cultural history which occurred in the 1960s, she was seen as an unjustly neglected figure. And reading her stories today, it's amazing how fresh and modern they seem, My guess is that she will now retain her place in the literary canon.
She comes from the aristocratic landowning south of the United States with the Gulf of Mexico and the Caribbean as its neighbours, and this cultural miscegenation is reflected in her writing – both in the linguistically rich mixture of English, French, and Spanish vocabulary and in the mores of her characters.
She tackles many of the subjects favoured by 'new women' of the period – the critique of patriarchy, the yearning for self-expression amongst females, the social perspective on daily life which sees the personal as political.
Her default manner is a mild Jane Austen-like irony which reveals the vanities and foolishness of everyday life. In tone and literary style, she is very much a precursor to Jean Rhys – another female Caribbean writer who explored similar themes.
The major text in this collection is her short novel or novella – The Awakening. It's this work by which she is now best known, but in fact this should not detract from her accomplishments as a writer of short stories.
The Awakening is a slow, beautifully paced work set in New Orleans at the end of the nineteenth century. Edna Pontellier is a married woman on summer holiday on the Gulf in the process of waking up to a new sense of responsiveness to the world. She does this via ecstatic responses to social mood, to romantic music, and to swimming at night.
A feeling of exultation overtook her, as if some power of significant import had been given her to control the working of her body and hr soul. She grew daring and reckless, overestimating her strength. She wanted to swim far out, where no woman had swum before.
The narrative is composed of short scenes, pregnant with significance, which follow each other like the acts of a play. She captures perfectly the elegant cadences of the aristocratic landowning south of which she was part.
When the holiday is over she progressively distances herself from her husband and even her children. She is also surprised to discover that she misses a young would-be lover when he leaves abruptly to seek his fortune in Mexico. Nevertheless, when her husband goes away on business she begins a flirtation with another man.
With husband conveniently out of the way, when the first lover returns unexpectedly, she declares herself to him, but almost immediately realises that one man succeeding another in her life is not the answer to the process of self-realisation which her summer experiences have brought about.
This has quite rightly become a central text for anyone even mildly sympathetic to the feminist movement – the story of a conventionally successful woman who chooses to reject the central values of her society in favour of pursuing a goal of self-realisation. Ultimately, she opts to pay the ultimate price for doing so – but the consummate skill with which her narrative is articulated makes it a milestone of the twentieth century, on whose eve it was published.
© Roy Johnson 2009

  Buy the book at Amazon UK

  Buy the book at Amazon US
---
Kate Chopin, The Awakening and Other Stories, Oxford: Oxford University Press, 2000, pp.410, ISBN: 0192823000
---
More on literature
More on the novella
More on literary studies
More on short stories
---