comic classic of Victorian suburban life
The Diary of a Nobody (1888) is a minor classic of the late Victorian period. It combines the sort of elements of social realism found in George Gissing and H.G. Wells with the whimsy of Edward Lear and even Lewis Carroll (though without his surrealistic sense of the ridiculous). And it established its diarist and protagonist Charles Pooter as a comic archetype of lower middle class pretentiousness, class insecurity, and slavish devotion to social conventions. The wit is so understated, it might pass you by if you don't read closely.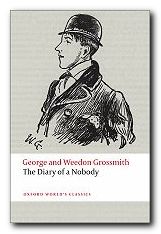 The texts of George Grossmith's diary entries were first published in Punch in 1888 then issued in a single volume with illustrations by his brother Weedon in 1892. They establish a strain of very English humour – a particularly lightweight, understated, affectionate type of poking fun at pretension that has continued ever since, surfacing in such mixed sources as Richmal Crompton's William stories, Sue Townsend's The Diary of Adrian Mole, and the television series Dad's Army.
Pooter establishes his intentions in the mock-heroic introduction to the Diary:
Why should I not publish my diary? I have often seen reminiscences of people I have never heard of, and I fail to see—because I do not happen to be a 'Somebody'—why my diary should not be interesting.
But of course the joke is that his life is monumentally uninteresting. He lives in a humble London suburb working as a clerk in the City, and spends his leisure time applying paint to inappropriate surfaces in the house that he rents in Holloway. His long-suffering wife Carrie tolerates his enthusiasms, whilst his feckless and improvident son Lupin simultaneously patronises him and takes advantage of him – behaviour many parents will recognise.
His only friends, Gowing and Cummings are buffoons who drop into the house most evenings to drink his wine and play dominoes, and they quite flagrantly fail to reciprocate his hospitality. On summer holiday in Broadstairs, Pooter welcomes the bad weather as an excuse to go to bed early, and other domestic highlights include evenings spent reading Exchange and Mart to his wife.
All Pooter's interactions with his neighbours, with tradesmen, and with servants result in slapstick and farcical confrontations. He writes to the newspapers to complain that he has been missed off the report of a function's guest list; he makes feeble puns and record how amusing he thinks they are even if other people don't; and he records events of mind-numbing triviality such as planting mustard and cress seeds in the borders of his back garden, then taking careful daily note of their failure to appear.
It is not surprising that this type of comedy has persisted into new media. There is no packing in the narrative: in fact it is very like a contemporary comedy programme. Pooter's diary entries are a catenation of brief trivia, with recurrent themes and some interesting use of repetition – almost like a bathetic form of what are now called punch lines.
The diary entries record a series of foreseeable light disasters and embarrassments, knockabout farce (torn trousers and a straw topi sun hat) and there are some delightful recurrent motives – the blancmange that keeps reappearing at successive meals, and Pooter's plea when confronted by frustration: "I am not a rich man, but I would give half a guinea to find out who …"
The material is a sociologist's dream – the new piano bought on hire purchase instalments, the cost of meat and champagne, travel between the suburbs by bus and cabs, and the subtle distinctions between dinner, supper, and high tea, plus the times at which it is respectable or fashionable to eat them.
There are of course suburbs and suburbs. Holloway was a typical area of what is now inner London that was serving the commercial and the financial capital of Britain at the height of Victorian expansionism. Charles Pooter works as a clerk in the commercial sector, but it's interesting to note that his socially ambitious son Lupin works in the City – the centre of financial risk. He is a trader, who sells Pooter's friends bonds that sink, but who ends up prospering by stealing clients from one employer and introducing them to another.
But this is digging below the ideological surface of the text. The main substance for most readers will be the gentle comedy of manners that captures a lifestyle and an attitude of attention to the humdrum matters of everyday life that survives into the present. There are Pooters everywhere – maybe even in all of us.

Buy the book at Amazon UK

Buy the book at Amazon US
© Roy Johnson 2012
---
George and Weedon Grossmith, The Diary of a Nobody, Oxford: Oxford University Press, 2008, pp.143, ISBN: 0199540152
---