tutorial, commentary, study resources, plot summary
The Forsyte Saga is the best-known work of English novelist John Galsworthy (1867-1933). The story covers the events and history of a large upper middle-class family between the late Victorian era and the 1920s. Dramatic interest centres on unhappy marriages, the problems of divorce, and the powerful influence of one generation on the next.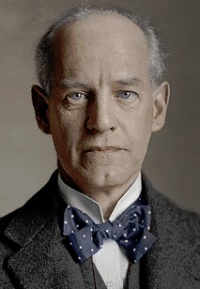 John Galsworthy
John Galsworthy is now something of a forgotten literary figure, but he was very popular in the Edwardian and Georgian periods. He wrote an enormous number of novels, stories, and plays. His earliest successes were in the theatre, and his best known play The Skin Game (1920) was adapted as a film by the young director Alfred Hitchcock in 1931. Galsworthy was awarded the Nobel Prize for literature in 1932.
The three novels of The Forsyte Saga have been adapted for the cinema many times. They were turned into a twenty-six part television drama series by the BBC in 1967 which was very popular. It was broadcast all over the world, becoming the first UK television programme to be sold to the Soviet Union. This did nothing to revive Galsworthy's critical reputation, but it helped to establish the vogue for the adaptation of literary classics as a stock-in-trade for the expanding television industry.
The Forsyte Saga – note on the text
The Forsyte Saga is a trilogy of novels which were published between 1906 and 1921. The first was The Man of Property (1906). This was followed by what Galsworthy calls an 'Interlude', Indian Summer of a Forsyte which was published in 1918. The second main part of the saga was In Chancery which appeared in 1920. The second 'Interlude' was Awakening also published in 1920, and the third part of the trilogy was To Let, published in 1921.
There were two further trilogies – A Modern Comedy (1924-28) and End of the Chapter (1931-1933). The whole enterprise is referred to collectively as The Forsyte Chronicles.
---
The Forsyte Saga – critical commentary
What is a saga?
The term 'saga' was originally associated with traditional stories of Nordic and Viking travels, feuds, and battles. The word means 'tale' or 'history'. In a modern context 'saga' has come to be used to describe any long-running narrative giving an account of domestic, political, or romantic events. It usually comes with the implication of multiple episodes, or a story stretching over a number of family generations, complex relationships, or long-running conflicts.
Galsworthy's use of the term is slightly ironic. He did go on to write more episodes (two more trilogies) of the Forsyte family, and gave the collective name to these works The Forsyte Chronicles, but it is the original trilogy which has remained his most enduringly popular creation.
The story of the first trilogy covers three generations of the Forsyte family between 1886 and 1920, many of the males of which rather confusingly have the same first name – Jolyon. The family is also split into two factions who do not get on with each other. At times it is difficult to tell who is related to whom. Fortunately the various elements of the plot are held together by the two central figures around whom much of the drama revolves.
The main story
The most important character is Soames Forsyte, a solicitor in the second generation of the family. He is married – very unhappily – to the beautiful Irene, who does not love him. She has an affair with the architect Philip Bosinney, then goes on to marry Soames' cousin, with whom she has a son Jolyon (Jon). Soames subsequently marries a French girl Annette (his second unhappy marriage) and they have a daughter Fleur.
These two factions of the family ignore each other, and the scandalous divorce of Soames and Irene is kept a secret from both their children. But in true fairy story tradition, the two children eventually meet each other and fall in love. Both sides of the family unite to prevent a marriage taking place. Fleur, the more spirited character, wants to defy the ban. But the more cautious Jon accepts the family prohibition in order to protect his mother's feelings. Fleur finally marries someone else, even though she is unhappy about doing so.
That is the essence of the saga, which begins and ends with the morally ambiguous figure of Soames, a man who wishes to maintain the ethical values of the mid-Victorian era he has inherited, even when they are generating his own unhappiness. He begins by commissioning the design of a grand estate in which he never lives, and ends ruminating in Highgate Cemetery on the evils of democracy and motor cars.
His beautiful, enigmatic wife Irene starts out in cold hostility to a husband she has married by mistake. She acts as a sexual magnet to several men throughout the story, and ends in a quasi-incestuous relationship with her son Jon. This rather symmetrically parallels the unhealthily close relationship Soames has with his daughter Fleur.
The main theme
Soames also conveniently embodies the main theme of the trilogy, which is the acquisition, maintenance, accumulation, and transmission of capital and property within the family. Hence the slightly ironic title of the first volume. Soames is dubbed 'The Man of Property' as he maintains the philosophy of material possession – even to the extent that he regards his wife (and later his child) as items under his control and ownership.
He is a wealthy property-owning solicitor who no matter what problems beset his personal life, goes on making more and more money. He is also a 'connoisseur' of a particular kind. He collects objects in silver and works of art – but he doesn't value them for aesthetic pleasure. As soon as a particular painter reaches his 'peak' in terms of re-sale value, Soames sells whilst the 'market' is high. The collection of art works is therefore treated as an extension of the Stock Exchange.
Standing among his pictures, he saw before him a future full of bargains earned by the trained faculty of knowing better than other people. Selling what was about to decline, keeping what was still going up, and excercising judicious insight into future taste, he would make a unique collection, which at his death would pass to the nation under the title 'Forsyte Bequest'.
---
BBC 1967 production
---
The crucial drama
The crucial dramatic episode of the first volume is a scene which is not dramatised but merely alluded to then described explicitly in the third volume. It is a scene of what we would now call 'marital rape' when Soames, overcome by desire for his attractive wife Irene, forces his sexual attentions on her.
In the moral and legal conventions of the period, this would not be regarded as an offence. Nor could it be considered grounds for divorce. Indeed the act would be considered what was described at that time (and until recently) as Soames exerting his 'conjugal rights'.
The incident fuels Irene's feelings of disgust and repulsion for her husband, but she is powerless to do anything about it. However, it does lead to an important plot development. Irene reports the incident to her lover, the architect Philip Bosinney, who is so distraught that he is killed or possibly commits suicide in a motoring accident.
This gives rise to a rare scene in the plot which defies credibility. A minor character, George Forsyte, sees the architect Bosinney and Irene on the London underground at the point she (presumably) tells him about the marital rape. George can see that Bosinney is distressed, and he knows already about rumours surrounding Bosinney's relationship with Irene. But from witnessing Bosinney's state of high anxiety, George intuits the scene of domestic violence which has led to the lover's distress.
George understood from these mutterings that Soames had exercised his rights over an estranged and unwilling wife in the greatest – the supreme act of property.
We are being asked to believe that one man (George) observes another (Bosinney) whom he hardly knows in what seems to be a distressed state (mumbling to himself). George then correctly guesses the actions, the motivation, and the moral circumstances of a third man (Soames) acting in a scene George knows nothing about. In addition to this George then correctly surmises the attitude of a fourth person (Irene) and her responses in that same scene.
We learn that Bosinney goes on to either commit suicide or die in a traffic accident in the fog. But this 'revelation' is stretching the bounds of credibility beyond a limit that even Thomas Hardy would not have dared to broach. Fortunately, no particular plot importance hinges on this example of incredible insight.
But the incident does have an ironic counterpart when Soames' sister Winifred is seeking a divorce from her feckless husband Montague Dartie. When Dartie absconds to South America with a dancing girl, Winifred is forced to petition the court for a restoration of her 'conjugal rights' – even though this is the last thing she wants. She hopes that Dartie's refusal will give her grounds for divorce. The double dramatic irony is that Dartie does come back to her, but to everyone's relief he dies later falling down a staircase in a drunken stupor.
Strengths and weaknesses
The majority of the narrative is flawlessly plotted and smoothly related, the point of view shifting from one character to another, with Galsworthy acting as an unacknowledged ringmaster, holding the separate elements of the plot together.
There is a very masterful handling of the first interlude between Part I and Part II of the trilogy – Indian Summer of a Forsyte. This is a passage in which Old Jolyon is living in the new house at Robbin's Hill, on his own, whilst his son and grand-daughter June are on holiday in Spain. He is visited by the beautiful Irene, now living alone in Chelsea in a reduced state following her separation from Soames.
Old Jolyon finds a new lease in life following contact with her. Without admitting it to himself, he is clearly in love with her. He interprets this as an appreciation of her beauty, but he comes to emotionally depend upon their meetings. At the same time, he is clearly dying: he stops eating, grows thinner, has an unspecified pain in his side, and is conscious of his fading powers.
This is a dramatic situation which could easily have become mawkish and even slightly embarrassing – but Galsworthy handles it very well. Jolyon's enthusiasm for his son's estranged wife remains credible, unsullied, and delicately treated.
The same cannot be said for the second interlude Awakening which separates In Chancery from the final volume To Let. This intermediate section features an extended account of the childhood development of Jon Forsyte, the son of Jolyon and Irene. A series of simplistic and sentimental evocations of an idealised childhood conjure up echoes of Little Lord Fauntleroy (1885) or 'Bubbles' from the advert for Pears soap (1885).
Jon is later to become an upright and honest youth of scrupulous principles, but this description of his idyllic moral formation is soppy and unconvincing. Some might even wish to argue that he is emotionally damaged, since he is later unable to separate himself psychologically from his mother in order to form an adult relationship with his spirited cousin Fleur.
---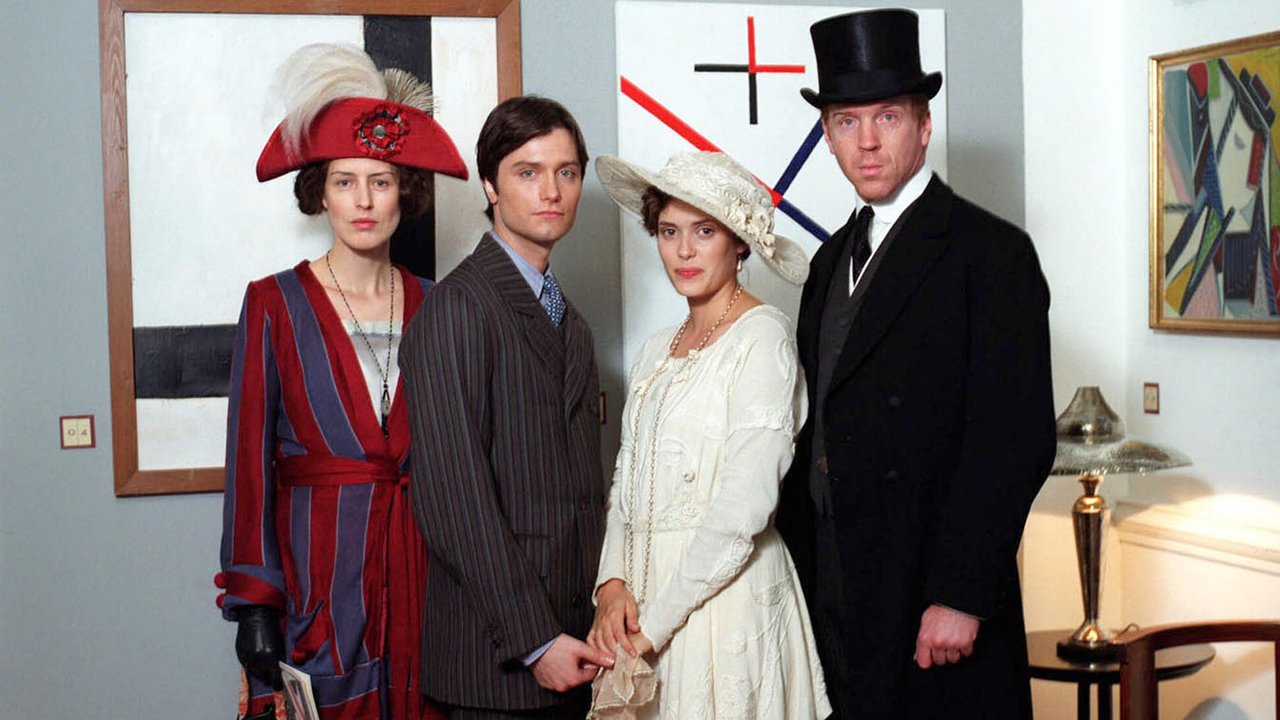 2002 Granada TV adaptation
---
Property and inheritance
Nothing could be more strongly emphasised throughout the novel(s) than the importance of property to the family. In this context property means capital in the form of savings, investments, and income; property in the form of buildings and real estate; and property in the form of land. Almost all (male) members of the family are very wealthy and are engaged in well paid occupations – tea merchant, solicitor, land agent, publisher, insurance, and landlord.
It is assumed that the male children of the family will be sent to public (that is private) schools, Eton or Harrow; then go on to Oxford or Cambridge University. And the entire system of will and inheritance is designed to keep wealth within a family.
In making wills it is automatically assumed that the assets of the deceased will be left to other members of the consanguinous family. The purpose of this convention is to keep capital concentrated into a family, and for it to be handed on from one generation to the next. This is an aristocratic principal, based on land holdings, hereditary titles, and the law of primogeniture.
Old Jolyon appears to break this convention by leaving fifteen thousand pounds to Irene in his will – and she is not a blood Forsyte. But it is worth noting that he only leaves her the interest on this capital sum. She has the interest during her lifetime, after which the capital sum reverts to the family.
Galsworthy as a former barrister knew these legal niceties and gives them well-integrated expression in his novel – not unlike Balzac who had set the benchmarks for this form of politico-economic realism in the earlier nineteenth century. The mildly ironic Young Jolyon observes:
We are, of course, all of us the slaves of property … but what I call a "Forsyte" is a man who is decidedly more than less a slave of property. He knows a good thing, he knows a safe thing, and his grip on property—it doesn't matter whether it be wives, houses, money, or reputation—is his hall-mark.
Soames is driven by acquisition, ownership, property, and market value. This capitalist philosophy is by inference reflected in his personal life – to reveal the de-humanising attitudes he has to his two wives, his child, and his extended family.
He observes at one point that 'money makes money' – and has so much he doesn't know what to do with it. But so fierce is the drive to hereditary capital accumulation that can only think of having children to whom he can bequeath his wealth. Therefore, the child has to be a son, so that the money will stay in his name, and in his family.
If the child were to be a daughter she might marry someone from outside the family, and the property would pass into another family. These are the principles of primogeniture which Galsworthy shows working at an individual level, revealing how people's actions are exposed as economically motivated at a deep social level. He settles money on his daughter Fleur, which she does take outside the family. But she marries the heir to a baronetcy, which brings the cachet of an aristocratic title into the purlieus of the Forsyte family.
Marriage and Divorce
A great deal of the plot dynamic is driven by consequences of unhappy marriage-and the difficulties of divorce. Soames is locked into a painful conflict with his wife Irene. She is the great passion of his life, but she does not love him. In fact she is repulsed by him – for reasons that are never made completely clear, except that he is a cold and emotionally repressed character.
Soames' sister Winifred is married to the wastrel Montague Dartie, who is living off handouts from her father James so as to prevent Dartie bringing the family name into some shameful scandal of debt. The first parts of the Saga are set in the late nineteenth century when divorce was not only very difficult and expensive – but was also regarded as a social disgrace.
It is worth noting the connections between marriage and the drive towards property accumulation. Divorce was made difficult because it potentially (and actually) diluted a family's capital. Soames lost nothing in divorcing Irene, because she brought no money to the marriage. One of Soames' uncles feels relieved that he married before the Married Women's Property Act. That's because prior to 1870 a man automatically took full possession of a woman's entire property the moment they were married.
---
The Forsyte Saga – study resources
The Forsyte Saga – Oxford Classics – Amazon UK
The Forsyte Saga – Oxford Classics – Amazon US
The Forsyte Saga – Wordsworth Classics – Amazon UK
The Forsyte Saga – 1967 BBC TV series – Amazon UK
The Forsyte Saga – 2002 Granada TV series – Amazon UK
---
The Forsyte Saga – plot summary
Book I – The Man of Property
Part I
I. The Forsyte family is concerned about June's engagement to an unknown architect Philip Bosinney
II. Old Jolyon Forsyte feels his age and regrets the estrangement from his son Young Jolyon, whom he meets at a gentlemen's club.
III. Swithin Forsyte hosts a family dinner party to celebrate June's engagement. All the males are competitive and acquisitive. Their attention is focused on money, property, business, and land.
IV. Soames Forsyte cannot understand why his wife Irene does not love him. He thinks of building a house 'in the country' and asks Bosinney's advice on planning. Bosinney persuades him to invest in an expensive location.
V. Soames thinks of everything in terms of ownership – his paintings, silver collection, and wife. But Irene remains untouchably aloof. She is indifferent to news of the new house.
VI. Old James Forsyte dines with his son Soames and Irene. He cannot get any information out of her.
VII. Old Jolyon feels lonely. He visits his previously estranged son in St John's Wood, making an emotional connection with his two grandchildren.
VIII. Soames discusses plans for the new house with Bosinney, who impresses Irene.
IX. Aunt Ann, oldest of the Forsytes, dies and is buried in Highgate Cemetary.
Part II
I. The new house is going over budget. Soames is on the verge of giving Irene her freedom. June stumbles onto an intimate scene between Bosinney and Irene.
II. June and Bosinney have a tense dinner with Soames and Irene, then go on to the theatre. June suspects Bosinney, and is unhappy.
III. Swithin Forsyte takes Irene for a ride to see the new house. Bosinney takes Irene for a walk into the woods whilst Swithin falls asleep.
IV. James Forsyte (father to Soames) is disturbed by the rumours surrounding Irene. He visits the new house and quizzes Bosinney – to no effect.
V. Soames and Bosinney exchange hostile letters regarding the completion of the new house, the cost of which is still rising.
VI. Old Jolyon visits the Zoo with his son and two grandchildren, towards whom he feels a growing closeness.
VII. There is a meeting of the Forsyte family and a description of their 'noble' heritage. Francie is a published musical composer. Concern is expressed for old Jolyon.
VIII. A 'second class' ball is held at the house of Roger Forsyte. Soames watches in jealous silence as Irene dances with Bosinney. June arrives to 'reclaim' Bosinney, but bolts when she sees him with Irene.
IX. Old Jolyon takes June to Broadstairs for the sea air. Winifred (Somes' sister) organises an outing to Richmond with her gambler husband Dartie, who flirts boorishly with Irene and incurrs Bosinney's wrath.
X. Old Jolyon asks his son to sound out Bosinney on his 'intentions' towards June. Young Jolyon discusses Forsytes and the theory of property with Bosinney, but does not mention June.
XI. Soames reproaches an unco-operative Irene, who wants to be free of their marriage. They meet Bosinney in the Park and invite him to dinner. Soames realises that Bosinney is in love with his wife.
XII. June goes up to London and speaks to Bosinney's aunt, but learns nothing about his intentions. She even sees him in the street, but he declines to speak to her.
XIII. James drives Irene out to the new house, which is an architectural success. He pleads for Soames, but she refuses his entreaties. The house has gone over budget again.
XIV. Irene locks Soames out of her room. He is consumed with jealousy, but does not know what to do about it.
Part III
I. Soames sues Bosinney for exceeding the budget. Mrs MacAnder sees Bosinney and Irene in Richmond Park together.
II. Rumours spread in the Forsyte family, who wish to avoid a scandal. Soames is distraught, and his legal case is 'ambiguous'.
III. Old Jolyon alters his will in favour of his son Young Jolyon with whom he is now reconciled.
IV. Soames commits marital rape. George spots Bosinney in the Tube, follows him, and 'realises' that he is suffering from this knowledge.
V. At the trial of Soames Vs Bosinney the verdict is given in Soames' favour. Bosinney does not attend the trial.
VI. Soames arrives home to find that Irene has left him. His father advises him to 'follow her'.
VII. After the trial June goes to Bosinney's office, but he is not there. Irene arrives – homeless. Old Jolyon plans to sell his house and live reconciled with his son and family. He invites June to join them.
VIII. Old Jolyon starts discussion of the purchase of Soames' new house. It is announced that Bosinney is dead, though it is not clear if the traffic accident was suicide or not.
IX. When Soames returns home he finds that Irene has come back. He does not know what to do, but when Young Jolyon arrives with a message for her Soames turns him away.
Indian Summer of a Forsyte
I. Old Jolyon buys the new house from Soames, who goes to live in Brighton. Swithin Forsyte dies. Jolyon meets Irene visiting the garden. They have dinner together. She is living in Chelsea, giving piano lessons.
II. During the following week Old Jolyon drives into town to visit her. She is supporting prostitutes, having been helped by one herself, after leaving Soames.
III. At Irene's next visit Jolyon decides to leave her fifteen thousand pounds in his will, even though she does not have Forsyte blood in her veins.
IV. Not admitting to himself that he is a little in love with Irene, he invites her to dinner and the opera – but he has a fainting fit and suffers from a pain in his side.
V. Jolyon travels regularly to London to see Irene. He becomes thinner and dreads the impending return of his son and family from holiday in Spain. Irene writes that she must stop coming when June returns, then sensing that he is near the end she relents. But when she arrives to see him he has died peacefully in the garden.
Book II – In Chancery
Part I
I. In the later years of the nineteeth century reproduction amongst the Forsytes has declined in parallel with the decline in interest rates. Soames has met Annette a French woman in a Soho restaurant, but he cannot 'act' because he is not divorced.
II. Soames' sister Winifred is abused by her husband Montague Dartie. He steals her pearls and plans to run off with a Spanish dancer. When Winifred's son Val goes out on the town with his friend they encounter a drunk Dartie at the theatre.
III. Soames visits Winifred and realises that they are in similar positions – deserted but not divorced. He will act as her solicitor.
IV. Soames' family owns the building containing the Restaurant Bretagne. He inveigles himself into the confidence of Mme Lamotte but knows he must obtain a divorce to secure her daughter Annette.
V. Soames is staying with his father who is ill. Dartie has declared himself bankrupt. Soames wants a son to whom he can bequeath his property.
VI. Soames visits Young Jolyon at Robin Hill with Val Dartie. He wants a divorce from Irene who left him twelve years previously.
VII. Young Val and Holly look over the stables and grounds, comparing notes about their families.
VIII. Jolyon visits Irene who has remained living alone. He then reports to Soames, but there appear to be insufficient grounds for a divorce.
IX. Soames advises his sister Winifred to go for a quick divorce. Young Val petulantly resists the idea. Val seeks family secrets from his grandparents, learns nothing, but takes the money they give him.
X. Mme Lamotte and her daughter Annette visit Soames' house by the river. He puts on a display of his wealth, but realises he must tread carefully to be accepted.
XI. Soames visits Irene and still finds her attractive. But she cannot provide him with the necessary grounds for a divorce.
XII. Soames entertains the idea of a reunion with Irene. The Boers declare war. The Forsytes discuss the political situation. June arrives and is pro-Boer.
XIII. Soames confronts Jolyon and reveals his sense of possession over Irene. Jolyon (her trustee) is outraged – partly attracted to Irene himself.
XIV. Soames visits Mme Lamotte and Annette at the restaurant and feels that they are trying to snare him. He now definitely wants Irene again.
Part II
I. Young Val and Jolly meet up at Oxford. Soames visits Irene again, who feels she needs to escape from him.
II. Soames buys Irene a diamond brooch for her birthday, and tries to persuade her to be reunited. She tells him she would rather die.
III. Jolyon and June go to help Irene, who insists she will go abroad. June wants Jolyon to buy her an art gallery.
IV. Soames employs a private detective to follow his own wife. Jolyon takes Winifred to visit the barrister handling her divorce case.
V. Young Jolly and Val fight over the Boer war at Oxford. But Val continues courting Holly.
VI. Jolyon meets Irene regularly in Paris where they are both staying in exile. When Jolly enlists in the war Jolyon is forced to return home.
VII. Winifred's divorce case is heard in court. She has to pretend that she wants Dartie back. Val feels ashamed of the 'scandal'.
VIII. Jolly challenges Val to volunteer for the war, which despite a sudden 'engagement' to Holly, he accepts.
IX. Val announces his news over dinner at James's house. Soames is suspicious of Young Jolyon being in Paris at the same time as Irene.
X. Jolyon arrives back at the house on Robbin's Hill, and the dog Balthazar dies on greeting him.
XI. At a family dinner they discuss the war and its progress, then they exchange rumours about Soames, Irene, and Jolyon.
XII. Somes gets reports from the detective in Paris, then challenges Jolyon on his return to London – to no effect.
XIII. Montague Dartie suddenly returns to Winifred in a distressed state. She consults both Soames and her father, but they can think of no remedy. She reluctantly decides to accept Dartie back.
XIV. Soames is shocked by the crowds celebrating the relief of Mafeking in the streets of the West End.
Part III
I. Soames goes to Paris and tracks down Irene. She rejects his pleas yet again. When he goes to threaten her at the hotel, she has already left for England.
II. The detective reports success to Soames: a man has been seen visiting Irene's hotel room. The man was Soames himself. He visits Mme Lamotte and sounds her out regarding Annette.
III. Jolly contracts a disease in South Africa. June and Holly train as Red Cross nurses. Irene writes to Jolyon from nearby Richmond.
IV. Jolly becomes delirious in his dying fever.
V. The detectives report on Jolyon and Irene meeting regularly at Richmond. Soames decides to sue for divorce.
VI. Soames serves papers on Jolyon and Irene, then goes to confront them at Robin Hill. They defy his threats and admit that they are 'guilty' – even though they are not.
VII. Jolyon plans to contest the divorce as if they were guilty – in order to free Irene from Soames. He receives the news of Jolly's death.
VIII. Soames is worried about what his father might think, but James wants him to divorce so that his money will be kept in the family name.
IX. Soames plans to retire because of the divorce scandal. The divorce goes through quickly. He writes to Mme Lamotte proposing marriage to Annette. Val marries Holly in South Africa.
X. 1901 – Soames marries Annette; Queen Victoria dies; an age concludes. Soames introduces Annette to members of his family.
XI. Irene and Annettte both become pregnant, and there is much speculation amongst the family regarding the continuation of the Forsyte name
XII. Annette has a difficult pregnancy but gives birth to a girl, Fleur. At the same moment Soames' father is dying.
XIII. Soames arrives in time to time to give his father the 'good news' about the birth of his grand-daughter. But James then dies.
XIV. Soames returns home and is curiously reluctant to see his wife and daughter.
Interlude – Awakening
Young Jon Forsyte enjoys an idyllic childhood at Robin Hill. His parents arrive home from holiday in Ireland. Jon has a powerful sense of his mother's beauty.
Book III – To Let
Part I
I. 1920 – Soames resents being in the super-tax bracket, is pleased with his teenage daughter Fleur, and suffers a cold and loveless marriage to Annette. At an exhibition of modern paintings he and Fleur bump into Irene and her son Jon.
II. Fleur questions her father closely about the Forsyte family history. He wishes to conceal from her any knowledge of his first marriage to Irene.
III. Jolyon is under medical orders to live a quiet life. Irene reports on the meeting with Soames. Jolyon too wishes to keep 'the past' a secret from his son, who has fallen instantly for Fleur.
IV. Soames visits old uncle Timothy in his unchanged house in the Bayswater Road. Soames thinks the house is a mausoleum to the nineteenth century which should be preserved.
V. Val Dartie is presented with a racehorse by the mysterious Belgian Prosper Profond, who claims to be a friend of the family.
VI. Young Jon arrives at Val Dartie's to begin a farming apprenticeship – but instead he begins to write poetry.
VII. Fleur arrives at the house. Jon is in a state of embarrassed awkwardness, but Fleur is quite forward with him.
VIII. Jon and Fleur go for an early morning romantic walk on the Sussex Downs where they gradually reveal their feelings for each other.
IX. Soames sells a Gaugin painting to Profond the Belgian dandy, and is then visited by the art aficionado Michael Mont.
X. Jolyon wants to send Jon abroad to get him away from Fleur. Irene volunteers to tell Jon the truth about the family's past.
XI. Jon and Fleur arrange a train journey in order to be together in private. They agree to bear a six week separation whilst he is on holiday with his mother.
XII. Fleur is courted by Michael Mont. She overhears Profound flirting with her mother Annette. Soames is possessively jealous of Fleur's attachment to Jon.
Part II
I. Jon and his mother Irene go on holiday to Spain for six weeks. He is overcome with sunstroke.
II. Jolyon's daughter June thinks that Jon should be told the truth about Irene. She goes to see Fleur but does not reveal the facts. Fleur finds an old photograph of Irene in her father's room – and thinks that maybe he once loved her.
III. Jon goes up to town where there is gossip in Val's club about the Belgian Profond and Annette. He meets Fleur and takes her home where she is welcomed by Jolyon and Irene.
IV. Fleur learns the truth about Soames and Irene from the gossip of the odious Profond, who reveals he is leaving for a cruise on his yacht.
V. Soames alters his will to provide an inheritance for Fleur via a trust.
VI. Soames receives an anonymous letter informing him that his wife is involved with a 'foreigner'. Michael Mont visits to reveal his love for Fleur. Soames challenges Annette but she refuses to respond.
VII. Fleur visits June's studio to arrange a private rendezvous with Jon, whom she is determined to marry.
VIII. Fleur proposes to elope with John to marry in Scotland – but he is frightened to take such a radical step.
IX. Fleur reveals everything to her father. They argue about the wisdom of her relationship with Jon.
X. Jon is conflicted about his decision to marry Fleur, but he finally decides to do it openly.
XI. At Lord's the Belgian Profond appears again and makes contact with Irene, who announces that she is going to visit her mother in Paris.
PART III
I. Jolyon writes a letter to John, setting out the truth about Irene and Soames, and asking him to break off his relationship with Fleur for the sake of his mother's feelings. Irene approves the letter.
II. Jon suddenly appears to announce his engagement to Fleur. Jolyon gives him the letter to read. When Jolyon goes into the garden in search of Jon, he collapses and dies.
III. Jon reads the letter and is aghast – then his mother discovers Jolyon dead downstairs.
IV. Soames plans to change his will regarding Fleur, and thinks to encourage Mont to keep Jon away from Fleur. Annette is writing from Dieppe.
V. Fleur tolerates the attentions of Mont, but decides to drive to Robin Hill to see Jon.
VI. Jon inherits his father's wealth. Fleur visits him to plead her case, but he is still 'tied to his mother's apron strings'. Irene admits she was wrong to marry Soames, a man she did not love.
VII. Fleur asks Soames to help her. He visits Robin Hill, but Irene says that a decision on the proposed marriage rests with Jon, who declines it.
VIII. Soames reports the decision to Fleur, who is devastated and accuses him (correctly) of not trying hard enough.
IX. Jon decides to go abroad with his mother, who suggests he should go alone in the first instance.
X. Fleur reluctantly and unhappily marries Michael Mont. Jon goes to British Colombia and writes to say he is not coming back.
XI. Old Timothy Forsyte dies, leaving an enormous fortune – to be kept within the family. Soames visits Highgate Cemetery and reflects wistfully on the passing of Victorian values.
---
The Forsyte Saga – main characters
| | |
| --- | --- |
| Soames Forsyte | a wealthy solicitor and art collector |
| Irene Forsyte | his beautiful and enigmatic wife who later marries Young Jolyon |
| Winifred Forsyte | sister to Soames, married to the degenerate fop Dartie |
| Montague Dartie | a dandy, gambler, wastrel, and drunkard |
| Val Dartie | their son, who marries his cousin Holly |
| Old Jolyon | oldest member of the wealthy family, a former tea merchant |
| Young Jolyon | his son, an underwriter and would-be artist |
| Jolly (Jolyon) Forsyte | his son, who dies in the Transvaal |
| Jon (Jolyon) Forsyte | son of Irene and her second husband Young Jolyon |
| Fleur Forsyte | daughter of Soames and his second wife Annette |
| Prosper Profond | a rich and enigmatic Belgian interloper who becomes Annette's lover |
| Michael Mont | the heir to a baronetcy, who eventually marries Fleur |
© Roy Johnson 2018
---
Twentieth century literature
More on biography
More on literary studies
---