tutorial, commentary, plot summary, further reading
The Great Gatsby (1925) was the third novel by F. Scott Fitzgerald, following This Side of Paradise (1920) and The Beautiful and Damned (1922). Though not a great success on first publication, it has since gone on to be regarded as a great modern American classic. It certainly captures the surface glamour of the 'Roaring Twenties' and 'the Jazz Age' – a term coined by Fitzgerald himself.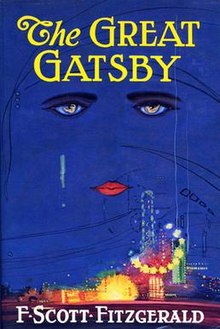 first edition 1925
---
The Great Gatsby – commentary
The American Dream
This dream is a theme which runs through a great deal of American history and culture. It is the idea, born out of political egalitarianism, that all citizens of the USA, no matter what their status at birth, have the freedom to better themselves, make a success of life, and even to become rich and famous. This is summed up in the expression from the United States Declaration of Independence (1776) – that individual citizens have the 'unalienable right' to 'life, liberty, and the pursuit of happiness'.
The idea that everybody can become rich and famous is patently untrue of course, but it is commonly held up as an aspirational model, reinforced by the fact that many immigrants and refugees have arrived in America and gained better standards of living than those they left behind.
Young Gatsby (Jimmy Gatz, to give him his real name) is an example of this phenomenon. He comes from a humble background, but is taken up by the rich yacht-owner Dan Cody, who shows him the lifestyle of a millionaire. Gatsby then re-invents himself. He supresses some elements of his biography, embellishes others, and creates a social smokescreen to hide the fact that he makes his money from the illegal business of bootlegging.
Gatsby also has romantic aspirations to fit this model of upwards social mobility. As a young man he falls for Daisy, who is a southern belle, the daughter of a rich family, a debutante and a socialite. It becomes part of Gatsby's dream to recapture this youthful lost love by impressing her with his ill-gotten wealth.
But he is not allowed to forget that he is not intrinsically a member of the class to which Daisy belongs. This is what explains the class antagonism that springs into being immediately he meets Tom Buchanan (Daisy's husband) who correctly spots that there is something ambivalent, incongruous about Gatsby. The two men confront each other in a contest over Daisy.
Following the car accident in which Tom's mistress Myrtle is killed, Gatsby realises he cannot compete in this class war: 'because 'Jay Gatsby' had broken up like glass against Tom's hard malice, and the long secret extravaganza was played out'. Buchanan eventually both wins back his wife and brings about the death of Gatsby.
In this sense the novel is a critique of or a corrective to the American Dream. It reveals that Jimmy Gatz cannot enter into the upper echelons of society, even if he has made a lot of money during prohibition, even if a former debutante (and current 'flapper') is attracted to him. And merely in thinking it possible he pays for the mistake with his life.
The narrative
The story is presented in first person narrative mode, with Nick Carraway recounting his engagement with the Buchanans and Gatsby at East and West Egg respectively. For the most part this is unproblematic, with Nick reporting on scenes in which he is a participant.
Fitzgerald is forced to bring variations to this approach in dramatising the character of Gatsby – and he does this rather cleverly. We are first given an account of Gatsby that is very ambivalent – that he comes from inherited wealth, has been to Oxford University, and is a war hero. The first claim is untrue, the second misleading, and the third true.
Gatsby's real biography is only gradually revealed, and we learn via a combination of flashbacks, inference, and his dramatised statements to Nick that he is a complex mixture of arriviste, romantic, opportunist, semi-gangster, and generous man of honour. Fitzgerald handles this character development very well.
But towards the end of the novel he violates the rules of the first person narrative by having Nick relate in detail events where he wasn't present. In the middle of Chapter VIII, the day after the car accident, Fitzgerald introduces a rather clumsy flashback into Nick's narrative: 'Now I want to go back a little and tell what happened at the garage after we left there the night before'.
The scene in the garage involves two people – George Wilson and a neighbour Michaelis. It features two minor plot elements: the revelation of a leash Myrtle bought for the dog Tom gave her, and George's assumption that Myrtle rushed into the road to speak to her lover. But the events are related from the point of view of Michaelis and George, with closely observed details only available to participants:
The hard brown beetles kept thudding against the dull light, and whenever Michaelis heard a car go tearing along the road outside it sounded to him like the car that hadn't stopped a few hours before …

Wilson's glazed eyes turned out to the ashheaps, where small grey clouds took on fantastic shapes and scurried here and there in the faint dawn wind.
Nick Carraway was not present at the scene, and the events can only have been relayed to him later by Michaelis. But these are not the sorts of emotional and atmospheric details of a spoken report. They have the texture of a first-person narrative along with the remainder of Nick's story.
Fitzgerald is not abiding by the logic of first person narratives, and this is a serious flaw in an otherwise carefully constructed novel. It might be considered a minor blemish, but it was a weakness he carried on even as far as his last novel, The Last Tycoon. That is a story narrated by a young woman Cecilia Brady who is in love with the principal character Monroe Stahr. Her narrative is spirited and amusing, but she presents detailed intimate scenes between Stahr and another woman of which she cannot possibly have any knowledge.
Symbols
In much of the critical comment on The Great Gatsby a great deal is made of the symbolism present in the work. It should be fairly obvious for instance that the 'single green light' that burns at the end of the landing stage of the Buchanan garden is a metaphor representing Gatsby's enduring love for Daisy. He has shown his fidelity to the memory of her throughout his military service and in his post-war efforts to accumulate the wealth he thinks necessary to win her.
He has established himself in his palace directly opposite, on the other side of the Sound, so that he can be as near to her as possible. Even their separation by the waters of the bay is emblematic. She lives in the rich and fashionable suburb of East Egg amongst the traditional families of 'old money'. Gatsby lives in arriviste West Egg and despite his fabulous wealth and his generosity, he is eventually unable to cross the gap that divides them.
I thought of Gatsby's wonder when he first picked out the green light at the end of Daisy's dock He had come a long way to this blue lawn, and his dream must have seemed so close that he could hardly fail to grasp it. He did not know that it was already behind him … Gatsby believed in the green light, the orgastic future that year by year recedes before us.
This personal, individual disappointment of Gatsby's failure to win the romantic love of his youthful dreams also serves to reinforce the more general theme of the death of the American Dream.
The other quite striking image which occurs in the story is the giant advertisement for an optician Doctor T.J. Eckleburg which dominates the 'Valley of Ashes' in the Queens suburb of New York. A pair of eyes stare out from 'enormous yellow spectacles' – 'blue and gigantic—their retinas are one yard high'. They look out over the garage where Myrtle lives in her loveless marriage with George and where she is killed by Daisy driving Gatsby's car.
The images of death and watchful eyes are also brought together in the scene where George recounts to Michaelis that he finally realises that Myrtle has been deceiving him and reproaches her just before she rushes into the roadway:
"God knows what you've been doing, everything you've been doing. You may fool me, but you can't fool God!"

Standing behind him Michaelis saw with a shock that he was looking at the eyes of Doctor T.J. Eckleberg, which had just emerged, pale and enormous, from the dissolving night.

"God sees everything", repeated Wilson.
---
The Great Gatsby – study resources
The Great Gatsby – Penguin Classics – Amazon UK
The Great Gatsby – Wordsworth Classics – Amazon UK
The Great Gatsby – York Notes – Amazon UK
The Collected Stories – Penguin Classics – Amazon UK
Fitzgerald: Letters – Amazon UK
The Great Gatsby – DVD – Amazon UK
---
The Great Gatsby – plot summary
I. The narrator Nick Carraway rents a house in West Egg, Long Island, next door to the rich and mysterious Jay Gatsby. Nick visits his cousin Daisy and her husband Tom Buchanan across the bay at East Egg. He meets Daisy's friend Jordan Baker over a dinner interrupted by a phone call from Tom's 'mistress in New York'. Tom is a racist and a bully.
II. Tom takes Nick to pick up his mistress Myrtle at her husband's garage in the Valley of Ashes in Queens. They go to an apartment in New York, are joined by neighbours, and all get very drunk. Tom hits Myrtle and makes her nose bleed.
III. Nick is invited to one of Gatsby's lavish parties where he meets Jordan and Gatsby, who imparts an 'amazing thing' to her. As the summer goes on, Nick becomes closer to Jordan and thinks he might be in love with her – but he believes she is a compulsive liar.
IV. Gatsby tells Nick his (slightly false) life story of inherited wealth, an Oxford education, and war heroism. They have lunch in New York with a gambler Meyer Wolfsheim. Jordan reveals to Nick the earlier connection between Gatsby and Daisy when he was waiting to go to war.
V. Gatsby arranges a meeting with Daisy at Nick's house, at which he is first embarrassed. He offers Nick dubious 'business opportunities' which Nick turns down. Then Gatsby shows them over his own house, which demonstrates his immense wealth.
VI. Nick then reveals more of Gatsby's true origins. He was a lower-class boy James Gatz who was given an 'apprenticeship' by a rich man Dan Cody. Tom and Daisy attend another of Gatsby's parties, where Tom remains sceptical about Gatsby, who wants to re-establish his past love with Daisy.
VII. Nick and Gatsby go for lunch at the Buchanans on a hot day. Daisy flaunts her love affair with Gatsby. They all go into New York for the afternoon, calling at the garage, where Wilson is planning to take Myrtle away. In the Plaza hotel, Tom challenges Gatsby, who says that Daisy is going to leave him. Tom reveals more of Gatsby's shady business dealings. On the way back Myrtle is killed by Gatsby's car, which Daisy was driving.
VIII. Next day Nick visits Gatsby, who reveals the true story of his earlier relationship with Daisy. Nick then recounts what happened at the garage the previous night. This culminates in Wilson setting out to locate the car that has killed his wife. Believing that Gatsby is Myrtle's secret lover, he kills him then turns the gun on himself.
IX. Nick arranges the funeral. Gatsby's father arrives and reveals Gatsby's youthful ambitions and his fidelity as a son. None of Gatsby's associates attend the funeral. Nick says goodbye to Jordan, then meets Tom, who reveals that he told Wilson the car was Gatsby's.
---
The Great Gatsby – characters
| | |
| --- | --- |
| Nick Carraway | the narrator, a bond dealer, ex-Yale |
| Tom Buchanan | Nick's rich college friend, a bully and racist |
| Daisy Buchanan | Nick's cousin, Tom's self-absorbed wife |
| Jordan Baker | a socialite and professional golfer |
| George B. Wilson | a downtrodden garage owner |
| Myrtle Wilson | George's wife, Tom's mistress |
| Jay Gatsby | a super-rich bootlegger (real name Jimmy Gatz) |
| Meyer Wolfsheim | 'the man who fixed the World Series' |
© Roy Johnson 2018
---
Twentieth century literature
More on biography
More on literary studies
---