tutorial, characters, commentary, study notes, reading
The Man who Disappeared (1913) (also known as Amerika) was Kafka's first attempt at a novel, and like most of his others, with the exception of The Trial, it was left unfinished. He began writing it (for the second time) in 1912, then broke off to compose Metamorphosis and apart from producing a couple of subsequent fragments he never returned to it. Only the much anthologised first chapter, The Stoker was published in Kafka's lifetime, in a collection of modernist texts edited by Kurt Wolf in 1913.
Readers expecting the usual Kafkaesque elements of existential terror and bureaucratic nightmares will be surprised and maybe delighted to discover that the story is a light-hearted and at times quite amusing fantasy of a young German boy at large in the USA.
Needless to say, Kafka had never been anywhere near America, and his account of it is entirely constructed from clichés of the New World – skyscrapers, non-stop traffic, and at times some Keystone Cops chase scenes.
---
The Man who Disappeared – commentary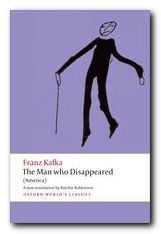 The novel is an ironic reversal of the rags to riches story that is normally attached to immigration from the Old World to the New. Karl Rossman manages to go from riches to rags. He starts off with a wealthy and powerful uncle who showers him with luxury, but by the end of the narrative he has nothing, he is searching for work, and he is mixing with criminals and a prostitute. It is worth noting that Karl is not exactly an innocent abroad. He has been expelled from his family home following a sexual dalliance with an older servant woman that resulted in her bearing a child. So although he is only seventeen (or even fifteen) years old, Karl is in fact himself a father.
Authority figures
The authority figures in each chapter appear in pairs. When Karl becomes involved in the defence of the stoker and his claims of ill-treatment, it is to the ship's Captain and the ship's Purser that he is answerable and who challenge his actions and question his motivation.
His uncle Edward's business associates are Mr Pollunder and Mr Green, both of whom have power over Karl. It is the invitation from Pollunder which displeases Karl's uncle, and Mr Green who carries the letter which contains the orders of dismissal that expel Karl from his newfound paradise in New York.
He immediately falls into the hands of Robinson and Delamarche, who take advantage of his naivete and bully him into becoming virtually their servant. Interesting to note also that these authority figures are usually slightly different – of what we might now call the 'good cop, bad cop' kind. One of them will pretend to befriend Karl, the other will resort to naked threats. Karl tries to resist them both, but fails.
When he is disciplined for a minor infraction of discipline at the Hotel Occidental, it is the Head Waiter and Head Porter who perform this same dual function
Women
The women in the story are either all-embracing mother figures, sexual predators, or vulnerable waifs.
Grete Mitzelbach offers Karl somewhere to sleep when he is in need; she secures him a job; and she offers her support when he is being threatened with dismissal at the hotel. In fact she also recommends him to another employer.
On the other hand Johanna Brummer, the thirty-five year old servant woman who seduces the fifteen (or seventeen) year old Karl does so in a comically grotesque manner – but one which Karl finds 'disgusting'. Klara, Mr Pullender's daughter, appears to be a a more sympathetic figure, but she ends up attacking Karl physically, then invites him to her room – but only to reveal her sexual connection with Mr Mack, the millionaire's son.
Delamarche's mistress Brunelda is almost a grotesque parody of a sluttish courtesan:
Her red dress was rucked up at the front and a long stretch of it hung down to the floor, her legs were visible almost to the knees, she was wearing thick white woollen stockings, and had no shoes on.'How hot it is, Delamarche,' she said, turning her face from the wall and holding her hand negligently in front of Delamarche, who seized and kissed it.
Terese and Fanny are waif figures, with Terese offering a particularly poignant version of the emigrant's story, searching for work with her mother, who is eventually killed in an accident on a building site.
Visions of America
Following the Second World War, images of America were widely manifest in Europe and the rest of the world via radio, newspapers, and cinema – but at the time that Kafka was writing in 1912 it would be literally Another Country to him, an unknown and exotic place (even though it was a place to which many Europeans were emigrating). Given this, and the fact that he had obviously never been there, it is surprising that he captures so much of its essence in images of very tall buildings (skyscrapers), the grid system of straight roads, of people living in tenement blocks, and the non-stop traffic.
There is also a passage describing a mechanical desk in Uncle Edward's office which is strangely prophetic:
On its top part, for example, it had a hundred drawers of various sizes, and even the President of the Union could have found a suitable place for every one of his files, but in addition it had a regulator at the side, and by turning the handle one could rearrange and reorganize the drawers in a great variety of ways according to one's wishes and needs. Thin side partitions slowly descended and formed the base or the top of new drawers that rose up, a single turn of the handle gave the top a quite different appearance, and everything happened slowly or with wild rapidity, depending on how you turned the handle. It was a brand new invention …
This is amazingly prescient of the Memex machine that Vanevar Bush described in imagining computers and hypertext in his 1945 article As We May Think:
A memex is a device in which an individual stores all his books, records, and communications … Most of the contents are purchased on microfilm, ready for insertion. Books of all sorts, pictures, current periodicals, newspapers, are thus obtained and dropped into place.

If the user wishes to consult a certain book, he taps its code on the keyboard, and the title page of the book promptly appears before him, projected onto one of his viewing positions … Any given book from his library can thus be called up and consulted with far greater facility than if it were taken from a shelf.
---
Study resources

The Man who Disappeared – Oxford World Classics – Amazon UK

The Man who Disappeared – Oxford World Classics – Amazon US

Amerika: The Man who Disappeared – Penguin Classics – Amazon UK

Amerika: The Man who Disappeared – Schocken Books – Amazon UK

Kafka: A Very Short Introduction – OUP's mini series

The Stoker – eBook formats at Project Gutenberg (in German)

The Complete Novels of Kafka – Vintage Classics edition – Amazon UK
---
Principal characters
| | |
| --- | --- |
| Karl Rossmann | a seventeen or fifteen year-old German boy from Prague |
| Johanna Brummer | thirty-five year-old servant who seduces Karl |
| Jakob | Karl and Johanna's son |
| Butterbaum | Karl's fellow traveller on the ship |
| — | The ship's stoker |
| — | The ship's captain |
| Schumbal | the Romanian chief engineer |
| — | The ship's chief purser |
| Senator Edward Jakob | Karl's uncle, a rich businessman |
| Mr Pollunder | a banker and business associate of Karl's uncle |
| Klara Pollunder | his daughter |
| Mr Mack Jnr | son of a millionaire, fiancé to Klara |
| Mr Mack Snr | millionaire head of a large building firm |
| Mr Green | gross, bachelor business associate of Karl's uncle |
| Robinson | an Irish hypochondriac |
| Delamarche | a French bully |
| Grete Mitzelbach | Head Cook at the Hotel Occidental (50) |
| Terese Berchtold | secretary to the Head Cook (18) |
| Giacomo | lift boy at the Hotel Occidental |
| Rennel | lift boy at the Hotel Occidental |
| Bess | chief lift boy at the Hotel Occidental |
| Isbary | head waiter at the Hotel Occidental |
| Feodor | head porter at the Hotel Occidental |
| Brunelda | Delamarche's mistress, a fat ex-singer |
| Joseph Mendel | a student in Delamarche's apartment block |
| Fanny | Karl's trumpet-playing friend |
---
Photomontage
Kafka, family photos, and old Prague
---
The Man who Disappeared – plot summary
Karl Rossman arrives in New York, having been sent abroad by his parents following an incident with an older servant that resulted in the birth of a son. Karl goes back into the ship to retrieve his umbrella and meets the ship's stoker, who complains about his treatment on board. Karl accompanies him to plead his case with the ship's captain. There he meets his uncle Edward Jakob, who is now a rich businessman and a Senator.
Karl lives with his uncle for two months, takes English and riding lessons, and is provided with a piano. He meets a millionaire's son, Mr Mack, and is invited to the home of banker Mr Pollunder, although his uncle disapproves of the visit.
At Mr Pollunder's country house Karl is oppressed by the behaviour of his business associate Mr Green, and then is subject to a physical attack by Klara, Mr Pollunder's daughter.. When he decides to return to his uncle's house, many obstacles are put in his way to delay his return. It is revealed that Mr Mack is Klara's fiancé. Finally, Mr Green presents Karl with a letter from his uncle disowning him for going against his wishes. Mr Green gives Karl a train ticket to San Francisco (which he never uses).
Karl meets two unsavoury characters Robinson and Delamarche who take advantage of him. They set off in search of work, eat at his expense, and steal his belongings. Karl escapes from them, and arrives at the Hotel Occidental, where he is befriended by Grete Mitzelbach the head cook and invited to stay for the night.
The cook arranges for Karl to be a lift boy at the hotel. He works twelve hour shifts and sleep in a dormitory filled with smoke, noise, and lift boys boxing and wrestling. Karl befriends Terese, the cook's secretary, who recounts her difficult life and her mother's death as poor emigrants.
Robinson reappears at the hotel drunk, and vomits into the stair well. Karl offers him money to leave and puts him into his own bed to sober up. But this briefly takes Karl away from his post on the lifts, for which misdemeanour he is interviewed by the head waiter and head porter, then sacked, despite pleas from his friend the head cook. Karl is physically bullied by the head porter, but finally manages to escape from the hotel – only to find Robinson waiting for him again.
Karl and Robinson are driven to a tenement building where Delamarche is living. There is an altercation involving the police, from which Karl escapes again, only to be rescued by Delamarche and taken back to a squalid and cramped apartment where he lives with Brunelda, a fat ex-singer. Robinson complains about the skivvy work he does for Delamarche and Brunelda, and reveals that they plan to make Karl their servant. They all watch a political rally and procession from the balcony of the apartment. Karl then makes another attempt to escape, which ends up in a fight. He then has a conversation with a student on an adjacent balcony, who advises him to stay with Delamarche.
Novel fragments
Robinson and Karl prepare breakfast for Delamarche and Brunelda in the late afternoon, amidst the squalor of the apartment.
Karl departs with Brunelda, who is hidden under a blanket on a cart.
Karl enrolls in the Theatre of Oklahoma where he meets an old friend Fanny who is playing a trumpet to welcome newcomers. He goes through a complex and bureaucratic recruitment process and is taken on as a technician. At a feast for new recruits he meets his fellow lift boy Giacomo from the Hotel Occidental. They travel by train for two days towards Oklahoma.
---
Kafka's writing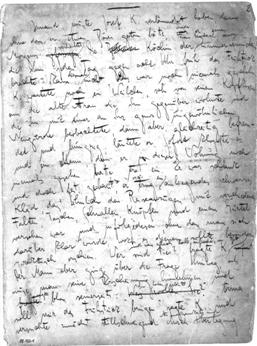 a page of Kafka's manuscript
---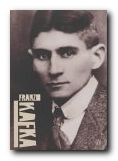 Franz Kafka: Illustrated Life This is a photographic biography that offers an intimate portrait in an attractive format. A lively text is accompanied by over 100 evocative images, many in colour and some previously unpublished. They depict the author's world – family, friends, and artistic circle in old Prague – together with original book jackets, letters, and other ephemera. This is an excellent starting point for beginners which captures fin de siecle Europe beautifully.

Buy the book at Amazon UK


Buy the book at Amazon US
---
Further reading

Jeremy Adler, Franz Kafka (Overlook Illustrated Lives), Gerald Duckworth, 2004.

Mark Anderson. Kafka's Clothes: Ornament and Aestheticism in the Habsburg Fin de Siecle, Oxford: Clarendon Press, 1992

Louis Begley, The Tremendous Words I have Inside my Head: Franz Kafka: A Biographical Essay, Atlas Illustrated editions, 2008.

Harold Bloom, Franz Kafka: Modern Critical Essays, New York: Chelsea House, 1986.

Harold Bloom, Franz Kafka (Bloom's Major Novelists), Chelsea House Publishers, 2003.

Elizabeth Boa, Kafka: Gender, Class, and Race in the Letters and Fictions, Oxford: Clarendon Press, 1996.

Max Brod, Franz Kafka: A Biography, Da Capo Press, 1995.

Max Brod (ed), The Diaries of Franz Kafka, Schocken Books, 1988.

Elias Canetti, Kafka's Other Trial: The Letters to Felice, Schocken Books, 1989.

Stanley Corngold, Lambent Traces: Franz Kafka, Princeton University Press, 2006.

W.J. Dodd (ed), Kafka: The Metamorphosis, The Trial, and The Castle, London: Longman, 1995.

Carolin Duttlinger, Kafka and Photography, Oxford: Oxford University Press, 2007.

Angel Flores (ed), The Kafka Debate, New York: Gordian Press, 1977.

Sander Gilman, Franz Kafka (Critical Lives), Reaktion Books, 2007.

Sander Gilman, Franz Kafka: The Jewish Patient, London: Routledge, 1995.

Ronald Gray, Kafka: A Collection of Critical Essays, Prentice Hall, 1962.

Ronald Hayman, A Biography of Kafka, London: Weidenfeld & Nicolson, 2001.

Franz Kafka, The Blue Octavo Notebooks, Exact Change, 1998.

Franz Kafka, The Trial (Complete Audiobooks), Naxos Audiobooks, 2007.

David Zane Mairowitz, Introducing Kafka, Icon Books, 2007.

Julian Preece (ed), The Cambridge Companion to Kafka, Cambridge University Press, 2002.

Ronald Spiers, and Beatrice Sandberg, Franz Kafka, London: Macmillan, 1997.

Walter H. Sokel, The Myth of Power and the Self: Essays on Franz Kafka, Wayne State University Press, 2001.

Ritchie Robertson, Kafka: A Very Short Introduction, Oxford University Press, 2004.

Ritchie Robertson, Kafka: Judaism, Politics, and Literature, Clarendon Press, 1987.

James Rolleston (ed), A Companion to the Works of Franz Kafka, Camden House, 2006.

Michael Wood, Franz Kafka (Writers and Their Work), Northcote House, 1998.
---

Mont Blanc – special Franz Kafka edition
---
Other works by Franz Kafka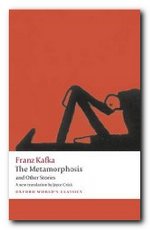 Metamorphosis (1915) is truly one of Kafka's masterpieces – a stunning parable which lends itself to psychological, sociological, or existential interpretations. It's the tale of a man who wakes up one morning and finds himself transformed into a giant insect. His family are horrified, gradually disown him, and he dies of neglect, with a rotting apple lodged in his side. Franz Kafka is one of the most important and influential fiction writers of the early twentieth century. He was a novelist and writer of short stories whose works came to be regarded as one of the major achievements of twentieth century literature.

Buy the book at Amazon UK


Buy the book at Amazon US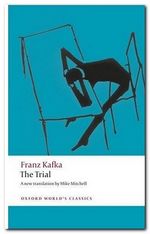 The Trial is Kafka's one indisputably successful novel – a haunting and original study in existential anxiety, paranoia, and persecution. Joseph K is accused one day of being guilty – but not told what crime he has committed. He wrestles hopelessly with legal officials and a nightmare-like court which acts on arbitrary rules, striving to find justice. In the end he fails, only to be killed 'like a dog'. Kafka gave expression to modern anxiety three decades before most people even started feeling it. This is a novel which stands outside literary norms – a superb achievement of literary modernism. Be prepared for black humour as well as mind-bending contradictions and deeply etched literary expressionism. Read the stories and The Trial as a start and a minimum.


Buy the book at Amazon UK


Buy the book at Amazon US
---
Franz Kafka – web links

Franz Kafka at Mantex
Biographical notes, book reviews and study guides on the major works, video presentations and documentaries, adaptations for cinema and television, and links to Kafka archives.

Franz Kafka at Project Gutenberg
A major collection of free eTexts in a variety of formats – in both English and German.

Franz Kafka at Wikipedia
Biographical notes, social background, survey of the stories and novels, publishing history, translations, critical interpretation, and extensive bibliographies.

Franz Kafka at the Internet Movie Database
Adaptations for the cinema and television – in various languages. Full details of directors, actors, production features, box office, film reviews, and even quizzes.

Kafka in Love
Video photomontage featuring portraits of Kafka, his friends and family, and locations in Prague – with a rather schmaltzy soundtrack in Yiddish and English.

Kafka-Metamorphosis
A public Wiki dedicated to Kafka and his work, featuring the short stories, interpretations, and further web links.

Kafka Society of America
Academic group with annual meetings and publications. Also features links to other Kafka-related sites

Oxford Kafka Research Centre
Academic group based at Oxford University that tracks current research and meetings. [Doesn't seem to have been updated since 2012.]

The Kafka Project
Critical editions and translations of Kafka's work in several languages, plus articles, literary criticism, bibliographies.

Tribute to Franz Kafka
Individual fan site (created by 'Herzogbr') featuring a collection of texts, reviews, and enthusiast essays. Badly in need of updating, but contains some interesting gems.

Finding Kafka in Prague
Quirky compilation of photos locating Kafka in his home town – with surrealist additions and weird sound track.

Who Owns Kafka?
Essay by Judith Butler from the London Review of Books on the contentious issues of ownership of Kafka's manuscripts where they are currently held in Israel – complete with podcast.

The Kafka Archive – latest news
Guardian newspaper report on the suitcase full of Kafka and Max Brod's papers released by Israeli library.

Franz Kafka: an illustrated life
Book review of a charming short biography with some unusual period photos of Kafka and Prague.
© Roy Johnson 2012
---
More on Franz Kafka
More on the novella
More on literary studies
More on short stories
---