Franz Kafka is one of the most original and idiosyncratic writers of the twentieth century. He published very little during his own lifetime; he lived for literature (in fact he said "I am literature"); he wasn't formally a great novelist or writer of short stories; and yet he put his stamp on literature to such an extent that his name has become an adjective – and we now speak of Kafkaesque situations and circumstances.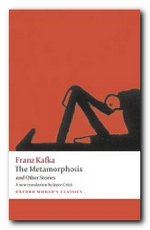 These tend to be scenarios in which the individual is trapped in madly contradictory situations, confronted by bureaucratic and totalitarian forces over which he has no control. That's why Kafka's reputation soared in the 1930s and 1940s. He prophesied the sort of state which condemned individuals as guilty – but didn't tell them of what they were being accused. He spelled out the mad logic of the show trials long before they took place, and he is quite rightly regarded as a precursor of modern existentialism..
Metamorphosis is a superb piece of imaginative fiction. A young commercial salesman wakes up one morning to find that he has been transformed into giant insect. He is horrified – and so is his family, who shun him, neglect him, and eventually kill him. The tale admits to several levels of interpretation, and like most pieces of rich fiction it is dense with contextual symbols, metaphors, and suggestive allusions.
This collection also includes three other major short works – The Judgement, In the Penal Colony, and Letter to his Father. The first was written in a single creative burst during one night and concerns an Oedipal conflict between father and son which ends with the father condemning the son to death. The second is a horrifying account of someone undergoing torture in a way which prophecies what was to happen in the concentration camps (of both Russia and Germany) only a few years later. The famous letter to his father (which was never posted) is yet another a soul-searching psychological investigation of the relation between father and son. And for those who have not come across the lighter side of his writing, there's also a collection of his first-ever published works – fragmentary pieces, to which he gives the title 'Meditations'.
I was glad to see that in his introduction, Ritchie Robertson mentioned Nadine Gordimer's magnificent short story Letter to his Son, which presents his father Herman Kafka's hypothetical response to his neurotic son's letter from beyond the grave. It's a marvellous presentation of the other side of the picture.
The translation notes make very pertinent reference to the difficulty of rendering Kafka's extraordinarily complex syntax. His writing is an odd mixture of startlingly dramatic images or situations, surrounded by endlessly convoluted descriptions and speculations, with deeply nested conditional clauses that can lead on from one page to the next in huge Teutonic paragraphs.
These new editions from OUP offer full value in terms of critical apparatus surrounding the text. There's a lengthy introduction, a chronology of Kafka's life, an essay on the new translation, explanatory notes, and an extended bibliography. This volume is an ideal starting point for anyone who has not read Kafka before.
© Roy Johnson 2009

Buy the book at Amazon UK

Buy the book at Amazon US
---
Franz Kafka, The Metamorphosis and Other Stories, Oxford: Oxford University Press, 2009, pp.146, ISBN 0199238553
---
More on Franz Kafka
More on the novella
More on literary studies
More on short stories
---