A guide through James Joyce's Ulysses
Anyone who has ever tried to read James Joyce's Ulysses will know that it is a long, complex novel that is quite difficult to understand – especially on first acquaintance. But it is worth the effort, because it is also a twentieth-century masterpiece. The New Bloomsday Book by Joyce scholar Harry Blamires is designed to help you if you feel in need of support. It tells you what is going on from first page to last.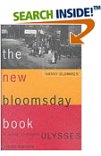 Ulysses, as its title suggests, is based loosely on Homer's Odyssey, and Joyce made the events of his narrative, set on a single day in June 1914, parallel the events of the epic poem. Instead of Ulysses making his way home after fighting in the Trojan wars, Joyce's hero Leopold Bloom, an advertising salesman, after a day of wandering around Dublin, makes his way home to his wife Molly. But the subtelties and echoes are not always easy to pick up – so Blamires guides you through the story, explaining what is going on, and pointing out the Homeric parallels.
And he points out much more besides. Joyce's novel is constructed from countless numbers of small cross references, echoes, allusions, and cultural leitmotivs. This has become a standard work of Joyce scholarship.
The 'new' in the title of this third edition refers to the fact that it now contains page numbering and references to the three most commonly used editions of the novel – the Oxford University Press 'World Classics' (1993), the Penguin 'Twentieth-Century Classics' (1992), and the controversial Gabler 'Corrected Text' (1986) editions.
It's certainly a complete explanation, a summary of what 'happens' in the novel – but of course it cannot paraphrase the poetry and the glamour of the prose, whose style changes in almost every chapter – and in one memorable episode (Oxen of the Sun) within the chapter itself. As Blamires explains in his introduction to the novel's opening chapter:
Joyce's symbolism cannot be explained mechanically in terms of one-for-one parallels, for his correspondences are neither exclusive nor continuously persistent. Nevertheless certain correspondences recur throughout Ulysses, establishing themselves firmly. Thus Leopold Bloom corresponds to Ulysses in the Homeric Parallel, and Stephen Dedalus corresponds to Telemachus, Ulysses's son. At the beginning of Homer's Odyssey Telemachus finds himself virtually dispossessed by his mother's suitors in his father's own house, and he sets out in search of the lost Ulysses. In Joyce's first episode Stephen Dedalus feels that he is pushed out by his supposed friends from his temporary residence, and leaves it intending not to return. The residence in question is the Martello tower on the beach at Sandycove, for which Stephen pays the rent.. Buck Mulligan, a medical student, shares it with him, and they have a resident visitor, Haines, an Englishman from Oxford.
Blamires explains all the allusions, symbols, and Homeric parallels as he goes along, whilst offering a paraphrase of the story. This will help readers to understand a dense and complex novel which might otherwise take several readings to unravel.
© Roy Johnson 2000
---
Harry Blamires, The New Bloomsday Book, Abingdon: Routledge, 1996, pp.253, ISBN 0415138582
---
More on James Joyce
Twentieth century literature
More on study skills
---