complete guide to designing and teaching online courses
Online courses are big business in further and higher education right now. You know the reason why. Governments cut back funding, whilst colleges and universities are told to take in more students. The answer is – put courses on line, and let the students teach themselves. Well, it's not quite as simple as that, and for those people charged with the 'challenge' of designing courses, Marguerita Lynch has a great deal of practical wisdom and experience to impart. The Online Educator offers detailed explanations of common terms and concepts; a practical, step-by-step format with useful checklists; guidance for both teachers and students; and links to useful web sites and other online resources. She starts from the three cardinal rules for online learning.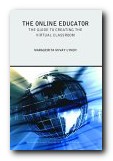 First – we must push beyond our own comfort zones. Second – plan, plan, plan. And third – interactive communication is paramount. She outlines the need for careful planning, for support and training for both students and tutors, and the need to cater for different learning styles. There is plenty of discussion of the hardware and the course management systems (or virtual learning environments) necessary to run such courses – and she reveals the questions to ask in helping you to choose the best system.
Her argument insists on the need for backup and support – for both tutors and students. This means that course developers need to do much more than simply convert teaching notes into web pages. She deals with all the problems associated with putting courses on line: security, scripts, anti-virus issues, passwords, as well as the basics of page design and navigation, plus the thorny issues such as tutor overload and student plagiarism.
In this system the tutor is transformed from classroom instructor to eMentor – and the pedagogic focus moves from spoon-fed to self-directed learning. If the courses are well designed and properly supported, everybody can profit from the results.
There is full consideration of Web-based tools needed in the online environment, and full listings of the free programs available, as well as self-assessment quiz and course management software.
She ends by presenting a variety of software for assessment and evaluation. There's an exploration of copyright problems and interesting solutions to them that will be of keen interest to the many teachers currently engaged in creating courses for their institutions. The good news is that most institutions are now leaving copyright with the authors, in return for reciprocal exploitation rights.
This is an amazingly thorough and comprehensive guide to all aspects of online learning. Anyone who is even remotely connected with the world of online course design, delivery, or management ought to have a copy of this book on their desk.
© Roy Johnson 2002
---
Marguerita McVay Lynch, The Online Educator: A guide to creating the virtual classroom, New York/London: Routledge, 2002, pp.170, ISBN: 0415244226
---
More on online learning
More on technology
More on digital media
More on web design
More on computers
---