plots, characters, staging, history, performance
The Oxford Guide to Plays is a great idea! It's a book that gives accounts of the most important, best known, and most popular plays of world theatre. It's odd that nobody has thought of this before. The result is a handy reference work which offers a summary of each play's plot, and a commentary on its historical context and performance history. It also includes details of the setting, genre, authorship, and cast. The plays are arranged in A-Z order for accessibility, and multiple indexes provide details of playwrights and major characters.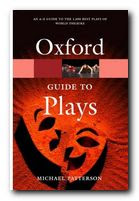 Entries range from Abigail's Party and Absurd Person Singular, via The Mahabharata and The Master Builder, to Zaire and Zoo Story. Around 80 of the most significant plays – from The Oresteia to Waiting for Godot – are dealt with in more detail.
Genres covered include: burlesque, comedy, farce, historical drama, kabuki, masque, melodrama, morality play, mystery play, No, romantic comedy, tragicomedy, satire, and tragedy. The plot summaries are interesting, because despite being objectively descriptive, they can't help but be interpretive. So you get a summary of the plot, but also one way of looking at it. Here's an example:
Homecoming, The

A: Harold Pinter Pf: 1965, London Pb: 1965; rev 1968 G: Drama in 2 acts S: House in north London, early 1960s CC: 5m, 1f

Max, a 70-year-old retired butcher and widower, lives in a house with his fastidious younger brother Sam, a chauffeur, and his two sons, Lenny, a pimp, and Joey, a demolition man and would-be boxer. Max, who enjoys reminiscing about the past, dominates the household, which is characterised by bickering and arguments. That night, Teddy, Max's eldest son, arrives unexpectedly with his English wife Ruth. Teddy is a professor of philosophy at a university in America, where he lives with Ruth and their three sons. He now wants to introduce the somewhat apprehensive Ruth to his family. Everyone is asleep …
That's one way of looking at it. But anybody who knows their Pinter will recognise that some of these apparently straightforward details may or may not be true. It's a question of interpretation.
It's interesting to note that reading some of these plot summaries gave me a strong desire to see the play performed again – something that is increasingly possible via DVD recordings which are these days made of stage performances.
Anyone with an academic, professional, amateur, or recreational interest in the theatre will find this a useful source of reference – for looking up details of particular plays, perhaps to check on the author, or on when they were first performed.

  Buy the book at Amazon UK

  Buy the book at Amazon US
© Roy Johnson 2012
---
Michael Patterson, Oxford Guide to Plays,Oxford: Oxford University Press, 2007, pp.523, ISBN: 0198604181
---
More on dictionaries
More on language
More on literary studies
More on writing skills
---