tutorial, commentary, study resources, plot, and web links
The Pretext first appeared in Scribner's Magazine number 44 for August 1908. It was then reprinted in a collection of Edith Wharton's stories The Hermit and the Wild Woman which was published by Charles Scribner's later the same year.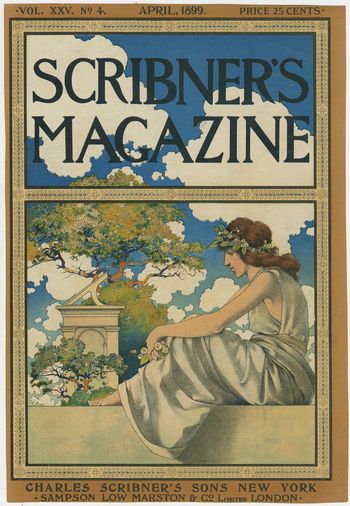 cover design by Parish Maxfield
---
The Pretext – critical commentary
This is a rather sad, bitter-sweet tale of lost hopes and unfulfilled dreams in which a middle-aged woman is caught up in a doomed romantic liaison with a much younger man. The principal points of interest are the poignant manner in which Margaret Ransom examines her own fading appearance in the light of her awakening passion for Guy Dawnish. She has lived so long in the stiflingly conformist atmosphere of her university town and its conventions that she can hardly believe either in the romantic sensations she is feeling or the very idea that she might be the love object of a much younger man.
When it is time for him to return to England she forestalls any overt declaration of love so as to preserve all its unspoken potential to savour after he has gone. She suspects, and we as readers are given every reason to believe, that he has an undeclared 'attachment' back in England. This turns out to be true – but is only confirmed when he breaks off this 'engagement' because of the reported 'significant attachment' which has occurred during his study visit in America.
The story is given its first ironic twist when his aunt arrives in search of the person who has caused such social havoc by distracting him from his social path – that person being Margaret herself. The aunt simply cannot believe that a middle-aged woman can be the object of her young nephew's affections.
The story teeters very close to farce as the aunt invents more and more explanations to account for her bewilderment – all resting on mistaken identity. But finally, when Margaret reveals that she is the woman the aunt is looking for, she comes up with the explanation that gives the story it's name – that Margaret has been used as a pretext to cover Guy's real love interest.
And this finally is where the story is given its second and most heart-wrenching twist. Margaret is so under-confident that she herself accepts this explanation, not daring to believe that the romantic episode was a reciprocated experience. The story ends with the prospect of her dull suburban life stretching into an indefinite future.
---
The Pretext – study resources

Edith Wharton Collected Stories – Norton Critical – Amazon UK

Edith Wharton Collected Stories – Norton Critical – Amazon US

The Greater Inclination and Other Stories -Project Gutenberg

A Historical Guide to Edith Wharton – Amazon UK

The Cambridge Introduction to Edith Wharton – Amazon UK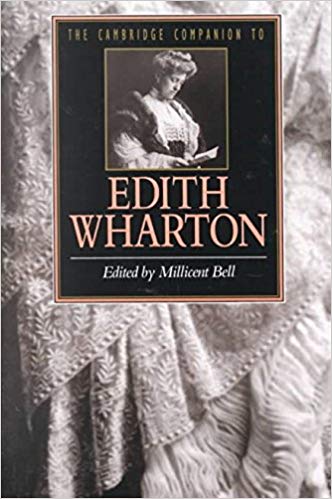 ---
The Pretext – story synopsis
Part I.   Margaret Ransom is the middle-aged wife of a lawyer in a New England university town. She has become romantically excited during the previous two years by her contact with Guy Dawnish, a young visiting Englishman, but she feels the pressure to conform to the Puritan traditions of the town and it's social norms.
Part II.   Guy Dawnish has left her some personal photographs which emphasise his richly privileged English background. Margaret finds this romantic and fascinating. Dawnish is shortly due to return to England-and they are both invited to a university event where her husband will be speaking.
Part III.   Feeling oppressed by her husband's speech, she leaves the hall with Guy, and they confront each other romantically in a secluded spot by the river. Not knowing how to deal with the possibilities between them, she urges him not to name or reveal his feelings, but to preserve their unspoken understanding of each other as a potential to help her face the future.
Part IV.   Guy goes back to England and writes polite letters. Margaret lives on her memories of their moments together. Then she hears from a friend visiting England that Guy has broken off a previous 'understanding' with an heiress because of an 'unfortunate attachment' he has formed during his American sojourn. Margaret regrets that she didn't catch hold of her chance of happiness when it was presented to her.
Part V.   Margaret tries to busy herself in university social life, but then she is visited by Guy's forceful aunt Lady Caroline Duckett who has come to America to investigate the person who has caused Guy to give up his engagement and caused such social disruption within his family. The aunt cannot believe that Margaret (as a middle-aged woman) is the person responsible and eventually presumes that Guy has used Margaret's name as a cover for an attachment to someone else. Margaret is so lacking in self esteem that she accepts this idea herself, and prepares herself for a life with all her romantic hopes extinguished.
---
Principal characters
| | |
| --- | --- |
| Robert Ransom | university tutor in law |
| Margaret Ransom | his romantic wife |
| Guy Dawnish | young English academic visitor |
| Gwendolen Matcher | Guy's 'intended' in England |
| Lady Caroline Duckett | Guy's aunt from England |
---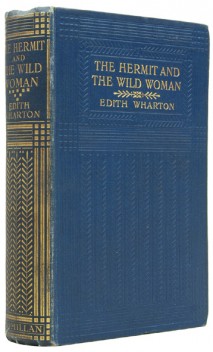 first English edition – Macmillan 1908
---
Further reading
Louis Auchincloss, Edith Wharton: A Woman of her Time, New York: Viking, 1971,
Elizabeth Ammons, Edith Wharton's Argument with America, Georgia: University of Georgia Press, 1982, pp.222. ISBN: 0820305138
Janet Beer, Edith Wharton (Writers & Their Work), New York: Northcote House, 2001, pp.99, ISBN: 0746308981
Millicent Bell (ed), The Cambridge Companion to Edith Wharton, Cambridge: Cambridge University Press, 1995, pp.232, ISBN: 0521485134
Alfred Bendixen and Annette Zilversmit (eds), Edith Wharton: New Critical Essays, New York: Garland, 1992, pp.329, ISBN: 0824078489
Eleanor Dwight, Edith Wharton: An Extraordinary Life, New York: Harry N. Abrams, 1994, ISBN: 0810927950
Gloria C. Erlich, The Sexual Education of Edith Wharton, California: University of California Press, 1992, pp.223, ISBN: 0520075838
Susan Goodman, Edith Wharton's Women: Friends and Rivals, UPNE, 1990, pp.220, ISBN: 0874515246
Irving Howe, (ed), Edith Wharton: A collection of Critical Essays, London: University of North Carolina Press, 1986,
Jennie A. Kassanoff, Edith Wharton and the Politics of Race, Cambridge: Cambridge University Press, 2004, pp.240, ISBN: 0521830893
Hermione Lee, Edith Wharton, London: Vintage, new edition 2008, pp.864, ISBN: 0099763516
R.W.B. Lewis, Edith Wharton: A Biography, New York: Harper and Rowe, 1975, pp.592, ISBN: 0880640200
James W. Tuttleton (ed), Edith Wharton: The Contemporary Reviews, Cambridge: Cambridge University Press, 1992, pp.586, ISBN: 0521383196
Candace Waid, Edith Wharton's Letters from the Underworld, London: University of North Carolina Press, 1991,
Sarah Bird Wright, Edith Wharton A to Z: The Essential Reference to Her Life and Work, Fact on File, 1998, pp.352, ISBN: 0816034818
Cynthia Griffin Wolff, A Feast of Words: The Triumph of Edith Wharton, New York: Perseus Books, second edition 1994, pp.512, ISBN: 0201409186
---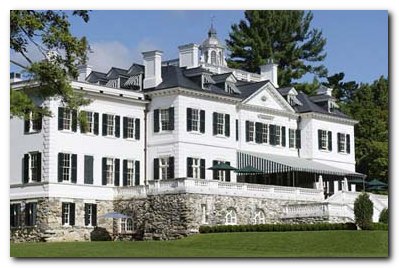 Edith Wharton's 42-room house – The Mount
---
Other works by Edith Wharton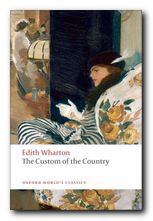 The Custom of the Country (1913) is Edith Wharton's satiric anatomy of American society in the first decade of the twentieth century. It follows the career of Undine Spragg, recently arrived in New York from the midwest and determined to conquer high society. Glamorous, selfish, mercenary and manipulative, her principal assets are her striking beauty, her tenacity, and her father's money. With her sights set on an advantageous marriage, Undine pursues her schemes in a world of shifting values, where triumph is swiftly followed by disillusion. This is a study of modern ambition and materialism written a hundred years before its time.

Buy the book from Amazon UK


Buy the book from Amazon US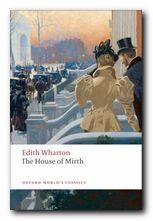 The House of Mirth (1905) is the story of Lily Bart, who is beautiful, poor, and still unmarried at twenty-nine. In her search for a husband with money and position she betrays her own heart and sows the seeds of the tragedy that finally overwhelms her. The book is a disturbing analysis of the stifling limitations imposed upon women of Wharton's generation. In telling the story of Lily Bart, who must marry to survive, Wharton recasts the age-old themes of family, marriage, and money in ways that transform the traditional novel of manners into an arresting modern document of cultural anthropology.

Buy the book from Amazon UK


Buy the book from Amazon US
---
Edith Wharton – web links
Edith Wharton at Mantex
Biographical notes, study guides to the major novels, tutorials on the shorter fiction, bibliographies, critiques of the shorter fiction, and web links.
The Short Stories of Edith Wharton
This is an old-fashioned but excellently detailed site listing the publication details of all Edith Wharton's eighty-six short stories – with links to digital versions available free on line.
Edith Wharton at Gutenberg
Free eTexts of the major novels and collections of stories in a variety of digital formats – also includes travel writing and interior design.
Edith Wharton at Wikipedia
Full details of novels, stories, and travel writing, adaptations for television and the cinema, plus web links to related sites.
The Edith Wharton Society
Old but comprehensive collection of free eTexts of the major novels, stories, and travel writing, linking archives at University of Virginia and Washington State University.
The Mount: Edith Wharton's Home
Aggressively commercial site devoted to exploiting The Mount – the house and estate designed by Edith Wharton. Plan your wedding reception here.
Edith Wharton at Fantastic Fiction
A compilation which purports to be a complete bibliography, arranged as novels, collections, non-fiction, anthologies, short stories, letters, and commentaries – but is largely links to book-selling sites, which however contain some hidden gems.
Edith Wharton's manuscripts
Archive of Wharton holdings at the Beinecke Rare Book and Manuscript Library
© Roy Johnson 2013
---
Edith Wharton – short stories
More on Edith Wharton
More on short stories
---