tutorial. study guide, interpretations, further reading
The Quicksand first appeared in Harper's Magazine in the issue for June 1902. It was collected in The Descent of Man (1904) and currently forms part of the publication The New York Stories of Edith Wharton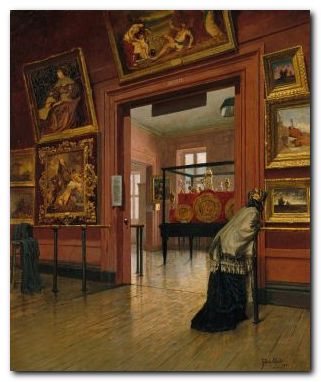 The Metropolitan Museum – Frank Waller (1842-1923)
---
The Quicksand – commentary
Structure
The story is essentially a tale of reversed expectations – but one with a very subtle construction and some interesting ironic effects. At the outset readers are given every reason to notice the relationship between Mrs Quentin and her son Alan. They are very close to each other emotionally – even to the point of 'excessive intimacy'.
Everything in the narrative suggests Mrs Quentin's taking her son's side when he is refused by a potential fiancée, Hope Feddo, because of his ownership of the muck-raking newspaper the Radiator. There is even a hint of maternal jealousy and rivalry in the remark, 'Mrs Quentin at first was kept silent by the mother's instinctive anger that the girl she had not wanted for her son should have dared to refuse him.'
This suggestion of positive prejudice is reinforced by Mrs Quentin's reaction during their discussion of what to do. She is relieved to observe: 'He was with her against the girl then!'
At this point it is natural to suppose that the story is one of a woman's loyalties being tested. She wants the best for her beloved son, but she has reservations about his choice of fiancée. Nevertheless, she agrees to speak to the girl on his behalf.
Mrs Quentin's scepticism about Hope then seems to be confirmed by the drab furniture amongst which she finds her living, and which is even translated metaphorically into her state of mind:
The girl's mind was like a large light empty place, scantily furnished with a few massive prejudices, not designed to add to anyone's comfort but too ponderous to be easily moved.
Mrs Quentin argues that Hope should not prejudge the future, but give life a chance. She raises the problem they both face – but in a brief and ambiguous manner.
Six months later Alan is still pained by the rebuff, and Mrs Quentin's relations with her son have cooled. She feels a vague discomfort that we might be forgiven for thinking is a sense of guilt at not trying harder to argue Alan's case.
But when she meets Hope in the Metropolitan Museum the girl reveals that she too has been unhappy. She now feels that she made a mistake in rejecting Alan's proposal, even accusing herself of self-righteousness and vanity in her former attitude.
She has come to feel that her love for Alan can be put to use in helping him. At the same time she has realised from Mrs Quentin's example that it is possible to disattend to the nature of the Radiator.
It is at this point that the reversal of expectations is presented. Mrs Quentin reveals that it is precisely because she can see Hope is a person with intelligence and integrity that she doesn't want her to face the same difficulties she herself has had as a young woman.
Mrs Quentin married Alan's father, the owner of the Radiator. When she realised it was a gutter press publication she asked him to sell the newspaper. He agreed, but wanted to first build its circulation to make it a saleable proposition.
Time passed, the paper was not sold, and they became locked in a vicious circle. When Alan was born she needed the money to keep him in luxury to which both he and his mother became accustomed.
When Alan inherited the Radiator she hoped he would sell it – but he didn't. Mrs Quentin feels that she became locked into a dishonourable bond with the son she loved. She hoped he would marry a simple and unquestioning girl – but having met a woman with ideas, Mrs Quentin fears that Hope will be dragged down into a similar dishonourable compact. For this reason, she is presenting a warning message. It is a dramatic and very convincing revelation – from which young Hope flees in shock.
An alternative reading
There is another way of interpreting the details of the story, which is to look at what results from the actions of the participants. This also involves speculating on psychological motivation which might be hidden even from the characters themselves.
Mrs Quentin has a very deep emotional bond with her son Alan. She has raised him with devoted concern for his 'delicate' nature. They have travelled abroad together, in warm climates during the winter and cruising aboard a yacht in summer. So Alan has certainly been kept away from the masculine influence of his father.
Mother and son have become like lovers to each other – and they address each other in the language of lovers (Dear' and 'dear mother'). You do not need to be a qualified psychoanalyst to realise that a mother with an almost incestuous relationship to her son will not welcome the attentions of a rival in the form of a potential daughter-in-law.
Mrs Quentin therefore is very reluctant to act as her son's emissary to the obdurate Hope Fenno. When she does make the visit she views Hope in a hostile manner ('The girl's mind was like a large light empty place') and puts forward a largely unconvincing argument in favour of her accepting Alan. The argument is unconvincing because secretly she doesn't want Hope to be persuaded.
When some time later Hope changes her mind, Mrs Quentin is forced to deploy a more powerful set of reasons why the young couple should not be united. She presents Alan as a driven work-obsessive who will never change, and she delivers her own biography as a combination of addiction to luxury and tragic failure in the fight against muck-raking journalism.
These arguments are delivered (she claims) with the aim of 'saving' Hope Fenno from a similar fate – but unconsciously she has the ambition of driving the girl away from her much-beloved son – and she succeeds. In this reading the story is one of sexual rivalry between a possessive mother and her prospective daughter-in-law.
---
The Quicksand – study resources
The New York Stories – NYRB – Amazon UK
The New York Stories – NYRB – Amazon US
Edith Wharton Stories 1891-1910 – Norton Critical – Amazon UK
Edith Wharton Stories 1891-1910 – Norton Critical – Amazon US
A Historical Guide to Edith Wharton – Amazon UK
The Cambridge Introduction to Edith Wharton – Amazon UK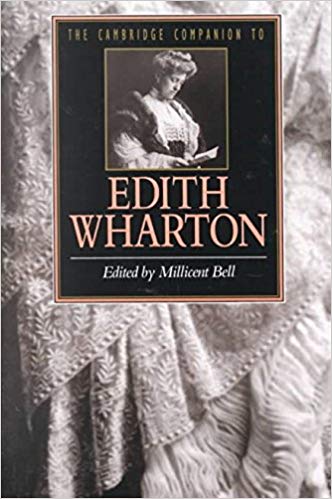 ---
The Quicksand – story synopsis
I Young Alan Quentin's proposal of marriage has been rejected by Hope Fenno because she disapproves of the muckraking newspaper the Radiator he has inherited from his father. His mother Mrs Quentin consoles him and promises to plead his case with the young woman.
II Mrs Quentin interviews Hope and argues that her objections to the newspaper might dissolve with the passage of time. Hope remains unconvinced.
III Six months later the two women meet again. Hope has changed her mind and wishes to 'support' Alan, as Mrs Quentin did when her husband was alive. However, Mrs Quentin reveals that she wanted to be rid of the newspaper, but became enmeshed in a lifelong betrayal of her own values because of the luxury its income provided. She wishes Hope to be spared a similar destiny. This information scares Hope away.
© Roy Johnson 2018
---
Edith Wharton – short stories
More on Edith Wharton
More on short stories
---