tutorial, commentary, study resources, plot, and web links
The Razor first appeared in September 1926 in the Russian emigré newspaper Rul' published in Berlin. The paper had been established by Vladimir Nabokov's father in 1921.
In his list of stories collected for publication in single volume form, Nabokov listed The Razor under the heading 'Bottom of the Barrel', but it seems to me no less worthy than many of the other shorter and lighter pieces from the early period of his output as a writer. His first novel, Mary was published the same year.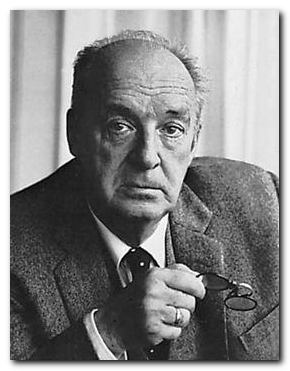 Vladimir Nabokov
---
The Razor – critical commentary
This is a short and relatively lightweight story – but it pursues its central conceit with admirable restraint and brevity. Every element in the dramatic situation raises the expectation that Ivanov will exact revenge. He has his adversary completely at his mercy. He is on his own, unobserved in the shop. The customer has put him through an 'interrogation' which he must have expected to lead to Ivanov's death.
The artistic success of the tale lies not in the generation of tension – 'don't move please, or I might cut you prematurely' – but in the fact that the customer never speaks. We can only imagine his terror. Even the details of the 'interrogation' are not dramatised – so we are spared any gruesome details, but by default encouraged to guess what they might be.
And in the end Ivanov does nothing, but simply dismisses his former tormentor. He triumphs over any desire for revenge. Technically, this is an anti-climax in the narrative, but in fact it is a very satisfying resolution.
Moreover, although the dramatic tension might seem rather artificial, the situation in the story is perfectly realistic. Berlin was the 'first centre' of emigration for Russians of both colours – Red and White – fleeing from the consequences of the 1917-1918 revolutions. Former aristocrats (like Nabokov himself) were forced to earn a living by doing menial jobs.
---
The Razor – study resources

The Cambridge Companion to Nabokov – Amazon UK

Zembla – the official Vladimir Nabokov web site

The Paris Review – 1967 interview, with jokes and put-downs

First editions in English – Bob Nelson's collection of phtographs

Vladimir Nabokov at Wikipedia – biographical notes, links

Vladimir Nabokov at Mantex – tutorials, web links, study materials

Brian Boyd, Vladimir Nabokov: The Russian Years, Princeton University Press, 1990.

Brian Boyd, Vladimir Nabokov: The American Years, Princeton University Press, 1991.

Laurie Clancy, The Novels of Vladimir Nabokov. New York: St. Martin's Press, 1984.

Neil Cornwell, Vladimir Nabokov: Writers and their Work, Northcote House, 2008.

Jane Grayson, Vladimir Nabokov: An Illustrated Life, Overlook Press, 2005.

Norman Page, Vladimir Nabokov: Critical Heritage, London: Routledge, 1997

David Rampton, Vladimir Nabokov: A Critical Study of the Novels. New York: Cambridge University Press, 1984.

Michael Wood, The Magician's Doubts: Nabokov and the Risks of Fiction. Princeton, New Jersey: Princeton University Press, 1995.
---

  Vladimir Nabokov: The Collected Stories – Amazon UK


  Vladimir Nabokov: The Collected Stories – Amazon US
---
The Razor – plot summary
Ivanov is a White Russian emigré working in a barber shop in Berlin. His nickname as a military Captain had been 'Razor' because of his sharp features.
One quiet summer morning whilst the other staff are absent, a man comes into the shop for a shave. Ivanov recognises him as someone who has previously interrogated and (by implication) tortured him.
He shaves the man and menaces him by reminding him that a single slip of his razor would produce a lot of blood. He then proceeds to recount the events of his interrogation, all the while shaving his victim.
Ivanov reminds the man that both corpses and people sentenced to death are shaved, and asks him if he can guess what is going to happen next.
The man is clearly terrified, He keeps his eyes tightly shut and doesn't utter a word. But Ivanov finally whisks the cloth from around his neck and bundles him out of the shop.
---
Other work by Vladimir Nabokov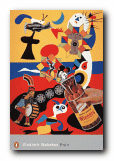 Pnin is one of his most popular short novels. It deals with the culture clash and catalogue of misunderstandings which occur when a Russian professor of literature arrives on an American university campus. Like many of Nabokov's novels, the subject matter mirrors his life – but without ever descending into cheap autobiography. This is a witty and tender account of one form of naivete trying to come to terms with another. This particular novel has always been very popular with the general reading public – probably because it does not contain any of the dark and often gruesome humour that pervades much of Nabokov's other work.


Buy the book at Amazon UK


Buy the book at Amazon US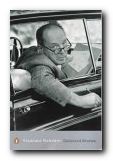 Collected Stories Nabokov is also a master of the short story form, and like many writers he tried some of his literary experiments there first, before giving them wider reign in his novels. This collection of sixty-five complete stories is drawn from his entire working life. They range from the early meditations on love, loss, and memory, through to the later technical experiments, with unreliable story-tellers and the games of literary hide-and-seek. All of them are characterised by a stunning command of language, rich imagery, and a powerful lyrical inventiveness.


Buy the book at Amazon UK


Buy the book at Amazon US
© Roy Johnson 2014
---
More on Vladimir Nabokov
More on literary studies
Nabokov's Complete Short Stories
---