best-selling introduction to study skills for sciences
This is a set text on one of the Open University's science foundation courses, and it has quite rightly become a best-seller. It's written for maths, science, engineering, and technology students approaching further education or undergraduate courses – possibly after a long break from study. The Sciences Good Study Guide can be used as an introductory workbook or as a source of reference. It deals with reading and note-taking, essay writing, working with numbers, and preparing for examinations. The main features worth recommending are its use of realistic examples and the friendly manner in which it addresses the reader. It's packed with practical exercises and activities, and it aims to make studying more enjoyable and rewarding.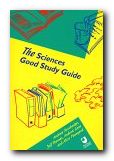 There is also an extra maths help section with exercises and answers which allows you to assess your own skills. It's an invaluable source of 'hints and tips', helping you to learn more effectively and develop study strategies that really work. Another important feature is that it engages the reader as actively as possible by posing questions, highlighting important points, setting short quizzes, and breaking up the exposition into manageable chunks.
It contains lots of good advice on general study skills – note-taking, reading, time-management, and confidence building – but the centrepiece is a section on maths – one of the most daunting topics for most beginners. It also covers working with diagrams, flow charts, and graphs and tables; working with numbers and tables; using a computer efficiently; conducting experiments, and writing essays and reports.
The book is designed to meet the needs of a range of learners – not just those involved in distance education. It will appeal to beginning and experienced students alike, including those: starting to study at college or university; taking access or study skills courses; looking afresh at how they study.
This approach to active and [in educational jargon] 'open' learning is particularly suitable for anyone embarking on a distance-learning course, or students engaged in any form of independent learning. In fact there are now separate versions of these guides for arts and social sciences. At its current price this is exceptionally good value.
© Roy Johnson 2000

  Buy the book at Amazon UK

  Buy the book at Amazon US
---
Andrew Northedge et al, The Sciences Good Study Guide, Buckingham: The Open University, 1998, pp.470, ISBN: 0749234113
---
More on study skills
More on writing skills
More on online learning
---