tutorial, commentary, study resources, and web links
The Secret Agent (1907) is a short novel and a masterpiece of sustained irony. It is based on the real incident of a bomb attack on the Greenwich Observatory in 1888 and features a cast of wonderfully grotesque characters: Verloc the lazy double agent, Inspector Heat of Scotland Yard, and the Professor – an anarchist who wanders through the novel with bombs strapped round his waist and the detonator in his hand.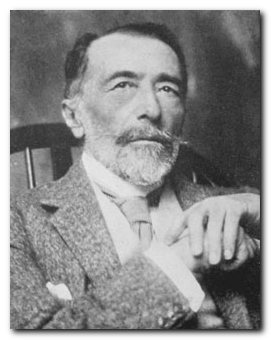 Joseph Conrad
The English government and police are subject to sustained criticism, and the novel bristles with some wonderfully orchestrated effects of dramatic irony – all set in the murky atmosphere of late Victorian London. Here Conrad prefigures all the ambiguities which surround two-faced international relations, duplicitous State realpolitik, and terrorist outrage which still beset us a hundred years later. The sub-title of the novel is 'A Simple Tale' – which itself is deeply ironic, because the story is anything but simple.
---
The Secret Agent – critical commentary
Conrad is celebrated for his use of irony, and he lays it on very thick indeed inThe Secret Agent. In fact he employs several types of irony throughout the novel, much of it for grim effect.
comic irony
narrative irony
situational irony
dramatic irony
tragic irony
Comic irony
This occurs where there an obviously funny disparity between something intended and the result. For instance the 'terrorists' who group themselves around Verloc are all hopelessly inadequate beings who have very little political effect. But Conrad depicts them as comic grotesques. Michaelis is almost obscenely overweight, and he has lost the power of consecutive thought whilst in prison. The Professor is a small shabby figure who lives in abject poverty and does nothing except walk round London with an explosive device strapped to his body. Ossipon is a failed medical student who pathetically sponges off shop girls, and by the end of the novel is 'ready to receive the leather yoke of the sandwich board'. Karl Yundt is a pathetic old man with a whispy beard who appears to do nothing of any consequence.
These are comic caricatures – and all of them are light years away from their declared aim of overthrowing society. They are all well known to government authorities and under regular supervision by the police force they profess to scorn. Moreover, they are being led by a man who betrays them – Verloc, a double agent.
Admittedly, it is a grim form of comedy – but that is very much Joseph Conrad, and many critics have observed that this is one of his more pessimistic novels.
Narrative irony
This occurs when the narrator says something about the narrative or a character which the reader knows is not true. Conrad's characterization of Verloc uses this device all the way through the novel. We the readers know that Verloc is an overweight, lazy, incompetent, self-indulgent failure. But Conrad in his third person omniscient narrative mode gives an account of Verloc which is couched in positive terms. Conrad achieves this effect by slipping into Verloc's own point of view – an indirect form of narrative.
He was tired. The last particle of nervous force had been expended in the wonders and agonies of this day full of surprising failures coming at the end of a harrassing month of scheming and insomnia. He was tired. A man isn't made of stone. Hang everything! Mr Verloc reposed characteristically, clad in his outdoor garments. One side of his open overcoat was lying partly on the ground. Mr Verloc wallowed on his back. But he longed for a more perfect rest – for sleep – for a few hours of delicious forgetfulness. That would come later. Provisionally he rested. And he thought: "I wish she would give over this damned nonsense. It's exasperating."
Here are two (maybe three) forms of irony active at the same time. The narrative gives us Verloc's point of view: "A man isn't made of stone". We know however that he is lazy, self-indulgent, and vulgar. (He spends most of his time indoor dressed for the street.) He wishes for a 'more perfect rest' – and he is shortly going to get it when Winnie murders him with the carving knife. And what he calls "damned nonsense" is the fact that he has just killed her beloved brother with the bomb.
Situational irony
This occurs where there is a disparity between intention and result. It could be argued that the scenes in the home of the lady protector of Michaelis offer examples of these. The guests include Michaelis, who the police regard as a dangerous terrorist; the police themselves, in the form of the Assistant Commissioner, who is supposed to be tracking down the anarchists; and Mr Vladimir from the Russian embassy, who has instigated the bomb plot in the first place.
So – the characters who are supposed to be at the opposite ends of society are in fact mingling socially. The intention is to preserve the power of the ruling class and its appearance of solidity. The result is that it deals with its own enemies. Our own society has provided plenty of similar examples – from Lord Profumo mixing with Russian spies and prostitutes at Cliveden in 1963, to Tony Blair cozying up to Muammar Gaddafi and Rupert Murdoch.
Some people might argue that these are examples of dramatic irony: but in fact all the characters in the un-named lady's house know what is going on in these scenes. They keep up a polite diplomatic front of being sociable, even though some of them are sworn enemies.
Dramatic irony
This occurs when the reader knows something that a character does not. There is a superb example of this at the end of the novel when Winnie is fleeing the scene of her crime and she bumps into Ossipon. Her state of distress leads him to believe that it is caused by the bomb explosion at Greenwich, which he believes has resulted in Verloc's death. He is only too keen to take advantage of an attractive woman in her bereaved state.
What he does not realise is that her distress is caused by the death of Verloc – but because she has just murdered him. We as readers know that, but Ossipon does not – and when he discovers Verloc's body with the meat cleaver sticking out of it, he vomits all over the floor. This is another example of what might be called double irony (see below).
Tragic irony
This is a form of dramatic irony which occurs when a character's actions lead to tragic consequences, contrary to the characters desire or intentions. For instance in the dramatic finale to the novel Winnie wishes to escape from the scene of her crime. She entrusts herself and all the money she has got into the hands of Ossipon. But unknown to her he is a persistent user of women, and even worse, he has categorised her as a 'degenerate … of a murdering type' likely to cause him trouble. So he steals her money and abandons her – which leads to her suicide.
In fact it could be argued that there is a sort of double irony operating here – because although Ossipon's belief in Lombroso's crackpot theories of phrenology are obviously not shared by Conrad, it is in fact true that Winnie has been a dangerous woman with a knife, and she has committed a murder.
---
The Secret Agent – study resources

The Secret Agent – Oxford World's Classics – Amazon UK

The Secret Agent – Oxford World's Classics – Amazon US

The Secret Agent – Penguin Classics – Amazon UK

The Secret Agent – Penguin Classics – Amazon US

The Secret Agent – Modern Library – Amazon UK

The Secret Agent – Modern Library – Amazon US

The Secret Agent – Master Guide (Palgrave) – Amazon UK

The Secret Agent – 1996 film adaptation on DVD – Amazon UK

Sabotage – Hitchcok's 1936 film adaptation – Amazon UK

The Cambridge Companion to Joseph Conrad – Amazon UK

Joseph Conrad: A Biography – Amazon UK

Notes on Life and Letters – Amazon UK

Joseph Conrad – biographical notes

The Secret Agent – eBook versions at Project Gutenberg

The Secret Agent – audioBook at LibriVox

The Cambridge Companion to Joseph Conrad – Amazon UK

Routledge Guide to Joseph Conrad – Amazon UK

Oxford Reader's Companion to Conrad – Amazon UK

The Joseph Conrad Society

Joseph Conrad at Wikipedia – biographical notes, links

Joseph Conrad at Mantex – tutorials, web links, study resources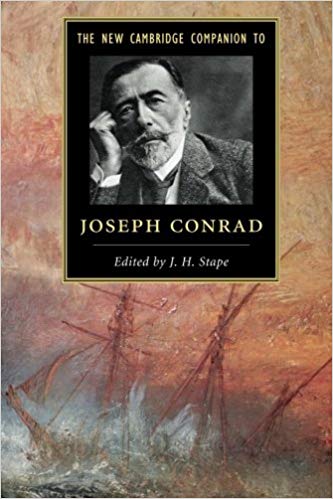 ---
The Secret Agent – plot summary
The novel is set in London in 1886. Adolf Verloc runs a shop which sells pornographic material, stationery, and contraceptives. This is a cover for his activity as a secret agent. He lives there with his young wife Winnie, his ailing mother-in-law, and his young brother-in-law, Stevie. The boy has a mental disability which causes him to be very excitable. Verloc's wife looks after Stevie, treating him more as a son than as a brother. Verloc's contacts are a group of anarchists of which Comrade Ossipon, Michaelis, Carl Yundt, and 'The Professor' are the most prominent. Although largely ineffectual as terrorists, their actions are known to the police. The group produce anarchist literature in the form of pamphlets entitled FP, an abbreviation for The Future of the Proletariat.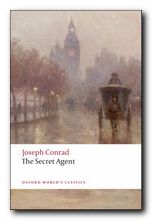 Verloc is summoned to a foreign embassy in Knightsbridge (strongly implied to be Russian) where he is employed as a secret agent. Mr. Vladimir, the First Secretary in the embassy reproaches him for filing reports which they regard as useless. He instructs him to carry out some bomb outrage as an agent provocateur to provoke the English establishment into authoritarian repression of what they regard as wishy-washy liberals. He suggests the destruction of Greenwich Observatory as an attack on rationality and science.
Verloc later meets his friends, who discuss politics and law, and the theories of various forms of resistance to the State. Stevie, Verloc's young brother-in-law, overhears the conversation, which greatly disturbs him.
Comrade Ossipon later meets The Professor, who describes the nature of the bomb which he carries in his coat at all times: it allows him to press a button which will blow him up in twenty seconds, and those nearest to him. After The Professor leaves the meeting, he stumbles into Chief Inspector Heat. He is a policeman working on the case regarding a recent explosion at Greenwich, where one man was killed. Heat informs The Professor that he is not a suspect in the case, but that he is being monitored because of his terrorist inclinations and anarchist background.
Knowing that Michaelis has recently moved to the countryside to write his memoirs, the Chief Inspector informs the Assistant Commissioner that he has a contact, Verloc, who may be able to assist in the case. The Assistant Commissioner later speaks to his superior, Sir Ethelred, about his intentions to solve the case alone, rather than relying on the effort of Chief Inspector Heat.
On Verloc's return from a business trip to the continent, his wife tells him of the high regard that Stevie has for him and she implores her husband to spend more time with Stevie. Verloc eventually agrees to go for a walk with Stevie. After this walk, Mrs. Verloc notes that her husband's relationship with her brother has improved. Verloc then tells his wife that he has taken Stevie to go and visit Michaelis, and that Stevie would stay with him in the countryside for a few days.
As Verloc is talking to his wife about the possibility of emigrating to the continent, he is paid a visit by the Assistant Commissioner. Shortly thereafter, Chief Inspector Heat arrives in order to speak with Verloc, without knowing that the Assistant Commissioner had left with Verloc earlier that evening. The Chief Inspector tells Mrs. Verloc that he had recovered an overcoat at the scene of the bombing which had the shop's address written on a label. Mrs. Verloc confirms that it was Stevie's overcoat, and that she had written the address. On Verloc's return, he realises that his wife knows her brother has been killed by Verloc's bomb, and confesses what truly happened. A stunned Mrs. Verloc gradually goes mad, ultimately attacking her husband with a knife, stabbing him to death.
After the murder, Mrs. Verloc flees her home, where she chances upon Comrade Ossipon, and begs him to help her. Ossipon assists her, but also confesses his romantic feelings for her. Planning on running away with her, he aids her in taking a boat to the continent. However, her instability and the revelation of her murder increasingly worries him, and he abandons her. He later discovers she disappeared, leaving behind her wedding ring, presumably drowned.
---
The Secret Agent – film version
Sylvia Sydney and Oscar Homulka star in Alfred Hitchcock's adaptation, which he re-named Sabotage. This was possibly to distinguish it from his other film Secret Agent which was released in the same year – 1936.
Alfred Hitchcock's 1936 adaptation Sabotage

See reviews of the film at the Internet Movie Database
---
Principal characters
Adolf Verloc
Anglo-French shopkeeper, anarchist, and double agent (40+)
Winnie Verloc
his young wife
–
Winnie's mother – an old woman who wears a black wig
Stevie
Winnie's mentally-retarded young brother
Chief Inspector Heat
detective working on the Greenwich bombing attack
The Assistant Comissioner
in charge of the Special Crime Department
Annie
the assistant Commissioner's wife, who is a friend of Michaelis's patroness
A distinguished lady
upper-class patroness of Michaelis
Sir Ethelred
Secretary for State (Home Secretary) to whom the Commissioner reports
'Toodles'
Sir Ethelred's (unpaid) private secretary
Privy Councillor Wurmt
attache at a foreign embassy (Russia)
Mr Vladimir
First Secretary at a foreign embassy (Russia)
Baron Scott-Wartheim
Verloc's former employer at the embassy
Alexander Ossipon
aka 'Tom' and 'The Doctor'
anarchist, former medical student (no degree) who writes propoaganda leaflets
Karl Yundt
old anarchist
The Professor
former teach of chemistry who carries a live bomb at all times
Michaelis
fat, ex-prisoner, vulgar-Marxist
Mrs Neale
Winnie's cleaner
---
Joseph Conrad – biography
---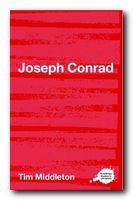 The Complete Critical Guide to Joseph Conrad is a good introduction to Conrad criticism. It includes a potted biography, an outline of the stories and novels, and pointers towards the main critical writings – from the early comments by his contemporaries to critics of the present day. Also includes a thorough bibliography which covers biography, criticism in books and articles, plus pointers towards specialist Conrad journals. These guides are very popular. Recommended.
---
Further reading

Amar Acheraiou Joseph Conrad and the Reader, London: Macmillan, 2009.

Jacques Berthoud, Joseph Conrad: The Major Phase, Cambridge: Cambridge University Press, 1978.

Muriel Bradbrook, Joseph Conrad: Poland's English Genius, Cambridge: Cambridge University Press, 1941

Harold Bloom (ed), Joseph Conrad (Bloom's Modern Critical Views, New Yoprk: Chelsea House Publishers, 2010

Hillel M. Daleski , Joseph Conrad: The Way of Dispossession, London: Faber, 1977

Daphna Erdinast-Vulcan, Joseph Conrad and the Modern Temper, Oxford: Oxford University Press, 1991.

Aaron Fogel, Coercion to Speak: Conrad's Poetics of Dialogue, Cambridge, Mass: Harvard University Press, 1985

John Dozier Gordon, Joseph Conrad: The Making of a Novelist, Cambridge, Mass: Harvard University Press, 1940

Albert J. Guerard, Conrad the Novelist, Cambridge, Mass: Harvard University Press, 1958

Robert Hampson, Joseph Conrad: Betrayal and Identity, Basingstoke: Macmillan, 1992

Jeremy Hawthorn, Joseph Conrad: Language and Fictional Self-Consciousness, London: Edward Arnold, 1979

Jeremy Hawthorn, Joseph Conrad: Narrative Technique and Ideological Commitment, London: Edward Arnold, 1990

Jeremy Hawthorn, Sexuality and the Erotic in the Fiction of Joseph Conrad, London: Continuum, 2007.

Owen Knowles, The Oxford Reader's Companion to Conrad, Oxford: Oxford University Press, 1990

Jakob Lothe, Joseph Conrad: Voice, Sequence, History, Genre, Ohio State University Press, 2008

Gustav Morf, The Polish Shades and Ghosts of Joseph Conrad, New York: Astra, 1976

Ross Murfin, Conrad Revisited: Essays for the Eighties, Tuscaloosa, Ala: University of Alabama Press, 1985

Jeffery Myers, Joseph Conrad: A Biography, Cooper Square Publishers, 2001.

Zdzislaw Najder, Joseph Conrad: A Life, Camden House, 2007.

George A. Panichas, Joseph Conrad: His Moral Vision, Mercer University Press, 2005.

John G. Peters, The Cambridge Introduction to Joseph Conrad, Cambridge: Cambridge University Press, 2006.

James Phelan, Joseph Conrad: Voice, Sequence, History, Genre, Ohio State University Press, 2008.

Edward Said, Joseph Conrad and the Fiction of Autobiography, Cambridge Mass: Harvard University Press, 1966

Allan H. Simmons, Joseph Conrad: (Critical Issues), London: Macmillan, 2006.

J.H. Stape, The Cambridge Companion to Joseph Conrad, Cambridge: Cambridge University Press, 1996

John Stape, The Several Lives of Joseph Conrad, Arrow Books, 2008.

Peter Villiers, Joseph Conrad: Master Mariner, Seafarer Books, 2006.

Ian Watt, Conrad in the Nineteenth Century, London: Chatto and Windus, 1980

Cedric Watts, Joseph Conrad: (Writers and their Work), London: Northcote House, 1994.
---
Other novels by Joseph Conrad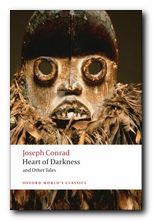 Heart of Darkness (1902) is a tightly controlled novella which has assumed classic status as an account of the process of Imperialism. It documents the search for a mysterious Kurtz, who has 'gone too far' in his exploitation of Africans in the ivory trade. The reader is plunged deeper and deeper into the 'horrors' of what happened when Europeans invaded the continent. This might well go down in literary history as Conrad's finest and most insightful achievement, and it is based on his own experiences as a sea captain. This volume also contains 'An Outpost of Progress' – the magnificent study in shabby cowardice which prefigures 'Heart of Darkness'.


Buy the book from Amazon UK


Buy the book from Amazon US
Oxford World Classics offers the best editions of Conrad's work. They are largely based on the most accurate versions of the texts; and they feature introductory essays, a biography, explanatory notes, textual variants, a bibliography of further reading, and in some cases missing or deleted chapters. They are also terrifically good value.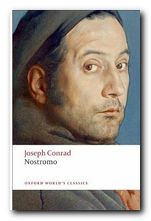 Nostromo (1904) is Conrad's 'big' political novel – into which he packs all of his major subjects and themes. It is set in the imaginary Latin-American country of Costaguana – and features a stolen hoard of silver, desperate acts of courage, characters trembling on the brink of moral panic. The political background encompasses nationalist revolution and the Imperialism of foreign intervention. Silver is the pivot of the whole story – revealing the courage of some and the corruption and destruction of others. Conrad's narration is as usual complex and oblique. He begins half way through the events of the revolution, and proceeds by way of flashbacks and glimpses into the future.


Buy the book from Amazon UK


Buy the book from Amazon US
© Roy Johnson 2010
---
Joseph Conrad web links

Joseph Conrad at Mantex
Biography, tutorials, book reviews, study guides, videos, web links.

Joseph Conrad – his greatest novels and novellas
Brief notes introducing his major works in recommended editions.

Joseph Conrad at Project Gutenberg
A major collection of free eTexts in a variety of formats.

Joseph Conrad at Wikipedia
Biography, major works, literary career, style, politics, and further reading.

Joseph Conrad at the Internet Movie Database
Adaptations for the cinema and television – in various languages. Full details of directors and actors, production notes, box office, trivia, and quizzes.

Works by Joseph Conrad
Large online database of free HTML texts, digital scans, and eText versions of novels, stories, and occasional writings.

The Joseph Conrad Society (UK)
Conradian journal, reviews. and scholarly resources.

The Joseph Conrad Society of America
American-based – recent publications, journal, awards, conferences.

Hyper-Concordance of Conrad's works
Locate a word or phrase – in the context of the novel or story.
---
More on Joseph Conrad
Twentieth century literature
More on Joseph Conrad tales
---