revision and exam skills, stress and time management
The Student's Guide to Exam Success combines essential study skills guidance with counselling on overcoming exam fears. It offers practical information on the most effective study and exam techniques: organising your revision, how to write essays, speed reading, taking effective notes, mind-mapping, and improving your memory. Eileen Tracy explores the attitudes and emotional states that can cause you not to deliver your best, and she shows you how to improve. You can learn how to understand your nervousness, how to avoid panicking, and how to develop a balanced mental approach to your work. She takes a supportive, understanding, and very personal approach to her readers.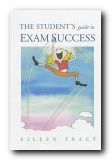 If you feel nervous, under-confident, or overwhelmed by the prospect of exams, she knows how you feel, and has plenty of remedies on offer. The advice she gives is sensible, and she's not a killjoy. Your revision and study should be organised and disciplined – but it should be punctuated by breaks and rewards. There are two particularly good chapters on mnemonics (strategies for memorising) and on writing essays – particularly under exam conditions.
There are plenty of examples to support her arguments, and the chapters are packed with mind maps, notes, diagrams, graphs, and checklists of what to do and avoid.
This guide offers advice on developing emotional strength in response to the increasingly heavy demands that are made on students in the modern world. The variety of strategies include: developing self-awareness; finding out how to stop procrastinating and worrying about results; learning about the dangers of swotting; developing the necessary confidence to handle reading lists, coursework, presentations and practicals; learning to deal with tutors, lecturers and examiners.
© Roy Johnson 2006

  Buy the book at Amazon UK

  Buy the book at Amazon US
---
Eileen Tracy, The Student's Guide to Exam Success, Buckingham: Open University Press, 2nd edition 2006, pp.208. ISBN: 0335220487
---
More on study skills
More on writing skills
More on online learning
---