solving moral dilemmas in research projects
You might not think there is a book-length study to be made of the ethical issues in academic research, but Paul Oliver makes a convincing case that there are moral considerations to be made at every stage of the process – from the original concept to the publication of results. The Student's Guide to Research Ethics starts off with the need to define terms. Is someone a subject, a participant, or an interviewee? Each term contains its own nuances, and these can have an ethical bearing on the relationship between researcher and the people being studied.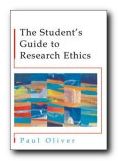 The book is mainly aimed at students in education and the social sciences who might be likely to gather information from interviewing people. However the issues it raises are general ones and might be encountered by anyone conducting a research project or doing market research. Tracing the development of a research project from methodology, through data collection and analysis, to publication, he looks in detail at the moral dilemmas which might arise between researcher and subject – including even people who are dead at the time the information is gathered.
Many of the topics he inspects involve making fine distinctions between the rights and responsibilities of the researcher and the interviewee – and sometimes between the researcher and the information that is being gathered. These issues are explored in what becomes a practical philosophic manner, so that the underlying ethical issues are brought to the surface.
He deals with the difficulties of obtaining genuinely 'informed consent' amongst respondents, researching vulnerable groups of people, and dealing with problems of permissions and protocols. Even the manner in which data is recorded can raise ethical issues.
He covers issues of privacy, confidentiality, anonymity, ethnocentrism, differences in gender, ethnicity, and religion, participant observation, and the disposal of data when a research project has been completed. It's all done in a fair and even-handed manner, without any sense of taking sides or favouring the researcher.
He also looks closely at the potential – and actual – difficulties arising from the funding of research projects, of intellectual property rights, and the dissemination of research findings via publication. Although he speaks against Internet publication earlier in the book, I was surprised at this point that there was no mention of it in his discussion of plagiarism.
This will be of particular interest to students in sociology, psychology, management and organisational studies, communication studies, education, and the health service. And although the title suggests it's for students, I can think of quite a few supervisors who would profit from considering the issues it raises.
© Roy Johnson 2005

  Buy the book at Amazon UK

  Buy the book at Amazon US
---
Paul Oliver, The Student's Guide to Research Ethics, Maidenhead: Open University Press, 2nd edition 2010, pp.224, ISBN: 0335237975
---
More on study skills
More on writing skills
More on online learning
---