tutorial, commentary, study resources, plot, and web links
The Triumph of Night was first published in 1914, and was one of a number of ghost stories written by Edith Wharton in the first part of the twentieth century. She believed that a tale of the supernatural should have the ability to 'send a cold shiver down one's spine', but she did not resort to conventional depictions of ghosts and the spirit world. Instead, she believed in evoking states of psychological mystery and terror – rather like her friend and fellow novelist Henry James, who shared her interest in supernatural stories.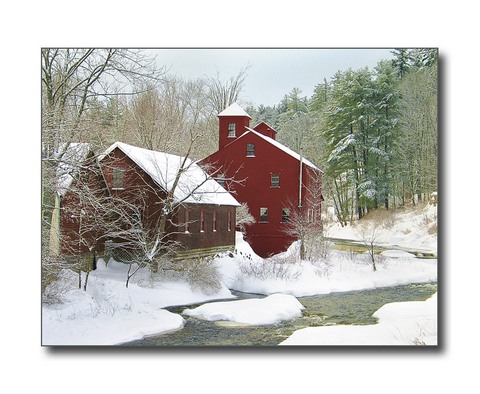 a New England winter scene
---
The Triumph of Night – critical commentary
It is difficult to offer a rational critical analysis of a ghost story unless you are prepared to suspend disbelief in the supernatural, but fortunately Edith Wharton does not make an understanding of The Triumph of Night dependent upon a belief in ghosts.
The story at a surface reading is seemingly mysterious, almost to the point of being inexplicable – but in fact Edith Wharton is employing a literary device she uses in some of her other stories. That is, the apparent omission of important information which only becomes available when the story has been subject to close reading and interpretation.
When stranded on a wintry night, George Foxon is treated to warm hospitality by John Lavington, a man who he has never met before; and yet despite being offered the comfort of a flower-filled bedroom, Foxon feels that there is something discomforting about the house:
Mr Lavington's intense personality – intensely negative, yet intense all the same – must, in some occult way, have penetrated every corner of his dwelling.
Mr Lavington has a smile – but it is a fixed smile. And it becomes apparent that despite his superficial generosity, he does not have his nephew's best interests at heart. Frank Rainer, who seems to be suffering from tuberculosis, has been advised for the sake of his health to go to a warmer, drier climate in New Mexico. Indeed, his state of being is so enfeebled that Mr Balch thinks he should go there 'at once'. But his uncle has kept him in New Hampshire, and he sends him out into the snow swept night to retrieve Foxon when he leaves the house in fear.
We do not need a supernatural explanation for the story. Young Frank Rainer is virtually murdered by his uncle John Lavington. But what is Lavington's motive?
The business meeting Lavington has concluded with Grisben and Balch is the witnessing of Frank Rainer's will, being made on the occasion of his having reached the age of twenty-one. The event is punctuated by rumours of an impending financial crisis – 'the biggest crash since '93'. And we learn later that Lavington was caught up in financial corruption on a 'Gigantic' scale – and yet he is able to come forward with a plan to bale out the cement company with a donation of ten million dollars of his own money.
The implication is that he has come by this money via Frank's will, and that he is therefore responsible for Frank's death. Underneath the fixed smile, that is his truly malevolent intention – and it is that which Foxon 'sees' in the double figure who appear behind Lavington's chair in the business meeting and at dinner. The double is the truly and 'intensely negative' side of Lavington who represents that unsavoury and unprincipled side of American capitalism.
Foxon's dilemma is that he was vaguely aware that something was wrong, but he did nothing to act – in time. He felt that he was 'the instrument singled out to warn and save' someone. He is with young Frank in his last moments and releases his fur collar – only to have his hands covered in blood – from Frank's death by tuberculosis, brought on by the hostile climate of New England in which his uncle has kept him.
---
The Triumph of Night – study resources

Edith Wharton Collected Stories – Norton Critical – Amazon UK

Edith Wharton Collected Stories – Norton Critical – Amazon US

The Triumph of Night – eBook format at Project Gutenberg

The Triumph of Night – paperback edition – Amazon UK

Edith Wharton – biography

Edith Wharton at Wikipedia – biographical notes, links

Edith Wharton at Mantex – tutorials, biography, study resources

Edith Wharton's Short Stories – publication details

A Historical Guide to Edith Wharton – Amazon UK

The Cambridge Introduction to Edith Wharton – Amazon UK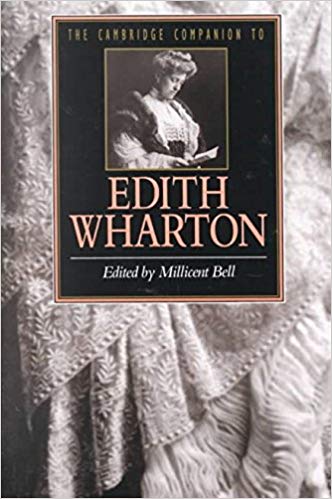 ---
The Triumph of Night – plot synopsis
Part I.   George Foxon has been employed by Mrs Culme as a secretary. He is travelling to join her in New Hampshire when he is stranded at a remote train station on a stormy mid-winter night. Frank Rainer, a friendly but emaciated young man offers him temporary lodgings at the house of John Lavington, his rich uncle, where Foxon is made very welcome.
Part II.   The house is warm and comfortable, yet Foxon detects something cold and unfriendly in its ambiance. His bedroom is full of flowers. He joins John Lavington and two business associates who are witnessing the will of Frank Rainer, who has just reached his majority of twenty-one. The group is joined briefly by a mysterious figure who casts hostile glances at Frank.
Part III.   The group of men go to dinner, where Frank's health is discussed. He has been advised to leave for a drier and warmer climate in New Mexico, and is offered a free trip and accommodation there. Foxon sees the mysterious figure in the room again, standing behind John Lavington's chair, looking malevolently at Frank, though nobody else appears to notice. They drink a toast to Frank, but Foxon is transfixed and terrified by the mystery figure.
Part IV.   He bolts to his room, anxious that he alone should be singled out to witness the figure. He rushes out of the house into the snow and dark, wondering if his social isolation has predisposed him to such visions. Frank Rainer catches up with him, and they start back to return to the house, but Foxon feels that he is leading Frank back to his doom. They stop at the lodge, where Frank collapses and dies.
Part V.   Foxon subsequently has a breakdown, then goes on a tour of Malaysia to recover. There he reads in old newspapers that John Lavington has been involved in a gigantic financial scandal, from which he has bought himself out with ten million dollars. Foxon regrets that he was given the chance to save someone, but did not act in time, and feels that he has 'blood on his hands'.
---
Principal characters
| | |
| --- | --- |
| George Foxon | a Boston secretary |
| Mrs Culme | his new employer, who he never meets |
| Frank Rainer | a cheerful but sickly young man (21) |
| John Lavington | his rich uncle |
| Mr Grisben | business associate of Lavington |
| Mr Balch | business associate of Lavington |
---
Video documentary
---
Further reading
Louis Auchincloss, Edith Wharton: A Woman of her Time, New York: Viking, 1971,
Elizabeth Ammons, Edith Wharton's Argument with America, Georgia: University of Georgia Press, 1982, pp.222. ISBN: 0820305138
Janet Beer, Edith Wharton (Writers & Their Work), New York: Northcote House, 2001, pp.99, ISBN: 0746308981
Millicent Bell (ed), The Cambridge Companion to Edith Wharton, Cambridge: Cambridge University Press, 1995, pp.232, ISBN: 0521485134
Alfred Bendixen and Annette Zilversmit (eds), Edith Wharton: New Critical Essays, New York: Garland, 1992, pp.329, ISBN: 0824078489
Eleanor Dwight, Edith Wharton: An Extraordinary Life, New York: Harry N. Abrams, 1994, ISBN: 0810927950
Gloria C. Erlich, The Sexual Education of Edith Wharton, California: University of California Press, 1992, pp.223, ISBN: 0520075838
Susan Goodman, Edith Wharton's Women: Friends and Rivals, UPNE, 1990, pp.220, ISBN: 0874515246
Irving Howe, (ed), Edith Wharton: A collection of Critical Essays, London: University of North Carolina Press, 1986,
Jennie A. Kassanoff, Edith Wharton and the Politics of Race, Cambridge: Cambridge University Press, 2004, pp.240, ISBN: 0521830893
Hermione Lee, Edith Wharton, London: Vintage, new edition 2008, pp.864, ISBN: 0099763516
R.W.B. Lewis, Edith Wharton: A Biography, New York: Harper and Rowe, 1975, pp.592, ISBN: 0880640200
James W. Tuttleton (ed), Edith Wharton: The Contemporary Reviews, Cambridge: Cambridge University Press, 1992, pp.586, ISBN: 0521383196
Candace Waid, Edith Wharton's Letters from the Underworld, London: University of North Carolina Press, 1991,
Sarah Bird Wright, Edith Wharton A to Z: The Essential Reference to Her Life and Work, Fact on File, 1998, pp.352, ISBN: 0816034818
Cynthia Griffin Wolff, A Feast of Words: The Triumph of Edith Wharton, New York: Perseus Books, second edition 1994, pp.512, ISBN: 0201409186
---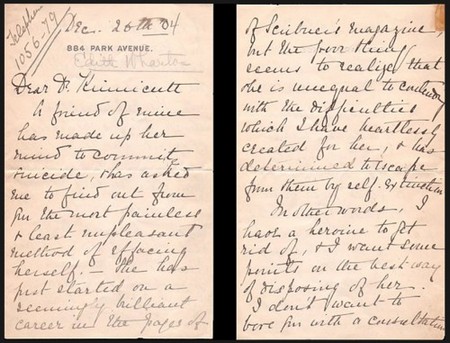 Edith Wharton's writing
---
Other works by Edith Wharton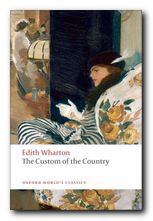 The Custom of the Country (1913) is Edith Wharton's satiric anatomy of American society in the first decade of the twentieth century. It follows the career of Undine Spragg, recently arrived in New York from the midwest and determined to conquer high society. Glamorous, selfish, mercenary and manipulative, her principal assets are her striking beauty, her tenacity, and her father's money. With her sights set on an advantageous marriage, Undine pursues her schemes in a world of shifting values, where triumph is swiftly followed by disillusion. This is a study of modern ambition and materialism written a hundred years before its time.


Buy the book from Amazon UK


Buy the book from Amazon US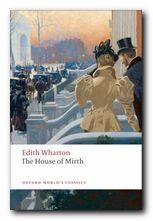 The House of Mirth (1905) is the story of Lily Bart, who is beautiful, poor, and still unmarried at twenty-nine. In her search for a husband with money and position she betrays her own heart and sows the seeds of the tragedy that finally overwhelms her. The book is a disturbing analysis of the stifling limitations imposed upon women of Wharton's generation. In telling the story of Lily Bart, who must marry to survive, Wharton recasts the age-old themes of family, marriage, and money in ways that transform the traditional novel of manners into an arresting modern document of cultural anthropology.


Buy the book from Amazon UK


Buy the book from Amazon US
---
Edith Wharton – web links
Edith Wharton at Mantex
Biographical notes, study guides to the major novels, tutorials on the shorter fiction, bibliographies, critiques of the shorter fiction, and web links.
The Short Stories of Edith Wharton
This is an old-fashioned but excellently detailed site listing the publication details of all Edith Wharton's eighty-six short stories – with links to digital versions available free on line.
Edith Wharton at Gutenberg
Free eTexts of the major novels and collections of stories in a variety of digital formats – also includes travel writing and interior design.
Edith Wharton at Wikipedia
Full details of novels, stories, and travel writing, adaptations for television and the cinema, plus web links to related sites.
The Edith Wharton Society
Old but comprehensive collection of free eTexts of the major novels, stories, and travel writing, linking archives at University of Virginia and Washington State University.
The Mount: Edith Wharton's Home
Aggressively commercial site devoted to exploiting The Mount – the house and estate designed by Edith Wharton. Plan your wedding reception here.
Edith Wharton at Fantastic Fiction
A compilation which purports to be a complete bibliography, arranged as novels, collections, non-fiction, anthologies, short stories, letters, and commentaries – but is largely links to book-selling sites, which however contain some hidden gems.
Edith Wharton's manuscripts
Archive of Wharton holdings at the Beinecke Rare Book and Manuscript Library
© Roy Johnson 2014
---
Edith Wharton – short stories
More on Edith Wharton
More on short stories
---