a chronicle of events, literature, and politics
1920. League of Nations established; Oxford University admits women;
D.H. Lawrence, Women in Love; Nobel prize – K. Hamsun (N).
1921. Irish Free State proclaimed; extreme inflation in Germany; Fatty Arbuckle scandal in US; Nobel prize – Anatole France (F).
1922. Fascists march on Rome under Mussolini; Kemel Ataturk founds modern Turkey; T.S. Eliot, The Waste Land; James Joyce, Ulysses; Katherine Mansfield, The Garden Party; Ludwig Wittgenstein, Tractatus Logico-Philosophicus; John Galsworthy, The Forsyth Saga; Nobel prize – J. Benavente (Sp).
1923. Charleston craze; BBC begins radio broadcasting in the UK; William Walton Facade; Nobel prize – W.B. Yeats (Ir).
1924. First UK Labour government formed under Ramsey MacDonald (lasts nine months); Deaths of Lenin, Franz Kafka, and Joseph Conrad; Thomas Mann, The Magic Mountain; E.M. Forster, A Passage to India; Nobel prize – W. Raymont (P).
1925. John Logie Baird televises an image of a human face; Webern Wozzeck; Adolf Hitler, Mein Kampf; Virginia Woolf, Mrs Dalloway; Nobel prize – George Bernard Shaw (UK).
1926. UK General Strike; first demonstration of television in UK; Fritz Lang, Metropolis; Nobel prize – G. Deledda (I).
1927. Lindbergh flies solo across Atlantic; first talkie film – Al Jolson in 'The Jazz Singer'; Virginia Woolf, To the Lighthouse; Nobel prize – Henri Bergson (Fr).
---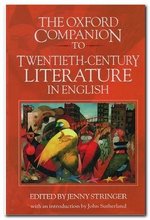 Oxford Companion to Twentieth Century Literature in English is a new reference guide to English-language writers and writing throughout the present century, in all major genres and from all around the world – from Joseph Conrad to Will Self, Virginia Woolf to David Mamet, Ezra Pound to Peter Carey, James Joyce to Amy Tan. Includes entries on literary movements, periodicals, and over 400 individual works, as well as articles on some 2,400 authors, plus a good introduction by John Sutherland.
---
1928. Women in UK get same voting rights as men; Death of Thomas Hardy; first Oxford English Dictionary published; penicillin discovered;
D.H. Lawrence, Lady Chatterley's Lover; Evelyn Waugh, Decline and Fall; Nobel prize – S. Undset (N).
1929. Slump in US, followed by collapse of New York Stock Exchange; Start of world economic depression; Second UK Labour government under MacDonald;
Virginia Woolf, A Room of One's Own; first experimental television broadcast; Kurt Weil The Threepenny Opera; Nobel prize – Thomas Mann (G).
1930. Mass unemployment in UK; Death of D.H. Lawrence.
William Faulkner, As I Lay Dying; Nobel prize – Sinclair Lewis (US).
1931. Resignation of UK Labour government, followed by formation of national coalition government; Empire State building completed in New York; Virginia Woolf, The Waves; Nobel prize – R.A. Karfeldt (S).
1932. Hunger marches start in UK; scientists split the atom; air conditioning invented; Aldous Huxley, Brave New World; Nobel prize – John Galsworthy (UK).
1933. Adolf Hitler appointed Chancellor of Germany; first Nazi concentration camps; prohibition ends in US; Radio Luxembourg begins commercial broadcasts to UK; George Orwell, Down and Out in Paris and London;Jean Vigo, L'Atalante; Nobel prize – Ivan Bunin (USSR).
1934. Hitler becomes Dictator; Evelyn Waugh, A Handful of Dust; Samuel Beckett, More Pricks than Kicks; Nobel prize – Luigi Pirandello (I).
1935. Germany re-arms; Italians invade Abyssinia (Ethiopia); Prokofiev Romeo and Juliet; Nobel prize – not awarded.
1936. Death of George V in UK, followed by Edward VIII, who is forced to abdicate; Stalinist show trials in USSR; Civil War in Spain begins; Germany re-occupies the Rheinland; BBC begins television transmissions; Aaron Copland El Salon Mexico; Nobel prize – Eugene O'Neil (USA).
1937. Neville Chamberlain UK prime minister; Destruction of Guernica;
George Orwell, The Road to Wigan Pier; Nobel prize – Roger Martin du Gard (Fr).
---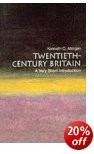 Twentieth-century Britain is an account of political, industrial, commercial, and cultural development in England, Wales, Ireland, and Scotland. It's particularly strong on the changing face of government, and it also relates issues of the day to the great writers and artists of the period. This 'very short introduction' series offers a potted account of the subject in handy pocket-book format, with plenty of suggestions for further reading.
---
1938. Germans occupy Austria; Chamberlain meets Hitler to make infamous Munich 'agreement' to prevent war; Samuel Beckett, Murphy; John Dos Passos, USA; Nobel prize – Pearl S. Buck (USA).
1939. Fascists win Civil War in Spain; Stalin makes pact with Hitler; Germany invades Poland; Britain and France declare war on Germany; helicopter invented;
James Joyce, Finnegans Wake; Nobel prize – F.E. Silanpaa (Fi).
1940. Germany invades north-west Europe; Fall of France; British troops evacuated from Dunkirk; Battle of Britain; Start of 'Blitz' bombing raids over London; Churchill heads national coalition government; assassination of Trotsky; Nobel prize – not awarded.
1941. Germany invades USSR; Japanese destroy US fleet at Pearl Harbour; USA enters the war; siege of Leningrad; Deaths of James Joyce and Virginia Woolf; Orson Wells, Citizen Kane; Nobel prize – not awarded.
1942. Battle of Stalingrad; Battle of Midway; Beveridge report establishes basis of modern Welfare State; T-shirt invented; Nobel prize – not awarded.
1943. Anglo-American armies invade Italy; Warsaw uprising; Nobel prize – not awarded.
1944. D-Day invasion of France; ball-point pens go on sale; German V1 and V2 rockets fired; R.A. Butler's Education Act; Aaron Copland Appalachian Spring; Nobel prize – J.V. Jensen (Da).
1945. End of war in Europe; Atomic bombs dropped on Japan; first computer built; microwave oven invented; United Nations founded; huge Labour victory in UK general election; Atlee becomes prime minister, George Orwell, Animal Farm; Nobel prize – G. Mistral (Ch).
1946. Churchill's 'Iron Curtain' speech; Nuremberg war trials; bikinis introduced; United Nations opens in New York; Nobel prize – Herman Hesse (Sw)
1947. Marshall Plan of aid to Europe; Jewish refugees turned away by UK; Polaroid camera invented; coal and other industries nationalised in UK; transfer of power to independent India, Pakistan, and Burma. Thomas Mann, Doktor Faustus; Nobel prize – A. Gide (Fr)
1948. Berlin airlift; state of Israel founded; Railways and electricity nationalised in UK; Bevan launches National Health Service in UK. Nobel prize – T.S. Eliot (UK)
1949. East Germany created; Mao Tse Tung declares Republic of China; NATO founded; Simone de Beauvoir, The Second Sex; George Orwell, Nineteen Eighty Four; Nobel prize – W. Faulkner (USA)
© Roy Johnson 2009
---
More on How-To
More on literary studies
More on writing skills
---