complete guide to undertaking a PhD – and beyond
This is a guide to the whole process of postgraduate research – from the point of selecting a topic and a supervisor, through to surviving your viva and starting to apply for jobs. The claim of authors Gordon Rugg and Marian Petre is that their advice includes all the things nobody ever tells you – either because they think you already know, or they have passed through the system and forgotten that they themselves once didn't know. For instance, they start off with topics such as the need for tact, patience, and restraint: after all, you're not the first person to undertake research.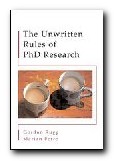 This is followed by what they call knowing how to have 'the right cup of coffee' – that is, getting the best sources of advice. They even include things as obvious but often disastrously forgotten as the need to back up your work at every stage. Their urgings are all very sound. Get to know all stages of The System and its procedures; learn how to fill in forms (first in pencil, on a photocopy); understand the role of a supervisor, and create the groundwork for establishing a good working relationship.
They take a realistic attitude to the current tenor of academic life in the UK. Yes, everything has been driven by the Research Assessment Exercise, but the PhD research project is still worth doing as an intellectual exercise in its own right.
They cover all the reading and writing skills you will need – and the general advice is that you must learn to be professionally rigorous. There's also a section by section critique of a typical thesis, showing why it's important that you get the smallest details right.
For the ambitious who can't wait to further their careers by getting into print, there is a section on how to write a journal article, plus how to increase your chances of getting it accepted.
For a piece of work as long as a thesis, most of which will be produced by people who have never written such a long piece of work before (and probably never will again) I was glad to see that they tackled the issues of creating structure and generating the appropriate style.
They go into style and writing skills in relentless detail, quoting plenty of good and bad examples so that you are left in no doubt about what's required. Then for good measure they offer guidance on delivering presentations and speaking at conferences.
There's very good chapter on dealing with the nerve-racking finale to all this – the viva. For anyone who has not yet reached this point, it's worth buying the book for this chapter alone.
And they don't end there. It's assumed that your research and your PhD are leading towards some form of employment – either to do more research or to take up a teaching appointment. They provide excellent guidance on taking both these routes.
If you are contemplating a PhD, buy the book and read it straight through to get the larger picture; then re-read each section in greater detail as you tackle each stage of your work.
I did the basic research for my PhD in about twelve months, then spent two years writing up the results – and producing possibly too much. It succeeded, but I think I might have made a better job of it if I had read a book like this first. But they didn't exist in those days.
© Roy Johnson 2010

  Buy the book at Amazon UK


  Buy the book at Amazon US
---
Gordon Rugg and Marian Petre, The Unwritten Rules of PhD Research, Maidenhead: Open University Press, 2nd edition 2010, pp.320, ISBN: 0335237029
---
More on study skills
More on writing skills
More on online learning
---