all the low down and the full monty on street-cred lingo
At first you might wonder why anybody would want to look into the origins of a cliché. But the more I read the examples in The Usual Suspects, the more they emphasise the tired, stale nature of expressions we often take for granted – or even worse, sometimes use without thinking first. This of course is based on the widely held belief that using cliché is a stylistically bad thing – though there are some people who actually defend them. (They can also be used ironically, but that isn't taken up here.)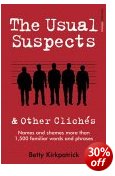 These issues are debated by Betty Kirkpatrick in the introductory essay to her collection which considers both the definition of cliché (when does an expression become a cliché for instance?) and the various categories of cliché. She debates intelligently with authorities such as Fowler and Eric Partridge and even considers how clichés blend easily into idioms, proverbs, catchphrases, vogue phrases, and allusions. Her entries run from the proverb cliché absence makes the heart grow fonder to You wish! and zero hour. She includes both traditional clichés, as in beat about the bush, and more recent usages such as spend more time with my family – which is what politicians and public figures say when they've been sacked – which neatly combines cliché with euphemism.
She also identifies what she calls 'filler clichés' such as at the end of the day, you know what I mean, and with all due respect. My own pet hates – used repeatedly, day after day by Sean Rafferty on BBC Radio 3 – are as it were and so to speak, both completely meaningless fillers which send me reaching for the off switch or tuning in to Jazz FM.
So a typical entry in this collection runs as follows:
push the envelope is an idiom cliché which is also a vogue cliché. It means to try to achieve more than seems possible, to take a risk, as A good coach is constantly driving the athlete to break new barriers, encouraging him to push the envelope. The cliché dates from the turn of the twentieth century, but the phrase may go back to early aviation test flights (1940s) where the 'envelope' refers to the line on a graph that represents the limit of an aircraft's known capabilities.
It's interesting to notice that in some clichés – such as flotsam and jetsam – the words in the phrase are almost never used separately from each other.
Most of the explanations listed are quite easy to understand – as in the case of to spend a penny. Even young people must know that this was once the standard charge for entering a public toilet. But maybe non-English readers will not. For this reason I suspect the book might be specially useful for people with English as a second or other language.
© Roy Johnson 2005

  Buy the book at Amazon UK

  Buy the book at Amazon US
---
Betty Kirkpatrick, The Usual Suspects and Other Clichés, London: A & C Black, 2005, pp.222, ISBN: 0713674962
---