updated version of first complete Internet guide
The Whole Internet was one of the earliest-ever computer books to become a best-seller. That was in 1992, when the first major wave of Net users needed information, and there as very little of it about. Ed Krol produced a manual which was well informed, comprehensive, and examined the technology in detail. However, it wasn't very easy to read, and you needed to grapple with an arcane command-line interface which assumed you had grown up with Unix as a second language.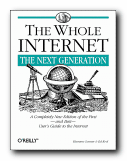 This new version is an update and complete re-write. It is based on the big changes which have come over the Net and the way it is used in the last eight years. Number one development of course is the Web, which moves up from a subsidiary chapter in the original to occupy the centre of this edition. Former features such as Gopher, Archie, and Veronica on the other hand are relegated to a footnote section called 'Archaic Search Technologies'.
But this difference also makes the manual easier to read and understand. The emphasis has been changed from how the Net works, to how it can be used. There is far less impenetrable code cluttering the pages. Instead we get clean screen shots and nice photographs of what the Net looks like on screen, not at the DOS prompt. Ed Krol has been been very fortunate in choosing his co-author, and their co-operation has produced a far more readable book.
They cover all the basics which someone new to the Net would need to know. How to send email and follow the conventions of netiquette.; what to do with attachments; how to behave on mailing lists; understanding newsgroups; and how to deal with security, privacy, and Spam. They explain how to choose from a variety of Web browsers (including even one for the Palm Pilot). I was struck by how much more accessible all this technology has become in the short time since I struggled through the first edition.
This radical shift in user-centred design is also reflected by the inclusion of completely new chapters on Net commerce, banking, gaming, and personal finance. After a chapter on how to create your own Webages, there is an introduction to what are called 'esoteric and emerging technologies' – conferencing, streaming audio and video, and electronic books. This is a very successful attempt to cover the full range of the Net and its activities in a non-snobbish manner. They end with practical information – maximising the effectiveness of your Internet connection, searching techniques, and they offer a thick index of recommended resources.
The original Whole Internet may have been a more striking phenomenon because of its originality at the time, but this new edition has the potential to reach even more readers, largely because it explains the Net and shows how it can be used in a way which is much more attractive and accessible. It has gone straight onto my bibliography of essential Net reading, and I will certainly be recommending it to all my students.
© Roy Johnson 2000
---
Kiersten Connor-Sax and Ed Krol, The Whole Internet: The Next Generation, Sebastopol: O'Reilly, 1999, pp.542, ISBN 1565924282
---
More on technology
More on digital media
More on online learning
More on computers
---