Politics. history, and society in 20th C Britain
This introductory history comes from a new series by Oxford University Press. They are written by specialists, aimed at the common reader, and offer an introduction to the main cultural and philosophical ideas which have shaped the western world. Kenneth Morgan's account of Twentieth-century Britain begins with great éclat at the First World War. This was a politically much more complex issue than we are normally led to believe, and he reminds us of the contemporary political contradictions which are now often forgotten.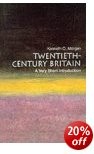 Then he goes on to the General Strike of 1926; the artistic influence of the Bloomsbury Group; the depressions of the 1930s; and Britain's attempts to stay out of war until it was finally dragged into 1939 and its aftermath. It's a slightly strange experience to read the social history of a century, much of which one has lived through oneself. If nothing else, it's a reminder that the inevitable generalisations of a brief survey often fail to capture the depths and complexities of 'what it was really like'.
I could hardly believe my eyes when he described the 1960s as 'that miserable decade' . Economically turbulent it might have been, but socially and culturally it was the most liberating, creative, and dynamic period I can ever remember.
He's on much firmer ground when he deals with the social unrest of the 1970s and 1980s, with their strikes, high unemployment, inner city riots, and falling production.
However, the long view does have some advantages, such as helping to keep events in perspective. The Falklands/Malvinas war for example:
it seemed improbable that a war to retain these distant and almost valueless outposts, scarcely known to British people before the fighting began other than from postage stamps, would encourage a revived mystique of imperial grandeur … But the jingoism of the Falklands [triumph] petered out almost as soon as it began.
Yet I still question his overview from time to time. It seems unwise to the point of ill-judged to conclude his upbeat account of the end of the century with the image of the Millennium Dome – surely the most potent symbol of government vainglory and financial mismanagement imaginable.
But for those who want an overview, or those who would like the major themes revealed, this approach is speedy and efficient. This is a very interesting and attractive format – a small, pocket-sized book, stylishly designed, with illustrations, endnotes, suggestions for further reading, and an index.
© Roy Johnson 2005
---
Kenneth O. Morgan, Twentieth Century Britain: A Very Short Introduction, Oxford: Oxford University Press, 2005, pp.128, ISBN: 019285397X
---