typography in graphic animations for Web and video
This book sets itself an ambitious target – to depict graphic animations of typography on the static, printed page. Bellantoni and Woollman do reasonably well under these circumstances. It's is a high-energy, brilliantly coloured coffee-table book [with a fairly dreadful cover] – but also a serious exploration of the latest trends in type design in commercial and fine art. Double-page spreads are devoted to the work of individual artists or design agencies in this field. They cover film credits, promotions, conceptual video, early TV ads, and cinema presentations.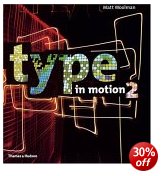 The collection starts with stills from the work of film title animator Saul Bass. [Remember 'Psycho' and 'The Man with a Golden Arm'? – there's a new site for him at www.saulbass.tv]. Unfortunately, even though some pages are covered in thumbnails of the sequences, the animation element has to be spelled out in words, which somewhat defeats the object.
Some cinema animations could just as easily have been illustrated with a single frame. The examples which look most interesting on the page are the shots of orthodox typography on promotional CDs (described in artsy-hype-speak as 'interactive press kits') and one page of 'Shakespeare in 3D' where text and footnotes intersect each other at ninety degrees.
Some of the video and TV sequences on the other hand are very difficult to follow because they are reproduced in small black and white thumbnails, and the pages in general are so crowded that we are not drawn in to contemplate the typeface. Perhaps the most surprising feature of all in a study of this kind is that the typefaces used in the examples are not explored in any technical detail, but are described in generic terms – 'sans-serif, bold, outlined'.
This is an art book, with some of the pretentiousness which often goes with this genre – for instance: "270% Confessional explores the concept of multiple linearities, functioning at several levels simultaneously. The type sequence is an exploration of memory, verbal communication, and the visualization of a conscience."
It's a book which in fact deserves to be a film, or at least a website with .MPGs of the effects they discuss. Nevertheless, I imagine that those people working in graphic animation will welcome this as a convenient survey and a print resource. It's a pity that there's no index or bibliography, which might have given it more chance of being taken seriously.
© Roy Johnson 2005

  Buy the book at Amazon UK

  Buy the book at Amazon US
---
Jeff Bellantoni and Matt Woollman, Type in Motion: Innovations in Digital Graphics, 2nd edn, London: Thames and Hudson, 2005, pp.176, ISBN: 0500512434
---
More on typography
More on digital media
More on technology
More on theory
---