tutorial, characters, study resources, video, textual history
Ulysses (1922) is probably the greatest novel of the twentieth century, and certainly Joyce's finest work. Taking Homer's Odyssey as a structural framework, Joyce builds on it a complex narrative of Dublin characters on one day – Thursday 16 June 1904. Each chapter features a different prose-style to match its theme or subject. One chapter is even written in a manner which traces the history of English prose, from the Renaissance to modern advertising jargon.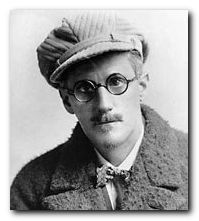 James Joyce
It also includes two versions of the 'stream of consciousness' technique. This sought to reproduce the apparently chaotic manner in which our perceptions of the external world mingle themselves with ideas and memories in an undifferentiated and unstoppable river of thought. This includes the famous final chapter which is an unpunctuated eighty page soliloquy of Molly Bloom as she lies in bed at night, thinking over her life and the events of the previous day.
Rather like Picasso, Joyce had a multiplicity of styles, any one of which was enough to make lesser writers famous as they imitated him. Ulysses is a cornerstone of modern English Literature – written by an Irishman in Trieste, Zurich, and Paris.
---
Ulysses – plot summary
Ever since Stuart Gilbert published his explanation of the novel in James Joyce's 'Ulysses', it has been conventional to refer to the separate chapters of the book by the names of their originals in the Greek epic.
Telemachus
Stephen Dedalus spends the early morning hours of June 16, 1904, remaining aloof from his mocking friend, Buck Mulligan, and Buck's English acquaintance, Haines. As Stephen leaves for work, Buck orders him to leave the house key and meet them at the pub at 12:30.
Nestor
Around 10:00 am, Stephen teaches a history lesson to his class at Garrett Deasy's boys' school. After class, Stephen meets with Deasy to receive his wages. The narrow-minded and prejudiced Deasy lectures Stephen on life. Stephen agrees to take Deasy's editorial letter about cattle disease to acquaintances at the newspaper.
Proteus
Stephen spends the remainder of his morning walking alone on Sandymount Strand, thinking critically about his younger self and about perception. He composes a poem in his head and writes it down on a scrap torn from Deasy's letter.
Calypso
At 8:00 am the same morning, Leopold Bloom fixes breakfast and brings his wife her mail and breakfast in bed. One of her letters is from Molly's concert tour manager, Blazes Boylan. Bloom suspects he is also Molly's lover. Bloom returns downstairs, reads a letter from their daughter, Milly, then goes to the outside lavatory.
The Lotus Eaters
At 10:00 am, Bloom picks up an amorous letter from the post office – he is corresponding with a woman named Martha Clifford under the pseudonym Henry Flower. He reads the tepid letter, ducks briefly into a church, then orders Molly's lotion from the pharmacist. He runs into Bantam Lyons, who mistakenly gets the impression that Bloom is giving him a tip on the horse Throwaway in the afternoon's Gold Cup race.
Hades
Around 11:00 am, Bloom rides with Simon Dedalus (Stephen's father), Martin Cunningham, and Jack Power to the funeral of Paddy Dignam. The men treat Bloom as somewhat of an outsider. At the funeral, Bloom thinks about the deaths of his son and his father.
Aeolus
At noon, Bloom is at the offices of the Freeman newspaper, negotiating an advertisement for Keyes, a liquor merchant. Several idle men, including editor Myles Crawford, are hanging around in the office, discussing political speeches. Bloom leaves to secure the ad. Stephen arrives at the newspaper with Deasy's letter. Stephen and the other men leave for the pub just as Bloom is returning.
Lestrygonians
At 1:00 pm, Bloom runs into Josie Breen, an old flame, and they discuss Mina Purefoy, who is in labour at the maternity hospital. Bloom stops in Burton's restaurant, but he decides to move on to Davy Byrne's for a light lunch. Bloom reminisces about an intimate afternoon with Molly on Howth. Bloom leaves and is walking toward the National Library when he spots Boylan on the street and ducks into the National Museum.
Scylla and Charybdis
At 2:00 pm Stephen is informally presenting his theory on Hamlet in the National Library to the poet AE and the librarians John Eglinton, Best, and Lyster. AE is dismissive of Stephen's theory and leaves. Buck enters and jokingly scolds Stephen for failing to meet him and Haines at the pub. On the way out, Buck and Stephen pass Bloom, who has come to obtain a copy of Keyes' ad.
The Wandering Rocks
This episode consists of nineteen short views of characters, major and minor, as they make their way around Dublin in the afternoon. Within each subsection, short, disjunctive paragraphs pop up that depict a simultaneous action in some other part of the city. It serves as an interlude between the first and last nine episodes.
Sirens
At 4:00 pm Simon Dedalus, Ben Dollard, Lenehan, and Blazes Boylan converge at the Ormond Hotel bar. Bloom notices Boylan's car outside and decides to watch him. Boylan soon leaves for his appointment with Molly, and Bloom sits morosely in the Ormond restaurant – briefly mollified by Dedalus's and Dollard's singing. Bloom writes back to Martha, then leaves to post the letter.
Cyclops
At 5:00 pm Bloom arrives at Barney Kiernan's pub to meet Martin Cunningham about the Dignam family finances, but Cunningham has not yet arrived. The citizen, a belligerent Irish nationalist, becomes increasingly drunk and begins attacking Bloom's Jewishness. Bloom stands up to the citizen, speaking in favour of peace and love over xenophobic violence. Bloom and the citizen have an altercation on the street before Cunningham's carriage carries Bloom away.
Nausicaa
Bloom relaxes on Sandymount Strand around sunset, after his visit to Mrs. Dignam's house nearby. A young woman, Gerty MacDowell, notices Bloom watching her from across the beach. Gerty subtly reveals more and more of her legs while Bloom surreptitiously masturbates. Gerty leaves, and Bloom dozes.
Oxen of the Sun
At 10:00 pm Bloom wanders to the maternity hospital to check on Mina Purefoy. Also at the hospital are Stephen and several of his medical student friends, drinking and talking boisterously about subjects related to birth. Bloom agrees to join them, though he privately disapproves of their revelry in light of Mrs. Purefoy's struggles upstairs. Buck arrives, and the men proceed to Burke's pub. At closing time, Stephen convinces his friend Lynch to go to the brothel section of town and Bloom follows, feeling protective.
Circe
This episode takes the form of a play script with stage directions and descriptions. The majority of the action occurs only as drunken, subconscious, anxiety-ridden hallucinations. Bloom finally locates Stephen and Lynch at Bella Cohen's brothel. Stephen is drunk and imagines that he sees the ghost of his mother – full of rage, he shatters a lamp with his walking stick. Bloom runs after Stephen and finds him in an argument with a British soldier who knocks him out.
Eumaeus
Bloom revives Stephen and takes him for coffee at a cabman's shelter to sober up. They meet a sailor who regales them with traveller's tales. There is also talk about Irish nationalism. Bloom invites Stephen back to his house.
Ithaca
Well after midnight, Stephen and Bloom arrive back at Bloom's house. They drink cocoa and talk about their respective backgrounds. Bloom asks Stephen to stay the night. Stephen politely refuses. Bloom sees him out and comes back in to find evidence of Boylan's visit. Still, Bloom is at peace with the world and he climbs into bed, tells Molly of his day and requests breakfast in bed.
Penelope
After Bloom falls asleep, Molly remains awake, surprised by Bloom's request for breakfast in bed. Her mind wanders to her childhood in Gibraltar, her afternoon of sex with Boylan, her singing career, and Stephen Dedalus. Her thoughts of Bloom vary wildly over the course of the monologue, but it ends with a reminiscence of their intimate moment at Howth and a positive affirmation.
---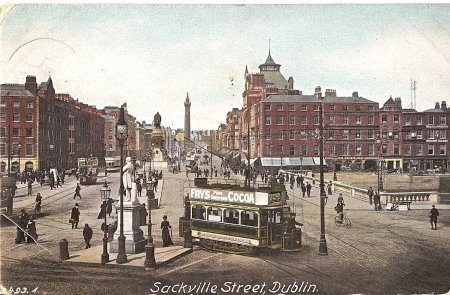 Sackville Street, Dublin
---
Study resources

Ulysses – Oxford University Press 1922 version – Amazon UK

Ulysses – Oxford University Press 1922 version – Amazon US

Ulysses – Wordsworth Classics – Amazon UK

Ulysses – Wordsworth Classics – Amazon US

Ulysses – 1967 film version by Joseph Strick – Amazon UK

Ulysses – audio book (abridged) – Amazon UK

Ulysses – the Hans Gabler 'corrected' text edition – Amazon UK

Ulysses – Cliffs Notes – Amazon UK

Ulysses – Annotated Notes edition – Amazon UK

Ulysses – audioBook version at LibriVox

James Joyce's 'Ulysses' – an introduction and explanation – Amazon UK

The New Bloomsday Book – chapter-by-chapter guide

Ulysses – eBook version at Project Gutenberg

James Joyce: A Critical Guide – Amazon UK

The Cambridge Companion to James Joyce – Amazon UK

James Joyce: Texts and Contexts – Amazon UK
---
Ulysses – a video introduction
---
---
Principal characters
Leopold Bloom
a 38 year old Jewish Dublin newspaper advertising salesman
Marion (Molly) Bloom
his 33 year old adulterous wife
Millicent Bloom
their 15 year old daughter who does not appear in the novel
Rudy Bloom
their son, who died 11 years ago
Stephen Dedalus
aspiring poet in his early 20s
Simon Dedalus
Stephen's father, a drinker and singer
Malachi (Buck) Mulligan
medical student and friend of Stephen's
Hugh (Blazes) Boylan
concert manager and Molly's lover
Martha Clifford
Bloom's secret correspondent, a sexual tease
Bella Cohen
a brothel keeper
Garret Deasy
headmaster at school where Stephen teaches
Patrick Dignam
a friend of Bloom who has recently died
Joe Hynes
a reporter for Bloom's newspaper
Minna Kennedy
Lydia Douce
flirtatious barmaids at the Ormond hotel
Ned Lambert
a friend of Stephen Dedalus and others
Gerty MacDowell
lame girl who flashes for Bloom
Kitty Ricketts
prostitute working in Bella's brothel
the citizen
a belligerent Irish nationalist
---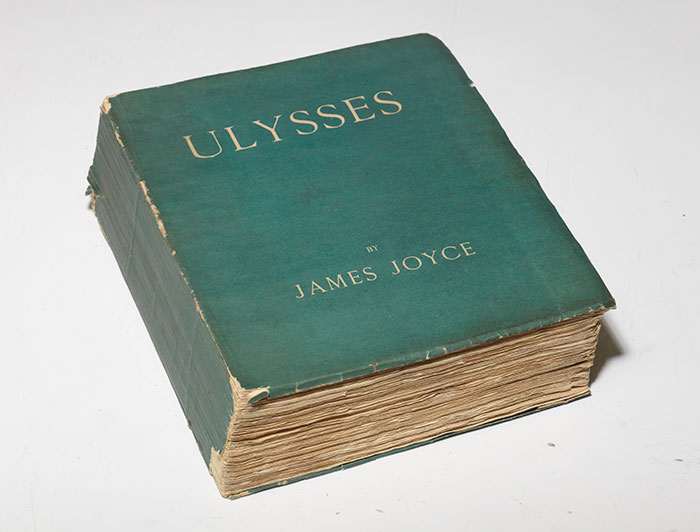 Ulysses – first edition
---
Ulysses – textual history
The writing and publication history of Ulysses is almost as complicated as the novel itself. Joyce composed the novel over a seven year period between 1914 and 1921. Extracts from it first began to appear in the American magazine The Little Review from 1918, but publication was halted when the Nausicaa episode led to prosecution. At a trial in 1921, the magazine was declared obscene and as a result Ulysses was banned in the United States.
The first publication in book form was in France in February 1922 where the American Sylvia Beach's Shakespeare and Company had 1,000 copies printed. The novel quickly became notorious, and copies were smuggled across the Channel into England.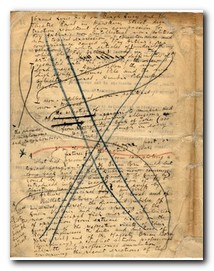 One factor which complicates the textual history of the novel is that Joyce continued working on it, even after it had been published. The printer in Dijon had made errors; Ezra Pound had made cuts and changes to the episodes in circulation via magazines, and Joyce revised multiple copies of his work which had been produced by non-professional typists from his near-illegible handwritten manuscripts.
Joyce had an English patroness Harriet Shaw Weaver who paid for the publication of an English edition by the Egoist Press in October 1922. This contained so many typographical errors that it was issued with an apology from the publisher. When 500 copies were sent to America they were seized by the government authorities, and when the publisher ordered replacements, these were impounded and burned by the customs office at Folkstone.
Such was the book's notoriety that pirated editions began to appear. In America, publisher Samuel Roth reprinted fourteen bowdlerized episodes and issued them in two volumes, complete with his own preface. When this aroused a protest from writers and artists in America and the UK, he retorted by printing a photographic forgery of the Shakespeare and Company edition
The ban on Ulysses was finally lifted in the United States in December 1933, the same week as prohibition was repealed. Random House published the first American edition in 1934, but this was based upon a pirated earlier edition which contained lots of typographical errors. The first authorised English edition was published by Bodley Head in 1936.
Various new editions appeared on both sides of the Atlantic in the years that followed, but all of them were based on earlier, flawed versions. As the date for the expiry of Joyce's copyright began to draw near (in 1992, fifty years after his death) a number of publishers rushed to issue new editions. What they hoped to do was compile a clean and error-free version which could be copyrighted as 'the definitive' edition, and thus secure for them a lucrative monopoly for the next fifty years.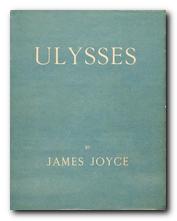 The most spectacular of these attempts was that piloted by the German scholar Hans Walter Gabler, who proposed to 'recover' the original text by comparing surviving manuscripts, corrected proofs, and existing editions. He produced what was called a synoptic version, which was issued as Ulysses: The Corrected Text in 1986. This was designed to put an end to all uncertainties regarding the accuracy of the text.
But in 1988 an American scholar John Kidd published a blistering critique of Gabler and his work in The New York Review of Books. This pointed out flaws in Gabler's methodology, listed weaknesses in his interpretation, and exposed new mistakes in the supposedly 'corrected' version. A huge academic argument ensued, conducted in the full light of public gaze. Scholarly opinion gradually turned against Gabler, and publishers in the UK and America have quietly withdrawn his edition.
In the meantime, the law on copyright has changed, the James Joyce estate has refused to authorise any further definitive editions, and various publishers have been issuing reprints of earlier editions, from that of 1922 onwards – so confusion continues to reign. As Joyce himself prophetically observed, "Ulysses [will] give Universities something to work on well into the next century." Which is exactly the current state of affairs.
---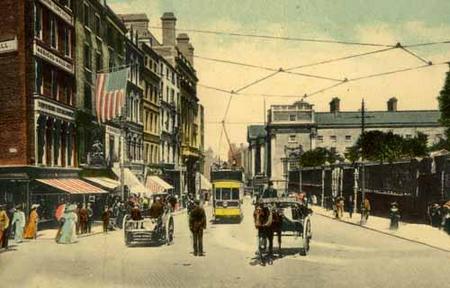 Dublin 1915
---
Further reading

Anthony Burgess, Joysprick: An Introduction to the Language of James Joyce, Andre Deutsch, 1973.

Robert H. Deming (ed), James Joyce: The Critical Heritage, 2 Vols, Routledge and Keegan Paul, 1970.

Richard Ellmann, James Joyce, Oxford University Press, 1959.

Richard Ellmann and Stuart Gilbert (eds), The Letters of James Joyce, 3 Vols, Faber, 1957-66.

Seon Givens, James Joyce: Two Decades of Criticism, New York: Vanguard Press, 1963.

Suzette A. Henke, James Joyce and the Politics of Desire, Routledge and Keegan Paul, 1990.

Harry Levin, James Joyce: a Critical Introduction, New York: New Directions, 1960.

Colin MacCabe (ed), James Joyce: New Perspectives, Harvester, 1982.

W.J. McCormack and Alistair Stead (eds), James Joyce and Modern Literature, Routledge and Keegan Paul, 1982.

Dominic Maganiello, Joyce's Politics. London: Routledge & Kegan Paul, 1980.

Patrick Parrinder, James Joyce, Cambridge University Press, 1984.

C.H. Peake, James Joyce: The Citizen and the Artist, Arnold, 1977.

Jean-Michel Rabaté, Joyce Upon the Void, Macmillan, 1991.

Lee Spinks, James Joyce: A Critical Guide, Edinburgh: Edinburgh University Press, 2009

W.Y. Tindall, A Reader's Guide to James Joyce, Thames and Hudson, 1959.
---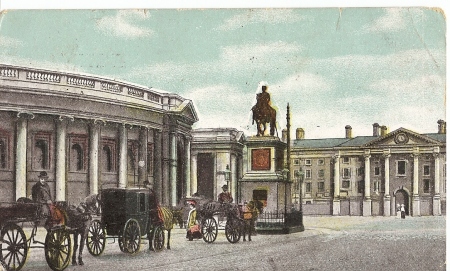 Trinity College Dublin (TCD)
---
Other works by James Joyce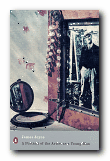 A Portrait of the Artist as a Young Man is Joyce's first complete novel – a largely autobiographical account of a young man's struggle with Catholicism and his desire to forge himself as an artist. It features a prose style whose complexity develops in parallel with the growth of the hero, Stephen Dedalus. The early pages are written from a child's point of view, but then they quickly become more sophisticated. As Stephen struggles with religious belief and the growth of his sexual feelings as a young adult, the prose become more complex and philosophical. In addition to the account of his personal life and a critique of Irish society at the beginning of the last century, it also incorporates the creation of an aesthetic philosophy which was unmistakably that of Joyce himself. The novel ends with Stephen quitting Ireland for good, just as Joyce himself was to do – never to return.


Buy the book at Amazon UK


Buy the book at Amazon US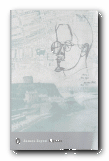 Ulysses (1922) is one of the greatest novels of the twentieth century, and it is certainly Joyce's most celebrated work. He takes Homer's Odyssey as a structural framework and uses it as the base to create a complex story of characters moving around Dublin on a single day in June 1904. Each separate chapter is written in a different prose style to reflect its theme or subject. The novel also includes two forms of the 'stream of consciousness' technique. This was Joyce's attempt to reproduce the apparently random way in which our perceptions of the world are mixed with our conscious ideas and memories in an unstoppable flow of thought. There is a famous last chapter which is an eighty page unpunctuated soliloquy of a woman as she lies in bed at night, mulling over the events of her life and episodes from the previous day.


Buy the book at Amazon UK


Buy the book at Amazon US
---
James Joyce – web links

James Joyce at Mantex
Biographical notes, study guides to the major works, book reviews, studies of the short stories, bibliographies, web links, study resources.

James Joyce at Project Gutenberg
A limited collection of free eTexts in a variety of digital formats.

James Joyce at Wikipedia
Full biography, social background, interpretation of the major works, religion, music, list of biographies, and external web links.

James Joyce at the Internet Movie Database
Adaptations for the cinema and television – in various languages. Full details of directors and actors, plus box office, technical credits, and quizzes.

James Joyce Centre in Dublin
Exhibition centre, walking tours, lectures, and newsletter. The latest addition is a graphic novel version of 'Ulysses'.

The James Joyce Scholars' Collection
University of Wisconsin – digitised scans of Finnegans Wake and out-of-print studies on Joyce's language, plus rare critical studies.

An Annotated Ulysses
An online version of Ulysses with hyperlinks giving explanations of obscure and classical references in the text.

Cornell's James Joyce Collection
Cornell University – a collection of letters, manuscripts, and books documenting the life and work of James Joyce on exhibition in 2005. Particularly strong on Joyce's early life.

A Bibliography of Scholarship and Criticism
Slightly dated but still useful web-based compilation of criticism and commentary – covers Joyce himself, plus the stories and novels.
© Roy Johnson 2010
---
More on James Joyce
Twentieth century literature
More on study skills
---