course design and construction for online learning
Teachers in higher education are under increasing pressure to develop novel methods of learning, to understand the latest developments in IT, and to make their courses available on line. The purpose of Understanding Virtual Universities is to help them gain an overview of what is involved. Roy Rada is very good at giving the overall picture – explaining the architecture of a university-wide learning program. He also describes in detail the courseware production cycle, and the role that individuals play in the process. He arranges his contents into four parts: virtual learning in relation to the student, the teacher, the administrator, and society in general. He explains the benefits of group and collaborative learning.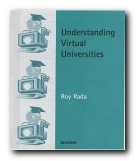 This is undoubtedly fine in theory, but I sometimes felt that he didn't take much account of real practice. My own experience suggests that students are often reluctant to engage in collaborative projects – particularly with people they hardly know. The most convincing example he describes is the group hypertext project on Tennyson's In Memoriam – the long Victorian poem divided into sections to which are linked related documents, commentary, and criticism. This leaves behind a project which can still be accessed at the University of Virginia.
The experiments on which he reports make it quite clear that IT is most effective when it is combined with other, mixed learning activities in what he calls 'studio' classes. In this respect, I was rather surprised that he doesn't cover any of the better-known Virtual Learning Environments (VLEs) such as WebCT, Blackboard, and Learnwise.
For any teachers thinking of developing such courseware there are some detailed reports on the testing and results achieved – in courses ranging from Geography to 'Design and Analysis of Algorithms.' There's a chapter on the history of teaching methods which I feared might be boring but which offered a fascinating survey, ranging from ancient Egypt to Web-based archives in the modern university.
He also includes a consideration of which subjects are best served by online courses – and he even looks the funding and cost-benefits of online learning, as well as the consequences of pursuing these innovations at the same time as maintaining quality assurance.
This leads into a consideration of the IT systems educational organisations need to have in place to deal with student records, finance, and administration. He then explores the partnerships and collaborative schemes between education and businesses which are providing courses for employees in the workplace. This also includes a consideration of revenue opportunities in the form of consultancies, franchises, and specialist publishing.
His range is wide, and he is very well informed. If there's a weakness it's that he flits around from one topic to another rather quickly, never exploring any issue in depth. But that's also the strength of the book, because he cover all aspects of running Web-based learning in an institution. Many people might have a deep knowledge of one aspect of Web-based learning, but few people have an overview.
© Roy Johnson 2002
---
Roy Rada, Understanding Virtual Universities, Bristol: Intellect, 2001, pp.122, ISBN: 1841500526
---
More on online learning
More on technology
More on digital media
More on web design
More on computers
---