best-selling comprehensive guide to computer hardware
Scott Mueller's title here is too modest. Upgrading and Repairing PCs is not just a repair guide – it's a major encyclopaedia of computer components, their specifications, and a workshop manual on all aspects of dealing with PC hardware. His approach is very simple – and extremely thorough. He describes each major component of a PC in separate chapters, explains how it works, what it does, and even how it is made. You can use this manual for either an explanation of how things function, or for an up-to-date account of technical component specifications. It covers building, maintaining, and repairing all parts of a PC. It's an approach which works – which is what has made this book a best-seller.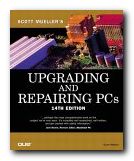 All the major manufacturers chips, motherboards, memory, hard drives, and peripherals are covered – so this is a valuable resource if you want to make comparisons before ordering new equipment. There's even a comprehensive list of suppliers, plus advice on making choices.
The book also comes with a CD containing two hours of video tutorials. These are in fairly plain MP3 files. The process of installing components is described well enough in the book, but it's made infinitely clearer when shown on screen.
He even shows you how to assemble your own PC – delivering the information in a fluent and cheerful manner. It occurred to me that these clips are also excellent tutorials for those who would like to know what's inside their PC, but who don't want to go though the heart-stopping experience of opening up the box.
The majority of the data here is very technical. This is a serious, heavy-duty book which has proved itself in the best-seller lists. It is now in its thirteenth edition and is just about as up-to-date as it's possible to be. This is somebody who knows his subject inside-out.
© Roy Johnson 2009
---
Scott Mueller, Upgrading and Repairing PCs, Indianapolis (IN): Que, 19th edition, 2009, pp.1176, ISBN: 0789739542
---
More on technology
More on digital media
More on online learning
More on computers
---