gathering, analysing, and presenting data
Many subjects such as psychology and biology have a 'hidden' requirement of using statistics which gives many students problems when they realise that they've got to tackle them as part of the course. As Gordon Rugg observes in this guide for beginners: " Many people emerge from their first encounter with stats feeling distinctly bruised, and with a mental image of stats as a bizarre set of meaningless rituals that you have to follow because you're told to."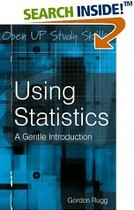 What he's offering is a sympathetic guide to the basic principles without terrorizing readers with a lot of abstract mathematics and complex equations. It's intended to provide an overview of statistics, and to explain how statistics fit into the big picture of research, with particular attention to using statistics as a coherent part of research design. He brings off this intention very well by using a simple but clever device: he makes his explanations amusing, with concrete examples all the way.
So concepts such as mean, average, and standard deviation are explained using problems from everyday life, and he also explains why some of the basic statistical methods are necessary for the sake of scientific accuracy. It's not enough to say that 50% of a sample was positive if you've only chosen two or three items to test, for instance.
He goes into measurement theory, showing the variety of ways in which things can be enumerated or calibrated – which is particularly useful for people designing surveys and questionnaires.
He also explains the difference between reliability and validity in statistics, using the example of 'descriptions of Father Christmas'. These would be very reliable, because everyone will describe him in the same way; but they have zero validity, because he doesn't actually exist.
There's an explanation of how data can best be presented using graphs, pie-charts, and scatter diagrams – as well as the ways in which they are commonly misused.
The latter parts of the book, which deal with the presentation of knowledge – patterns, categorization, and probability theory – come almost into the realms of philosophy.
So – the first part of the book deals with measuring and presenting data accurately. This then leads to the more interesting issues of interpretation and knowing what questions can be legitimately asked when trying to assess the significance of any findings – what he calls the 'So what?' question.
For this, statistical tests are required. He talks you through how to choose the right type and only goes into maths and calculations when absolutely necessary. All of this is done humanely, by making his primary illustrative examples such things as a game of tiddlywinks and the height at which gorillas sleep in trees.
This is followed by even more improbable examples of limpet racing to illustrate what's called 'Parametric Statistics', and he ends with some useful comments on the latest statistical software which is used for neural networks, data mining, and genetic algorithms.
I'm rather glad that my subject (literary studies) has not yet been invaded by 'scientific' theoretical approaches which involve statistics, but for anybody who can't avoid the subject, this is a very enjoyable introduction.
© Roy Johnson 2007

  Buy the book at Amazon UK


  Buy the book at Amazon US
---
Gordon Rugg, Using Statistics: a gentle introduction, Open University Press: Maidenhead, 2007, pp.137, ISBN: 0335222188
---
More on study skills
More on writing skills
More on online learning
---