historical context + survey of all literary genres
This is a guidance book for students or general readers who want to know more about literary studies in the Victorian period. It's in four parts: the historical and intellectual background; the literature of the period considered in separate genres; critical approaches; and a set of resources for independent study. After a quick overview of what is in fact a long period of history (1837-1901) Maureen Moran goes straight into the themes and issues that constitute the substance of Victorian Literature and Culture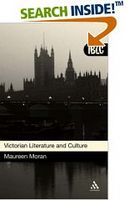 She starts by introducing the historical, cultural, and scientific developments of what is normally considered three separate periods – early, high, and late Victorian society. The main theme to emerge is that of conflicting ideologies beneath what is often thought of as a rather smug and conservative society.
On the one hand there is an unshakeable belief in progress and Britain's supremacy based on notions of Christian predestination, on the other a critical analysis of the nation's conflicts, shortcomings, and its failure to remove social inequality.
It's a pity the book isn't illustrated, because her analyses of famous paintings (The Stag at Bay, The Monarch of the Glen) demonstrate well how art works with one ostensible purpose and can carry additional meanings which may not be apparent to the first time viewer.
While she deals with all the major writers and artists as you might expect (the Brontes, the Brownings, Collins, Dickens, Eliot, Gaskell, Hardy, Rossetti, Shaw, Swinburne, Tennyson and Wilde) it is interesting to note her inclusion of the best-sellers of the Victorian age – Mrs Humphrey Ward's Robert Elsmere and Charlotte Yonge's The Heir of Radcliffe. She also demonstrates the importance of the establishment of the circulating library which simultaneously established both best-sellers and a type of informal censorship.
She is particularly good at explaining the religious controversies of the period, and it struck me that any young student reading in 2007 is likely to be quite surprised if not shocked by the amount of anti-Catholicism that the orthodox Protestant church promoted.
The second part of the book presents what was probably something of a challenge to the author – for she sets out to cover all the main literary titles in poetry, drama, fiction, and non-fictional prose. This could easily have become not much more than a shopping list – had she not split the materials into recognisable sub-topics: the lyric poem, the dramatic monologue, the 'condition of England novel' and so on.
She has something of a problem with Victorian drama, for it is not until the late years of the era that G.B.Shaw and Oscar Wilde came along to provide any substance. The incidence and influence of non-fictional prose is covered in writers such as John Ruskin, J.S.Mill, Henry Mayhew, Harriet Martineau, and Thomas Carlyle.
I found her explanation of the Pre-Raphaelite Brotherhood, and the Aesthetic and Decadent movements very helpful – because I have never quite understood what held together these movements comprising both writers and painters.
So – if you are doing A level literature, studying as an undergraduate, or a general reader who wants to know more about nineteenth century English literature, this will point you in the right direction. The further resources alone offer a timeline of major events, a glossary of key terms, bibliographies of further reading, and a list of scholarly references that should keep you busy for years.
© Roy Johnson 2006

  Buy the book at Amazon UK

  Buy the book at Amazon US
---
Maureen Moran, Victorian Literature and Culture, London: Continuum, 2006, pp.184, ISBN: 0826488846
---
More on literature
More on the novella
More on literary studies
More on short stories
---