Hogarth Press first edition book jacket designs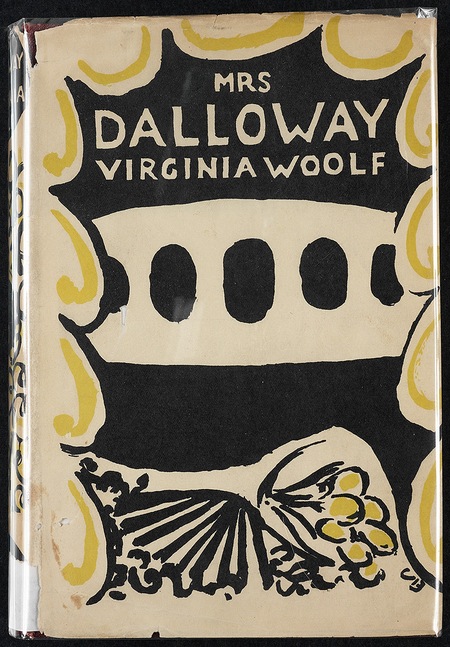 Virginia Woolf, Mrs. Dalloway (1925) Dust jacket designed by Vanessa Bell.
This novel appeared only a few weeks after the publication of The Common Reader and although the reviews were mixed, the book had sold 2,000 copies by the end of the year.
This is the first of Virginia Woolf's three great masterpieces (along with To the Lighthouse and The Waves. In it, she developed the experimental literary techniques which had been tried out in Jacob's Room and brought them to an achievement of a high order.
"The reviews when they came were mixed, and so was Bloomsbury's reaction. E.M. Forster praised Mrs Dalloway and Virginia, gallantly kissing her hand and telling her the novel was better than Jacob's Room and he was very pleased; but Vita Sackville-West was doubtful; and Lytton Strachey, admiring The Common Reader more, thought the novel was a flawed stone. Readers bought the book, however, and the sales were brisk. By June 18, one month after publication, Virginia noted that 1,250 copies had been sold … Leonard issued a second impression of 1,000 copies in November 1925."
J.H. Willis Jr, Leonard and Virginia Woolf as Publishers: The Hogarth Press 1917-1941
Vanessa Bell's design for the jacket of the novel features a bouquet of flowers. Diane Gillespie notes that the "design in which first the white, then the black dominates, the cover anticipates, if only in a general way, the alternating exhilaration and fear, sanity and insanity, as well as life and death which pervade the book".
Elizabeth Willson Gordon, Woolf's-head Publishing: The Highlights and New Lights of the Hogarth Press
---
Hogarth Press studies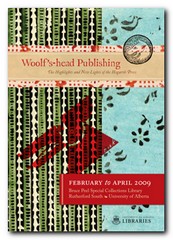 Woolf's-head Publishing is a wonderful collection of cover designs, book jackets, and illustrations – but also a beautiful example of book production in its own right. It was produced as an exhibition catalogue and has quite rightly gone on to enjoy an independent life of its own. This book is a genuine collector's item, and only months after its first publication it started to win awards for its design and production values. Anyone with the slightest interest in book production, graphic design, typography, or Bloomsbury will want to own a copy the minute they clap eyes on it.

Buy the book at Amazon UK


Buy the book at Amazon US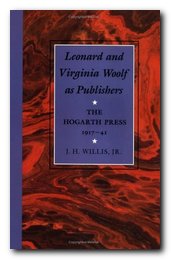 Leonard and Virginia Woolf as Publishers: Hogarth Press, 1917-41 John Willis brings the remarkable story of Leonard and Virginia Woolf's success as publishers to life. He generates interesting thumbnail sketches of all the Hogarth Press authors, which brings both them and the books they wrote into sharp focus. He also follows the development of many of its best-selling titles, and there's a full account of the social and cultural development of the press. This is a scholarly work with extensive footnotes, bibliographies, and suggestions for further reading – but most of all it is a very readable study in cultural history.

Buy the book at Amazon UK


Buy the book at Amazon US
© Roy Johnson 2005
---