potted biography with charming photos and illustrations
This short biographical study offers an introduction to Nabokov's amazingly varied yet consistent life, and his unrelenting devotion to creativity. It's written by an expert, and presented in a very attractive manner with archive photographs on almost every page. Even though he came from a rich and privileged background, Nabokov's life was one which was beset by the tragic events of the age in which he lived. His childhood was idyllic – well educated, and loved by both parents, he was taken to school in a chauffeur-driven Mercedes-Benz.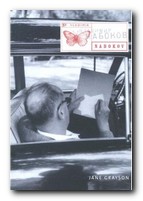 When he was only seventeen he inherited a mansion, a country estate, and a fortune . Within three years however he had lost it all in the revolution and he was forced to leave Russia, never to return. In the 1920s he painstakingly established a reputation for himself as a Russian novelist, writing in the first city of emigration, Berlin, and making a living by giving tennis lessons and setting chess problems and crossword puzzles for newspapers.
When the Nazis came to power he hung on as long as possible, but was eventually forced to move to the second choice for Russian emigres – Paris. He realised that he had lost forever the audience he had spent almost twenty years cultivating, and he started writing in French, knowing that he must start all over again.
Then, with only days to spare before the Germans occupied France in 1940 he escaped to the USA and began the entire process over again, writing in English and struggling to make a living by teaching literature in a girls' college.
Once again he succeeded in adapting himself to his surroundings, but he felt unappreciated in a literary sense – until he threw down the gauntlet by publishing Lolita. This book changed his life.
He was able to give up teaching, and interestingly, for all his fondness for America, one of the first things he did was to return to Europe. He booked into the Palace Hotel in Montreux and lived there for the rest of his life.
Jane Grayson's account of his life is interspersed with accounts of his major works – The Gift, Pale Fire, Laughter in the Dark, his stories, most of his other novels, and his translation of Pushkin's Eugene Onegin, which caused such a scholarly controversy when it appeared. I was slightly surprised that she skirted round the over-indulgences of Ada, his last major work.
But it is the photographs and illustrations which make this book such a charming experience. The images of old Russian estates which inspired so much of his work are surrounded by sketches from his notebooks, book jacket designs from the first editions of his work, and photographs which you rarely see elsewhere.
© Roy Johnson 2004
---
Jane Grayson, Vladimir Nabokov: an illustrated life, New York: Overlook Press, 2004, pp.146, ISBN 1585676098
---
More on Vladimir Nabokov
More on literary studies
Nabokov's Complete Short Stories
---