open sources – writing and new web technology
O'Reilly publish computer books and software guidance manuals, but they also support the open source movement. This seeks to make the code of software available to be developed and used free of charge. This book is one of their contributions to the polemic. We the Media is a study of committed writing which argues the case for what author Dan Gillmor calls open source journalism. He takes the idea of sharing code into the realms of information exchange. To this is coupled his enthusiasm for blogging as the greatest form of New Journalism. He also discusses the other forms in which information can easily be transmitted – such as peer-to-peer file sharing, Wikis, the mobile connected camera, text messaging, and RSS feeds.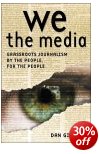 His basic argument is that journalists, news broadcasters, public relations people, political activists, and anybody else who wants their message to be taken seriously should make full use of these latest communication tools. He gives plenty of examples of IT-activism – people mounting public information on web sites when the authorities removed it from public view; others raising political campaign funds from adverts on blogs.
He seems a little over-optimistic about their effectiveness for political activism, but on firmer ground when it comes to more neutral journalistic uses.
For anybody who is short of ideas, his chapters are packed with practical examples of successful enterprises which have been launched on the strength of a new blog. These range from one-person campaigns or news services, to blogs which generate income or sponsorship. One intrepid soul asked people for the money to send him to report the war in Iraq – and he got it.
Gillmor also gives a cautious glimpse into the future by looking at the latest trends in web technology. This includes news aggregators, RSS feeds, and Web Services. All of these enable information to be gathered automatically and customised by the user.
In the latter part of the book he looks at some of the legal implications of the latest technologies – cases where people have claimed to be libeled, copyright cases, cybersquatting, even cases where people have sought to prevent others deep-linking into their sites. He deals with all these issues in a way which supports freedom of speech, whilst recognising that it might sometimes be put to negative purposes.
Strangely enough, he does have some reservations about the current state of copyright, which he sees as increasingly restrictive to the point of abuse:
What were once 14-year terms have now been extended to the life of the author plus 75 years, or 95 years when a copyright is held by a corporation. By amazing coincidence, copyright terms seem to get extended every time Mickey Mouse comes close to entering the public domain
This is a committed and wide-ranging polemic which explores the very latest developments in online communications – both from a technological and a content point of view.
In keeping with the high standards he advocates throughout, he acknowledges and references all his sources, there is a huge webliography listing all the homepages, sites, and blogs mentioned; and the book has its own web site where you can follow up on his arguments, find software, and even download a copy of the book free of charge.
© Roy Johnson 2006

  Buy the book at Amazon UK

  Buy the book at Amazon US
---
Dan Gillmor, We the Media: grassroots journalism by the people, for the people, Sebastopol, CA: O'Reilly, 2006, pp.336, ISBN: 0596102275
---
More on journalism
More on creative writing
More on writing skills
More on publishing
---