world-famous one-volume reference and encyclopedia
Whitaker's Almanack is an easy-to-use and instantly accessible reference book for the home, the workplace or the classroom. It contains the latest information on the social, political, and economic infrastructure of the UK and the rest of the world – all in one single plump volume. It was founded by Joseph Whitaker in 1868, publisher and part time editor of The Gentleman's Magazine. To help with his work, he compiled a book of newspaper cuttings, extracts from government statistics, astronomical charts, calendars and anniversaries.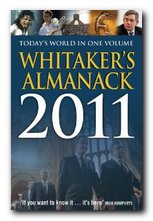 This source material became the basis of Whitaker's Almanack, which was an instant success – and it has been updated annually ever since. Its main curiosity value is that it contains information which would be difficult to locate anywhere else. It's useful on history and social structure, and it details most of the UK's institutions with names and contact details. There's extensive data about every country in the world, as well as maps, recent obituaries, and a run down on last year's main news stories with pictures.
It's packed with thousands of facts, figures and statistics plus descriptive and directory information on astronomy, sport, literature, and current affairs. The latest edition also includes hundreds of essential facts and figures on government and politics, the legal system, countries of the world, education, finance, media and communications, religion, royalty and the peerage.
You can look back over the year's news in month-by-month summaries, check who is the MP for any UK constituency, find out time zones, currencies and exchange rates, or look up laws on births, deaths, marriages, employment, consumer and property rental.
Find contact details for a university, museum or society, and search directory listings of newspapers, magazines and book publishers. The latest edition even has a section on cinema and films.
There's extensive data on every country in the world including its geography, history, politics, defence, economy, communications, education and culture.
As a bonus, there are expert overviews on a range of subjects from archaeology and broadcasting to Acts of Parliament, sports results and weather.
© Roy Johnson 2000

  Buy the book at Amazon UK

  Buy the book at Amazon US
---
Whitaker's Almanack, London: A & C Black, 145th revised edition 2012, pp.1200, ISBN: 1408172070
---
More on dictionaries
More on literary studies
More on writing skills
---