Stories about the New Woman 1890-1914
Women Who Did present a collection of stories featuring the 'new woman'. The short story came into its own as a literary genre at the end of the nineteenth century, as the three-decker novel died its death and the rising numbers of magazines and journals created a new market for shorter fiction. Moreover, the short story, as Angelique Richardson points out in this charming collection, "was concerned with questions rather than answers [and] was perfectly suited to give expression to the turbulence and uncertainties of the late nineteenth century".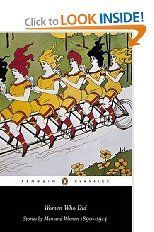 This was also the age which gave rise to the 'new woman' – the female who claimed her independence, wore what clothes she liked, flirted openly with men, smoked cigarettes, and rode a bicycle. These are the issues which form the background to this very entertaining compilation of stories from the fin de ciécle, which only really ended with the start of the First World War. Editor Angelique Richardson offers an expansive introduction which explains the developments that were taking place at that time and puts the stories into a rich context.
She makes the very good point that in the struggle for women's emancipation, some women were in reactionary opposition to it, and some men were strong supporters. It's for such reasons that she includes stories on the Woman Question written by both sexes – though it has to be said that those written by women (in this collection) are on the whole superior.
Some well known pieces are included: Charlotte Perkins Gillman's The Yellow Wallpaper; Kate Chopin's The Storm; Katherine Mansfield's The Tiredness of Rosabel. Others are less well known. Mona Caird's The Yellow Drawing Room rings somewhat comic changes on the use of yellow as a symbol of something challenging. New woman Venora Haydon has decorated an entire room in this colour, which confuses the opinionated male narrator because he cannot square her radicalism (of which he disapproves) with the fact that he is attracted to her.
There's also a swirlingly romantic piece by George Edgerton (Mary Chavelita Dunne) in which a new woman seems to catechise every man in her life (including her husband) before possibly running away with a chance acquaintance. Richardson has the good sense to include a parody of this story taken from Punch the following year.
It's not surprising that the best stories are written by the most famous writers – Virginia Woolf, Katherine Mansfield, Kate Chopin – but there are a number of unexpected gems by writers who will be new to most readers and who certainly deserve the sort of reconsideration that Richardson's excellent compilation brings to our attention. As one Amazon reviewer remarks – "It's worth reading for the introduction alone".

  Buy the book at Amazon UK


  Buy the book at Amazon US
© Roy Johnson 2003
---
Angelique Richardson (ed), Women Who Did: Stories 1890-1914, London: Penguin, 2005, pp.528, ISBN: 0141441569
---
More on literature
More on the novella
More on literary studies
More on short stories
---