the original graphic novels
Wood engravings, linocuts, and, copperplate engravings have all existed for centuries, but it wasn't until the early years of the 1900s that artists began to use them for creating book-length 'stories without words' which aspired to be the equivalent of novels. These are what we now call graphic novels. These illustrators were closely associated with the visual world of German expressionism, particularly that of Oskar Kokoshka and Ernst Kirchner. The two most prominent figures in this movement were Frans Masereel and Lynd Ward, though David Berona, in this thoughtful and well-informed work of homage to the genre also includes examples by Otto Nuckell, and the more recent Willam Gropper, the American Milt Gross, Giacomo Patri, and Laurence Hyde.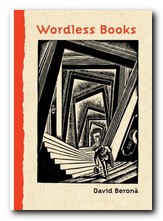 He quotes the celebrated comic-book theorist Scott McCloud as observing that these woodcut stories were an important bridge between the nineteenth century and the modern day comic. He includes extracts from a number of Masereel's wordless books – almost all of them dealing with the de-humanising effect of capitalism on the common man. His best-known work, The Passionate Journey (1919) was the nearest Masereel came to creating a novel in pictures – a story of Everyman at the start of the last century. It's a tale very close in both substance and mood to Doblin's later Berlin Alexanderplatz (1929).
Berona gives an account of Masereel's other wordless novels, illustrating their somber black and white pages and describing their stories. He doesn't go in for any profound analysis, which given the youthfulness of this art form at the time might even be a good thing.
The American artist Lynd Ward actually used the graphic novel form to explore issues of slavery and race in US culture, as well as the oppression that common people felt as a result of the Great Depression.
It has to be said that many of these 'novels' are often not much more than extended adolescent fantasies of the kind that are thrown up time and again in 'creative writing' classes. But what makes them very different is that they are executed dramatically and with visual finesse via these authors' control of a two-dimensional visual medium.
It's a world of tilting skyscrapers, menacing shadows, vertiginous perspectives, drink and debauchery, children born out of wedlock, and people set against sunrises with outstretched arms.
Almost all of these illustrators were on the side of the small, common man, and against the might of the capitalist, the owners of the means of production.
Some of the later examples, produced in the late 1920s and 1930s by American artists such as Milt Gross and Myron Waldman are very close to the comic book tradition which was emerging around the same time.
There are also lots of original book jacket covers reproduced here, as well as fully documented details of the artists, their works, and other publications related to this neglected niche of visual narratives.
It's strange to note that apart from minor differences which arose from working with wood, lino, or even lead, the styles adopted by these artists were all remarkably similar. The graphic novel is now a thriving genre in its own right, with many distinguished illustrators working in the medium. But this is a valuable collection of the work of pioneers.
© Roy Johnson 2008

  Buy the book at Amazon UK

  Buy the book at Amazon US
---
David A. Berona, Wordless Books: The Original Graphic Novels, New York: Abrams, 2008, pp.255, ISBN: 0810994690
---
More on design
More on media
More on web design
---