promote your WordPress blog with advanced plugins, analytics, advertising, and SEO
WordPress for Business Bloggers When blogging first took off in the mid 1990s the mainstream media viewed bloggers with lofty contempt. I can remember both the BBC and the Guardian making sneering 'get a life' comments about bloggers daring to report their own version of news. They all said it was a self-indulgent short-term gimmick. Now, there isn't a newspaper or broadcast organisation which doesn't boast its own bloggers and doesn't welcome the contribution of user-generated content.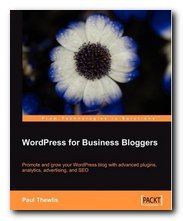 At the same time, some individual blogs have become phenomenally successful. Arianne Huffington's The Huffington Post became an instant hit as an Internet newspaper, and one-man-band UK political blogger Paul Staines proudly displays his end-of-month site visitor statistics which outstrip those of national newspapers. This sort of popularity has attracted advertising revenue, and there are now individuals whose blogs are now a full time business.
WordPress is one blogging platform which has kept pace with this development by making it easy for non-programmers to add all sorts of interactive functions via plugins which increase the range of features and enhance what WordPress can do. But like many other open source software programs, WordPress comes without an instruction manual, which means that it's hard for beginners or new users to get to grips with what's under the bonnet. There are user forums and FAQs, but most people will feel more confident with an instruction manual, which is why this guide from Paul Thewlis is welcome.
It's aimed specifically at people who want to use a blog for business purposes – which means coming to grips with eCommerce, advertising, and site promotion via search engine optimization (SEO). The first part of his guide offers an upbeat account of the business possibilities for business bloggers – increased sales, contact with clients, news updates, company promotion, and so on. He makes the good point that there are now any number of different models for a successful business blog. And WordPress has all the tools you will require, from analysing your performance, promoting your blog, and managing your content, to monetizing your site with advertising revenue and affiliate programmes.
Next comes the making of a strategic blog plan, which means setting out your business objectives. The first part of this will probably be easy: you will want more visitors, more business, and more sales. But the next crucially important part is that he shows you a corresponding list of the WordPress features or plugins you will need to implement these goals.
This is followed by the technical requirements for installing WordPress on your own server, and even learning the rudiments of HTML and style sheets (CSS) in order to design your own theme. This strikes me as rather over-ambitious for beginners, who will probably be much better served by using ready-made templates (called 'themes' in WP jargon).
In fact he even goes further and has his aspiring eCommerce merchant editing the style sheet coding to produce an original three-column page design. I must say that it's difficult to imagine any would-be business person who would be capable of or prepared to do this. There's nothing wrong with someone learning a bit of coding, but a much more realistic strategy would have been to use templates.
There's a chapter on uploading graphics which usefully explains the difference between a library and a gallery. This is another instance where the naming of functions is not quite so straightforward as it might seem. He uses the NextGEN Gallery plugin for this and video display – another example of the free add-ons which make life easier for the non-programming user.
After this fairly technical interlude, he then switches to the actual content of your site or blog – which is likely to be text. Writing for online consumption is much more skilled than most people realise, and he's right to emphasise the need for brevity, structure, and engagement.
Yet this soft skills section too requires an explanation of a technical nicety – the difference between categories and tags, both of which are used to give taxonomy to your content. He uses the comparisons of categories being like a navigation system and tags being like index entries, which is reasonable enough.
Next he covers the arcane science of search engine optimization (SEO). Fortunately, WordPress has been designed with this in mind, but even so there's room for a couple more plugins to make the job easier.
I'm a little bit circumspect about the social networking side of business promotion where proper, commercial sites are concerned. Sure, I can see people Twittering and Facebooking if your site is closely allied to the sort of hot, gossipy interaction that goes on in political and newspaper blogs – but I can't see it happening if you're selling pharmaceuticals or heavy machine engineering equipment.
He also assumes that his target business blogger is going to be engaged with all the trappings of site-linking, comments moderation, pings, and trackbacks which is another doubtful supposition – but it's useful that he explains how to do it all, as well as how to set up a contact form using another popular plugin – cforms II.
There's a chapter on using analytic tools to assess the performance of your blog, and another showing you how to monetize it by linking in to affiliate programs such as Google AdSense and Amazon
Almost everyone starting off a business site is likely to do so with a WordPress installation using a cheap shared hosting account. But if the business is successful, you will need to move your installation onto dedicated servers. This is a useful and intelligent inclusion in a book of this type.
© Roy Johnson 2010
---
Paul Thewlis, WordPress for Business Bloggers, Birmingham: Pakt Publishing, 2008, pp.337, ISBN 1847195326
---
More on technology
More on digital media
More on online learning
More on computers
---