A Practical Guide to Making Sense and Being Heard
Writing at post-graduate level these days is no joke. Most researchers and untenured lecturers know that they must publish or perish. And writing to order, especially for publication, is difficult when you know your career is at stake. Writing for Scholars offers reassuring guidance to the whole process of producing written papers, projects, and books which will be published to an academic audience. It is aimed precisely at those people who need to get into print in order to promote their careers. Lynn Nygaard has a leisurely, hand-holding style which spells out her advice in slow-moving and measured stages. These start out from a recognition of how difficult writing is at this level, where a scholarly paper might represent months or even years of research.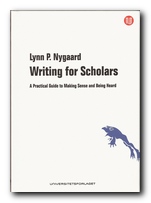 She also explains the peer review process for both books and journal articles – but doesn't take on board the alternative methods of self-archiving and collaborative publishing which Steven Harnad proposed for digital publishing more than a decade ago. Although her focus is quite rightly on the writing process I was surprised that she was so uncritical of academic research and publication practices. She takes it for granted that scholars are somehow entitled to expect research funding from governments, no matter the quality or relevance of what they produce in the way of results. And she seems to me to be completely out of touch with the sort of vainglorious subjectivism which passes for argument in many branches of the humanities. She claims that –
scholars in the humanities must meticulously lay out and justify their logic, in addition to linking their study to the work of others. If they don't, their work will come across as weak, overly speculative, and not founded on anything substantial. Even if the topic is fascinating or exceptionally timely, journals will not risk publishing an article that lacks sound reasoning.
This is simply not true, as a glance at just about any journal featuring modern literary criticism or cultural theory will show in an instant.
She is well aware that writing is a process, not something that happens in one 'creative' burst. There is such a thing as 'pre-writing' where we might sort out our preliminary ideas in rough note form. And for regular spells of productive writing, time-management skills are required. She covers all this, and seems to know all the excuses we present to ourselves as an alternative to facing the hard work of generating words on the page.
She's discussing mainly scientific writing and its need for objectivity, checkable facts and data, and the need for a transparent method. When I think of how flabby much writing is in the humanities, it's no wonder that subjects such as literary criticism and cultural theory are held in such low regard.
There are plenty of good tips, such as limbering up by free writing or switching off your monitor – and how to get round the problem of the first person pronoun ('I') in academic writing.
She spends quite a lot of time on writing for more than one type of audience – though I wonder if any of the scholarly writing she's talking about is ever really read by anyone outside its specialist audience. We know from hard evidence that most academic articles are read by no more than a handful of people. When was the last time you read a scholarly paper in a discipline other than your own, for instance?
Later chapters deal with some of the most difficult issues in creating a substantial piece of advanced level work – clarifying your own basic argument; giving its exposition structure and persuasive logic; and integrating the presentation of your evidence coherently. There's even a chapter on making oral presentations of your work, which is a traditional feature of academic life at this level.
But two things about a book pertaining to offer guidance on an academic discipline really amazed me. One – that it quotes no practical examples of scholarly writing which are held up for examination, analysis, or criticism. And two, that it makes no reference at all to any other studies of academic writing, has no bibliography, and makes absolutely no recommendations for further reading. Those are serious shortcomings in a work of this kind.
This will be a reassuring text for aspiring researchers who want to maximise their chances of publication in the long struggle for promotion in the academic world, but for practical writing skills or an insight into the latest developments in academic publishing you will have to go elsewhere.
© Roy Johnson 2008
---
Lynn Nygaard, Writing for Scholars: A Practical Guide to Making Sense and Being Heard, Norway: Universitetsforlaget, 2008, pp.195, ISBN: 1599946572
---
More on study skills
More on writing skills
More on online learning
---