an insider's guide to climbing the charts
YouTube didn't start until 2005, but now it's mainstream New Media. Why? Because it allows small time punters like you and me to upload video clips which – if they're interesting enough – will be watched by millions of viewers. And that, if you work the system right, can be converted into a generated income. YouTube has gone from hobbyist niche to big business in just a few years. It was so successful, Google snapped it up for a cool $1.6 billion a year later, and now everyone from hobbyists and amateur daydreamers to semi-professional film makers is posting stuff up there – at the rate of ten hours of video every minute.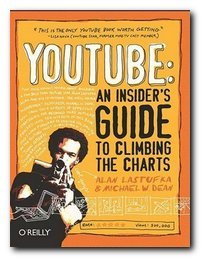 If you're not used to searching for stuff on YouTube, you'll be amazed at the variety. There's everything from instructional how-to films, reviews of new products, personal diaries, stand-up comedians, and extracts from movies, to recordings of live theatre and musical concerts. This is a book of technical guidance written by two insiders (or 'Tubers as they call themselves) showing you how it's done. They make their purpose very clear right from the start:
You don't need money or corporate backing to go viral. You simply need a very good, or very bad, video and the know-how to get viewers to your video – both of which you will learn how to do in this book.
After a quick introduction they pitch straight into the main issue of how to make good short films – which is the very basic issue of storytelling. And the emphasis is on brevity. Your maximum upload is only ten minutes, but if you can't make your point in two you're dead.
Sometimes people get lucky and video their pet kitten just as it falls of a table chasing a fly, or they might capture a car just after the driver has turned up a one-way street. But these are just one-offs. This book assumes that you want to make regular short films until one gets you into the most-watched slot.
Actually, most of the instruction is already in the form of YouTube visual content. There are lots of clips available showing you how to direct and edit films. They also realistically assume that you want to do all this with minimum expense. That's not a problem. You use yourself or your friends as actors, and you only need a cheap digital video camera. In fact professional film makers such as Mike Figgis and David Lynch already use them for creating full length feature films.
There's also advice on microphones, lighting, props, background music, and of course editing. Then once you've got something to share, they show you how to create your own channel (profile) on YouTube, and how to customise it and start attracting viewers.
There's a good chapter explaining the significance and differences between fair use, copyright, parody, remixes, and mashups – then on to the all important business of generating an audience. This can go from responding to visitor comments and participating in user groups and collaborative video projects, to all sorts of semi-legal and downright illegal hacks which can result in your account being suspended. YouTube does its best to make the popularity figures genuine for the materials it hosts.
The logical extension of all this is making money from your work – monetization if you want to use the current jargon. This can be done via YouTube's partnership program or by running Google Ads. And finally, although they remain loyal 'Tubers throughout, they end up by showing lots of alternative outlets where you can make your work available. There are also interviews with successful YouTubers who have gone viral and even landed jobs as the result of a two-minute spoof of some TV ad or pop promo.
© Roy Johnson 2008

  Buy the book at Amazon UK

  Buy the book at Amazon US
---
Alan Lastufka and Michael W. Dean, YouTube: an insider's guide to climbing the charts, Sebastopol (CA): O'Reilly, 2008, pp.281, ISBN: 0596521146
---
More on digital media
More on technology
More on theory
---