19th century master of the short story form
Guy de Maupassant was a prolific and very famous writer in his own lifetime. Between 1880 and 1891 for instance he wrote about 300 short stories, 200 articles, six novels, two plays, and three travel books. He wrote in the heyday of the short story, and it is this literary form for which he is now best remembered. Maupassant was one of the late nineteenth-century writers shaping what was to become the modern short story. His contribution to the genre was to pare down the means of expression and to focus on the effect of the tale.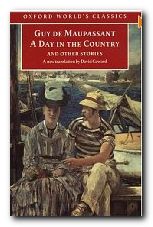 His stories are not abbreviated novels or rambling prose poems. They tell a story – and often it has a sting in the tail. Like other French writers of the late nineteenth century he was keen to explore ordinary everyday life – often exposing its less appetising and even grim features. I bought this particular collection after watching Jean Renoir's beautiful film Partie de campagne which is a completely faithful account of the title story. But I was amazed to discover that the full length feature film and masterpiece of the cinema was based on a tale no more than a few pages long.
His style, much influenced by his friend Flaubert, is one of scrupulous clarity. Everything is pared to a minimum, and the material world is rendered in well-chosen detail. His attitude is that of a sceptical realist, with an eye for the tragic and sad elements of life which lead many critics to brand him a pessimist. They may have a point, because it's remarkable just how many of his stories end with someone's abrupt death.
He was shortening and concentrating the narrative, stripping it of excrescence. Yet he still drags along some of its traditional features – the whiplash ending for instance. Some of them are not much more than well-articulated anecdotes, but they are usually resolved with an ironic or dramatic twist.
Despite these weaknesses, it's his contribution to the development of the short story for which he is still respected. It is his stories which are still widely read, not his full-length novels.
[Maupassant] fixes a hard eye on some spot of human life, usually some dreary, ugly, shabby, sordid one, takes up the particle, and squeezes it either till it grimaces or till it bleeds. Sometimes the grimace is very droll, sometimes the wound is very horrible … Monsieur de Maupassant sees human life as a terribly ugly business relieved by the comical.
It's amazing to think that Henry James, a friend and admirer who wrote those words was writing at the same time – though when considering the compositional crudities in some of these stories, their origin in newspapers and popular magazines should be taken into account.
But this famous terseness of style is not quite so ubiquitous as is often claimed. He is quite prepared to indulge in rhetorical flourishes to make his point – as in this account of a Parisian visiting the provinces:
I wondered: 'What on earth can I do after dinner?' I thought how long an evening could be here in this town in the provinces: the slow, grim stroll through unfamiliar streets, the depressing gloom which the solitary traveller feels oozing out of passers by who are complete strangers in every respect, from the provincial cut of their jackets, hats, and trousers to their ways and the local accent, an all-pervading misery which drips from the houses, the shops, the outlandish shapes of the vehicles in the streets, and the generally unaccustomed hubbub, an uneasy sinking of the spirits which prompts you to walk a little quicker as though you were lost in a dangerous, cheerless country and makes you want to go back to your hotel, that loathsome hotel, where your room has been pickled in innumerable dubious smells, where you are not entirely sure about the bed, and where there's a hair stuck fast in the dried dust at the bottom of the washbasin.
In one of the finest tales in this collection he tackles a subject which has a long and honourable history amongst writers – the story of a man who, as a result of some trivial argument or misplaced notion of pride, suddenly finds that he is about to fight a duel. It also includes his best known – 'The Necklace' – another tale which has spawned many variations, as well as 'Le Horla', a story which strangely parallels Maupassant's own descent into premature madness and death, brought on by syphilis.
Later writers such as James Joyce, Katherine Mansfield, and especially Virginia Woolf were to take his stylistic developments further – and bring the short story into closer contact with the prose poem and the philosophic meditation. But connoisseurs of this literary form will always be well rewarded by re-visiting one of the earlier masters of the genre.
© Roy Johnson 2000

Buy the book at Amazon UK

Buy the book at Amazon US
---
Guy de Maupassant, A Day in the Country and Other Stories, Oxford: Oxford University Press, 1998, pp.312, ISBN 0192838636
---
More on literature
More on the novella
More on literary studies
More on short stories
---