tutorial, commentary, study resources, plot, and web links
A Passionate Pilgrim first appeared in The Atlantic Monthly during March—April 1871. Its first presentation in book form was in A Passionate Pilgrim and Other Tales published by Osgood in Boston 1875.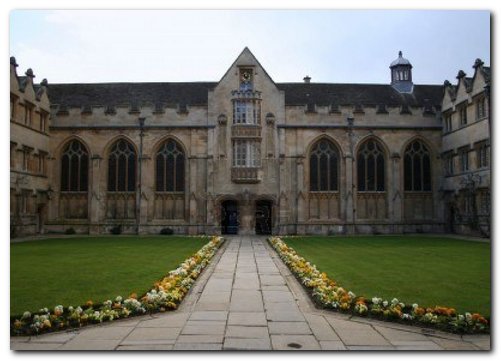 Oxford University
---
A Passionate Pilgrim – critical commentary
Travelogue
Quite apart from the subject of this tale, the settings are like a snapshot albumn of Henry James's love affair with England – a relationship which was to culminate with his taking out British citizenship in 1915, shortly before his death.
The scenes are all very traditional – the English city inn (pub) with its mahogany snugs; Hampton Court Palace and its gardens; an English country estate with stately home and portraits of ancestors; Oxford University with ancient grey buildings and lawned courtyards.
Ghost story
The tale has an on-off relationship with conventional listings of James's ghost stories – but it certainly qualifies as a variation on his exploration of this genre. Sloane is a person who is in a feverish state, somewhere between life and death. And whilst in this state, confronted with concrete evidence of his connections with the family, he both identifies with the ghost of an ancestor and imagines himself to be one ghost who can haunt another. Shortly after this he 'encounters' the vision of his ancestor.
As he approaches death, he believes that he has attended Oxford University in the form of his historical relative, and can 'remember' how things were then. Since Oxford clings to its traditions so fiercely, very little will have changed in the intervening hundred years or so.
Parallels
When Sloane takes to his Bath chair, he is pushed around by the old man who turns out to have a very similar life history. He too was once prosperous, but has fallen from grace. He too has a well-to-do relative who is not helping him. Searle's gift of his last five pounds seals the bond between them.
---
Study resources

The Complete Works of Henry James – Kindle edition – Amazon UK

The Complete Works of Henry James – Kindle edition – Amazon US

Complete Stories 1864—1874 – Library of America – Amazon UK

Complete Stories 1864—1874 – Library of America – Amazon US

A Passionate Pilgrim – eBook formats at Gutenberg

The Cambridge Companion to Henry James – Amazon UK

Henry James at Wikipedia – biographical notes, links

Henry James at Mantex – tutorials, biography, study resources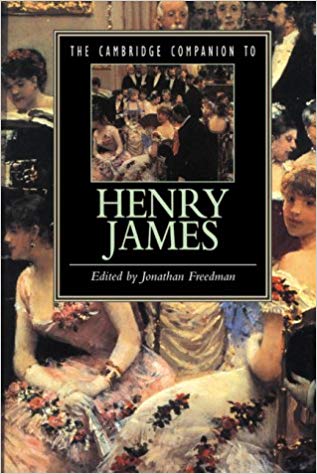 ---
A Passionate Pilgrim – plot summary
Part I.   An un-named narrator is staying in London, en route from Europe to America. He describes the traditional interior of an old city-centre inn. Two fellow Americans dine in an adjacent cubicle. Mr Searle is lean, sickly, and disappointed regarding a claim on some property in England. Mr Simmons has been making enquiries on his behalf, and failed. He offers to take Searle back to the USA at his own expense, but the offer is refused. Searle says he will stay in England until his last remaining money runs out, and he dies.
Next day the narrator goes to Hampton Court where he meets Mr Searle. They have lunch together, and Searle relates his story. He was a young man of fine tastes who fell on hard times. Knowing that there was an old family claim to an English estate, he dispatched Simmons who at first gave him hope, but the previous night has revealed that he has no claim at all. Searle is now bankrupt, and the property is owned by Richard Searle, a distant relative. The narrator offers to help him double-check his claim.
Part II.   They travel to Lackley Park in a picture-book English setting and visit the Hall. The housekeeper shows them round. Searle spots a portrait of an older relative Clement Searle who he closely resembles, and reveals himself as a member of the family. They also meet Miss Searle, his distant cousin. Searle feels himself at home, and even the household dogs take a liking to him. The narrator makes romantic connections between the two cousins.
Part III.  The two visitors are enthusiastically invited to stay, but when they then meet the owner Richard Searle he is not sympathetic to either of them. Richard Searle tells them the history of his ancestor Clement. He had a secret lover, a clergyman's daughter, who was with child which died when the Searle family rejected her. Clement Searle died at sea, en route to America. The house is haunted by the ghost of the clergyman's daughter. Feeling a very close family connection, Searle proposes himself as the ghost of Clement Searle to haunt her in return. He becomes tipsy and unguarded.
The narrator promotes Searle to his cousin, but they are challenged by Richard Searle about the claim on his property which solicitors have revealed to him. There is a general argument, and Richard Searle accuses his relative of making false claims and trying to corrupt his sister. The narrator and Searle are thrown out, and on their way back to the inn Searle reveals that his cousin has offered to marry him. Later that night Searle sees the ghost of his relative Margaret. Next morning he believes he has the distinction of being a man who is also a ghost.
Part IV.  The two men travel to Oxford where Searle begins to imagine that he is Clement Searle, who attended the University a hundred years or more previously. He goes into raptures about the buildings, grounds, and traditions as if he knows them all well. He begins to fraternise with the current undergraduate students and starts to drink heavily. Searle grows weaker and takes to a Bath chair. They hire an old man to push him round: he too has fallen socially. He has a well-to-do brother and wishes he could go to America, where he thinks he could make good. Searle advises him that they are both failures in life, and gives him his last five pounds.
Searle appears to be near death. The narrator sends a note to his cousin Miss Searle. He gives Searle's few remaining effects to the old man to pay for his passage to America. Miss Searle arrives with the news that her brother has been killed in a fall from his horse. Searle thinks she is wearing mourning clothes on his own behalf, and dies.
---
Principal characters
| | |
| --- | --- |
| I | the un-named outer-narrator |
| Clement Searle | a lean and sickly American |
| John Simmons | his associate |
| Richard Searle | the owner of Lackley Hall |
| Miss Searle | Searle's distant cousin |
| Rawson | a down and out old man |
---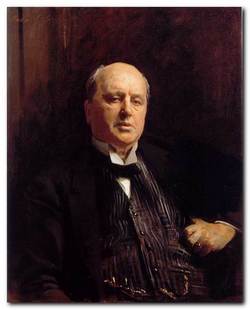 Henry James – portrait by John Singer Sargeant
---
Further reading
Biographical

Theodora Bosanquet, Henry James at Work, University of Michigan Press, 2007.

F.W. Dupee, Henry James: Autobiography, Princeton University Press, 1983.

Leon Edel, Henry James: A Life, HarperCollins, 1985.

Philip Horne (ed), Henry James: A Life in Letters, Viking/Allen Lane, 1999.

Henry James, The Letters of Henry James, Adamant Media Corporation, 2001.

Fred Kaplan, Henry James: The Imagination of Genius, Johns Hopkins University Press, 1999

F.O. Matthieson (ed), The Notebooks of Henry James, Oxford University Press, 1988.
Critical commentary

Elizabeth Allen, A Woman's Place in the Novels of Henry James London: Macmillan Press, 1983.

Ian F.A. Bell, Henry James and the Past, London: Palgrave Macmillan, 1993.

Millicent Bell, Meaning in Henry James, Cambridge (MA): Harvard University Press, 1993.

Harold Bloom (ed), Modern Critical Views: Henry James, Chelsea House Publishers, 1991.

Kirstin Boudreau, Henry James's Narrative Technique, Macmillan, 2010.

J. Donald Crowley and Richard A. Hocks (eds), The Wings of the Dove, New York: W.W. Norton and Company, 1978.

Victoria Coulson, Henry James, Women and Realism, Cambridge University Press, 2009.

Daniel Mark Fogel, A Companion to Henry James Studies, Greenwood Press, 1993.

Virginia C. Fowler, Henry James's American Girl: The Embroidery on the Canvas, Madison (Wis): University of Wisconsin Press, 1984.

Jonathan Freedman, The Cambridge Companion to Henry James, Cambridge University Press, 1998.

Judith Fryer, The Faces of Eve: Women in the Nineteenth Century American Novel, Oxford: Oxford University Press, 1976

Roger Gard (ed), Henry James: The Critical Heritage, London: Routledge, 1968.

Tessa Hadley, Henry James and the Imagination of Pleasure, Cambridge University Press, 2009.

Barbara Hardy, Henry James: The Later Writing (Writers & Their Work), Northcote House Publishers, 1996.

Richard A. Hocks, Henry James: A study of the short fiction, New York: Twayne Publishers, 1990.

Donatella Izzo, Portraying the Lady: Technologies of Gender in the Short Stories of Henry James, University of Nebraska Press, 2002.

Colin Meissner, Henry James and the Language of Experience, Cambridge University Press, 2009

John Pearson (ed), The Prefaces of Henry James, Pennsylvania State University Press, 1993.

Richard Poirer, The Comic Sense of Henry James, Oxford: Oxford University Press, 1967.

Hugh Stevens, Henry James and Sexuality, Cambridge University Press, 1998.

Merle A. Williams, Henry James and the Philosophical Novel, Cambridge University Press, 1993.

Judith Woolf, Henry James: The Major Novels, Cambridge University Press, 1991.

Ruth Yeazell (ed), Henry James: A Collection of Critical Essays, Longmans, 1994.
---
Other works by Henry James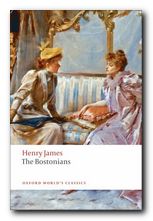 The Bostonians (1886) is a novel about the early feminist movement. The heroine Verena Tarrant is an 'inspirational speaker' who is taken under the wing of Olive Chancellor, a man-hating suffragette and radical feminist. Trying to pull her in the opposite direction is Basil Ransom, a vigorous young man from the South to whom Verena becomes more and more attracted. The dramatic contest to possess her is played out with some witty and often rather sardonic touches, and as usual James keeps the reader guessing about the outcome until the very last page.

Buy the book at Amazon UK


Buy the book at Amazon US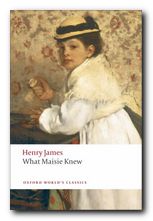 What Masie Knew (1897) A young girl is caught between parents who are in the middle of personal conflict, adultery, and divorce. Can she survive without becoming corrupted? It's touch and go – and not made easier for the reader by the attentions of an older man who decides to 'look after' her. This comes from the beginning of James's 'Late Phase', so be prepared for longer and longer sentences. In fact it's said that whilst composing this novel, James switched from writing longhand to using dictation – and it shows if you look carefully enough – part way through the book.


Buy the book at Amazon UK


Buy the book at Amazon US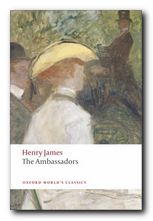 The Ambassadors (1903) Lambert Strether is sent from America to Paris to recall Chadwick Newsome, a young man who is reported to be compromising himself by an entanglement with a wicked woman. However, Strether's mission fails when he is seduced by the social pleasures of the European capital, and he takes Newsome's side. So a second ambassador is dispatched in the form of the more determined Sarah Pocock. She delivers an ultimatum which is resisted by the two young men, but then an accident reveals unpleasant truths to Strether, who is faced by a test of loyalty between old Europe and the new USA. This edition presents the latest scholarship on James and includes an introduction, notes, selected criticism, a text summary and a chronology of James's life and times.


Buy the book at Amazon UK


Buy the book at Amazon US
© Roy Johnson 2013
---
Henry James – web links
Henry James at Mantex
Biographical notes, study guides, tutorials on the Complete Tales, book reviews. bibliographies, and web links.
The Complete Works
Sixty books in one 13.5 MB Kindle eBook download for £1.92 at Amazon.co.uk. The complete novels, stories, travel writing, and prefaces. Also includes his autobiographies, plays, and literary criticism – with illustrations.
The Ladder – a Henry James website
A collection of eTexts of the tales, novels, plays, and prefaces – with links to available free eTexts at Project Gutenberg and elsewhere.
A Hyper-Concordance to the Works
Japanese-based online research tool that locates the use of any word or phrase in context. Find that illusive quotable phrase.
The Henry James Resource Center
A web site with biography, bibliographies, adaptations, archival resources, suggested reading, and recent scholarship.
Online Books Page
A collection of online texts, including novels, stories, travel writing, literary criticism, and letters.
Henry James at Project Gutenberg
A major collection of eTexts, available in a variety of eBook formats.
The Complete Letters
Archive of the complete correspondence (1855-1878) work in progress – published by the University of Nebraska Press.
The Scholar's Guide to Web Sites
An old-fashioned but major jumpstation – a website of websites and resouces.
Henry James – The Complete Tales
Tutorials on the complete collection of over one hundred tales, novellas, and short stories.
Henry James on the Internet Movie Database
Adaptations of James's novels and stories for the cinema and television – in various languages. Full details of directors and actors, production features, film reviews, box office, and even quizzes.
---
More tales by James
More on literature
More on the novella
More on literary studies
More on short stories
---