tutorial, commentary, study resources, plot, and web links
Confidence was Henry James's fifth novel. It first appeared as a serial in Scribner's Monthly from August 1879 through to January 1880. This was a magazine which James actually disliked, but it paid high rates for work published. The novel first appeared in book form in two volumes published by Chatto and Windus in December 1879, and it was published in America by Houghton, Osgood & Company in February 1880.
It is worth noting that the English and American editions differ substantially (and from the Scribner's serial) in terms of punctuation and wording. The surviving manuscripts and their variants suggest that James was deliberately targeting what he saw as two different audiences – in England and America. And it is just possible that – copyright agreements being rather hazy at that time – he was consciously creating two different 'versions' for commercial and legal reasons.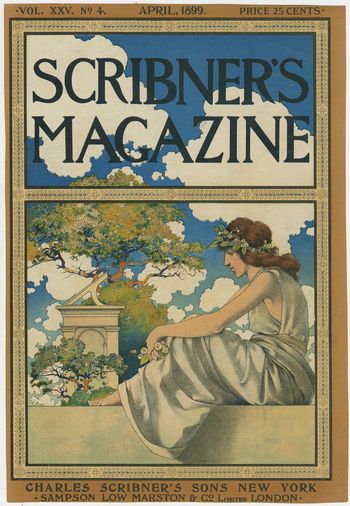 cover design by Parish Maxfield
---
Confidence – critical commentary
This is probably one of the least well known of James's early novels – indeed, it could almost be counted as completely unknown to most people other than James specialists. It has certainly not been in print recently in any popular or paperback editions – with the honourable exception of the Library of America series. It was not included in the New York Edition published in 1907-1909, which suggests that James himself did not consider the novel worthy to stand alongside his more substantial achievements.
The novel was written in between two early novels which have generally remained popular with the reading public – The Europeans of 1878 and Washington Square of 1880. Like The Europeans there is very little action or dramatic tension in the story, just a great deal of conversation between the principal characters. This is James developing his interest in what we now call the psychological novel. His principal concerns are with the ways his characters understand, mis-understand, and interact with each other.
This is highlighted in the central character of Bernard Longueville. James creates a clever account of Longueville's psychological processes in dealing with Angela Vivian. He cannot understand her shifting attitudes yet feels drawn to seek explanations and cannot fathom why he finds her so fascinating. It is quite clear to the reader that he is falling in love with her – but this is not apparent to Bernard himself. As the narrator eventually remarks on the dawning of his self-knowledge half way through the narrative:
a great many things had been taking place in his clever mind without his clever mind suspecting them
But although this oblique presentation is successful, the novel lacks the sharpness and the depth of interest of his more successful works published around this time. Events are very slow-moving and schematic, and for all its subtleties, the final resolution is quite unconvincing. We are told (via Angela's letters to Bernard) that she has succeeded in converting Gordon's wounded pride and jealous rage into a calm acceptance, but the events are not dramatised – we are not shown any of this process taking place.
There is also a problem of characterisation when compared with James's more successful novels. Angela Vivian is certainly an intriguing figure – intelligent, witty, yet mysteriously contrary. But it is difficult to take the central character Bernard Longueville seriously at all – a man of endless wealth and a complete lack of purpose. Even the narrator describes him as 'culpably unoccupied'.
However, there are two further possible readings of this spindly and makeshift plot. The first is that Bernard's initial report to Gordon of finding Angela to be a flirt and not suitable for marriage, represents another unconscious stratagem on his part – a smokescreen to deter Gordon, so that Bernard himself can stake a claim in a woman he finds so fascinating.
The advantage of this reading is that it would fit neatly alongside his being unconsciously in love with her at that stage in the narrative. However, there is very little direct evidence in the text to support this idea. If James had this possibility in mind, he makes no mention of it in his notes for the story or in the novel itself.
But a second reading, made possible in the light of many texts from James's later work, is that the story is a thinly veiled study in homo-eroticism – written unconsciously it should be added. In his notes for the story, James stresses the bond between the two men, as well as emphasising their different personalities:
The two men are old friends – closely united friends. The interest of the story must depend greatly upon this fact of their strong, deep friendship and upon the contrast of their two characters. They are in effect, singularly different [Bernard] must be represented as the (roughly speaking) complex nature of the two – the subtle, the refined, the fanciful, the eminently modern … [Gordon] is simpler, deeper, more masculine more easily puzzled, less intellectual, less imaginative. He is greatly under the influence of his friend and has a great esteem for his judgement.
Gordon summons Bernard to Baden-Baden, wishing to both display the woman he has fallen in love with and asking for Bernard's critical approval of her. Bernard promptly falls in love with the same woman. It does not take a brass plaque on anyone's front door to realise that when two people share the same love object, it is often a psychological displacement of their attraction to each other.
And this also proves to be the principal plot denouement. The story is not resolved by Gordon's being reunited with his scatty wife Blanche, nor does it end with Bernard's marriage to Angela (which is given no dramatic substance at all). It ends when the two men are reunited with each other – and concludes (literally) with Gordon writing Bernard "the longest letter he had ever addressed to him", and then even more pointedly the narrative ends with these words: "The letter reached Bernard in the middle of his honeymoon." Gordon has actually re-united himself with Bernard during the consummation of his friend's marriage.
---
Confidence – study resources

Confidence – Library of America – Amazon UK

Confidence – Library of America – Amazon US

Confidence – Tark Classics – Amazon UK

Confidence – Tark Classics – Amazon US

Confidence – Kindle edition

Confidence – eBook versions at Project Gutenberg

The Cambridge Companion to Henry James – Amazon UK

Henry James – biographical notes

Henry James at Wikipedia – biographical notes, links

Henry James at Mantex – tutorials, web links, study resources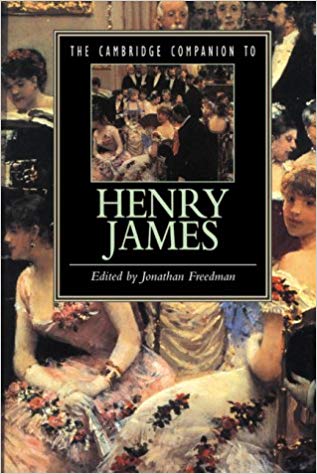 ---
Confidence – plot summary
Chapter I.   A young American Bernard Longueville is touring Italy when he meets a woman and her daughter in Siena. He includes the attractive daughter in a landscape picture he paints, which she regards as presumptuous.
Chapter II.   Two months later he is in Venice when he receives a letter from his friend Gordon Wright imploring him to come to Baden-Baden to give his opinion on a woman with whom he is in love.
Chapter III.   On arrival in Baden-Baden Longueville meets Mrs Vivian and her charge, the talkative Blanche Evers. Then they are joined by the Englishman Captain Lovelock and Miss Vivian, who refuses to acknowledge their earlier meeting in Siena.
Chapter IV.   Bernard discusses with Gordon his being in love, which he is finding a painful experience. Bernard conceals from his friend the fact that he has already met Angela Vivian in Siena.
Chapter V.   Gordon explains his love for Angela, who moves home from one place to another in Europe with her widowed mother. Gordon has followed them from Dresden to Baden-Baden.
Chapter VI.   Bernard spars conversationally with Angela Vivian, who will still not refer to their earlier meeting in Siena. He finds her puzzling but fascinating.
Chapter VII.   Next evening they continue to argue and flirt verbally. She is concerned that Captain Lovelock is a penniless trifler, leading on the gullible Blanche Evers. Bernard challenges her directly about their Siena meeting.
Chapter VIII.   She refuses to explain, but Bernard spends more time in her company than Gordon, whom she treats politely but indifferently. Gordon reveals that he proposed to her some weeks earlier, but was turned down. He is now perplexed by her.
Chapter IX.   Bernard wonders why Mrs Vivian seems to disapprove of him, and discusses Angela with Miss Evers and the Captain.
Chapter X.   Bernard decides to 'interview' Mrs Vivian, who reveals that she thinks Gordon is very rich and therefore a suitable match for Angela.
Chapter XI.   Gordon has to go to England to see his sister. He leaves Bernard with a request that he study Angela closely during his absence.
Chapter XII.   Bernard visits Mrs Vivian and Angela where there is further intellectual sparring between them, and a hint that Angela is concealing something about her recent past.
Chapter XIII.   Bernard's thoughts are increasingly taken up with Angela, who correctly guesses that George has asked him to keep an eye on her. Bernard thinks she might marry George for his money, even though she does not love him.
Chapter XIV.   Gordon's return is delayed. Bernard impulsively decides to leave Baden-Baden, but when he mentions it to Angela she asks him to stay – which he does.
Chapter XV.   When Gordon returns Bernard reveals his reservations about Angela's intentions – and then uncharacteristically goes to the casino, where he wins lots of money. Next day Gordon suddenly leaves Baden-Baden, but does not say why. Bernard fears he might have misjudged Angela and done the wrong thing.
Chapter XVI.   Suddenly the Vivians and Blanche Evers leave Baden-Baden and travel to Lausanne. Captain Lovelock cannot leave Baden-Baden because of debts he has run up, so Bernard, feeling uneasy about his winnings, lends him money – which he promptly loses in the casino. Bernard then leaves to go round the world alone.
Chapter XVII.   Two years later Gordon writes to Bernard to say that he is getting married to Blanche Evers. Bernard travels to New York, where he finds them both very happy with each other.
Chapter XVIII.   However, Bernard thinks that Blanche might have married Gordon for his money, and he wonders how his friend can be happy with such a frivolous and garrulous wife. When social gossip about Bernard and Blanche begins to circulate because of the time they are spending together, he decides to leave, whereupon Blanche claims that Gordon does not care for her at all.
Chapter XIX.   Bernard goes to California, finds nothing to keep him there, then decides to go back to Europe. As he leaves, Captain Lovelock arrives to stay at Gordon's house.
Chapter XX.   Bernard goes to Normandy where he meets Angela again on the beach. He feels that he has wronged her by spoiling her chances of a marriage to Gordon. They spar with each other again, as in the past.
Chapter XXI.   Bernard finds Angela as remote as ever, yet he feels that she does not bear any grudge against him. He takes Mrs Vivian and Angela to the local casino – then suddenly realises that he is in love with Angela.
Chapter XXII.   In fact he realises that he has been in love with her for the past three years – and the idea frightens him. He decides to leave immediately, but the next day goes for a long walk instead. When he goes to pay his respects to the Vivians, they have suddenly left for Paris.
Chapter XXIII.   Bernard follows the Vivians to Paris, where Mrs Vivian is welcoming and Angela is as polite yet as indifferent as ever.
Chapter XXIV.   Visiting frequently, Bernard eventually tells Angela that he has been in love with her since they first met. She accepts his declaration, and Mrs Vivian gives her blessing to them. Bernard apologises for 'wronging' her in Baden-Baden, and she explains that she was angry at being a pawn in Gordon's 'assessment' of her.
Chapter XXV.   A wedding is planned, but then Gordon, Blanche, and Captain Lovelock suddenly arrive from New York. Blanche is as silly and flirtatious as ever, and Lovelock is a pompous bore, acting as if he is Blanche's lover.
Chapter XXVI.   Bernard and Gordon go for a private walk to resume their close friendship – but they meet Mrs Vivian and Angela, which results in Bernard's revelation that he is engaged to marry Angela. Gordon does not like the news, and walks off.
Chapter XXVII.   When Bernard reports Gordon's annoyance to Angela she reveals that Gordon asked her for a second time to marry him – even after Bernard had filed his critical report on her. However, she refused him, so Bernard need no longer feel that he had misled either of them.
Chapter XXVIII.   Blanche suddenly arrives with Captain Lovelock in tow and gushes indiscreetly about herself and Gordon, claiming to be 'unwell'. She is eventually surprised to learn about Angela's impending marriage to Bernard.
Chapter XXIX.   On the next day Bernard visits Angela and finds Gordon there. Gordon is angry, feels betrayed, claims his wife is about to leave him, and wants Angela to postpone her marriage so as to give him another chance. She agrees to do so.
Chapter XXX.   Angela argues to Bernard that Gordon is actually in love with his wife but doesn't realise it. She plans to get rid of Captain Lovelock and reconcile Gordon and Blanche. Bernard is exiled to London, where Angela writes to him each day with news of progress. After just over a week, she has persuaded Gordon that all is well.
Chapter XXXI.   Angela's plan works, and Bernard returns to Paris, where he and Gordon are happily reconciled. Gordon takes Blanche to Cairo, and Bernard marries Angela.
---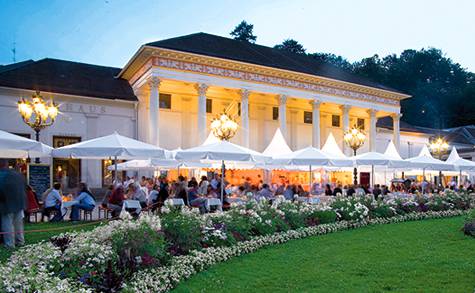 Baden-Baden – the Kurhaus
---
Confidence – principal characters
| | |
| --- | --- |
| I | an un-named narrator who makes occasional appearances |
| Bernard Longueville | a rich American with no purpose |
| Gordon Wright | his equally rich friend, who dabbles in chemistry |
| Mrs Vivian | a Bostonian widow |
| Angela Vivian | her attractive, spirited, and intelligent daughter |
| Captain Augustus Lovelock | a penniless English hanger-on and bore |
| Blanche Evers | a featherbrained and garrulous young woman in the care of Mrs Vivian |
---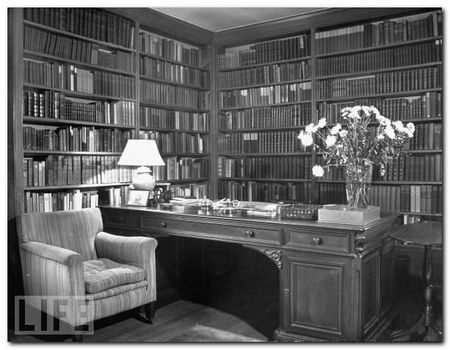 Henry James's study
---
Further reading

Theodora Bosanquet, Henry James at Work, University of Michigan Press, 2007.

F.W. Dupee, Henry James: Autobiography, Princeton University Press, 1983.

Leon Edel, Henry James: A Life, HarperCollins, 1985.

Philip Horne (ed), Henry James: A Life in Letters, Viking/Allen Lane, 1999.

Henry James, The Letters of Henry James, Adamant Media Corporation, 2001.

Fred Kaplan, Henry James: The Imagination of Genius, Johns Hopkins University Press, 1999

F.O. Matthieson (ed), The Notebooks of Henry James, Oxford University Press, 1988.
Critical commentary

Elizabeth Allen, A Woman's Place in the Novels of Henry James London: Macmillan Press, 1983.

Ian F.A. Bell, Henry James and the Past, London: Palgrave Macmillan, 1993.

Millicent Bell, Meaning in Henry James, Cambridge (MA): Harvard University Press, 1993.

Harold Bloom (ed), Modern Critical Views: Henry James, Chelsea House Publishers, 1991.

Kirstin Boudreau, Henry James's Narrative Technique, Macmillan, 2010.

J. Donald Crowley and Richard A. Hocks (eds), The Wings of the Dove, New York: W.W. Norton and Company, 1978.

Victoria Coulson, Henry James, Women and Realism, Cambridge University Press, 2009.

Daniel Mark Fogel, A Companion to Henry James Studies, Greenwood Press, 1993.

Virginia C. Fowler, Henry James's American Girl: The Embroidery on the Canvas, Madison (Wis): University of Wisconsin Press, 1984.

Jonathan Freedman, The Cambridge Companion to Henry James, Cambridge University Press, 1998.

Judith Fryer, The Faces of Eve: Women in the Nineteenth Century American Novel, Oxford: Oxford University Press, 1976

Roger Gard (ed), Henry James: The Critical Heritage, London: Routledge, 1968.

Tessa Hadley, Henry James and the Imagination of Pleasure, Cambridge University Press, 2009.

Barbara Hardy, Henry James: The Later Writing (Writers & Their Work), Northcote House Publishers, 1996.

Richard A. Hocks, Henry James: A study of the short fiction, New York: Twayne Publishers, 1990.

Donatella Izzo, Portraying the Lady: Technologies of Gender in the Short Stories of Henry James, University of Nebraska Press, 2002.

Colin Meissner, Henry James and the Language of Experience, Cambridge University Press, 2009

John Pearson (ed), The Prefaces of Henry James, Pennsylvania State University Press, 1993.

Richard Poirer, The Comic Sense of Henry James, Oxford: Oxford University Press, 1967.

Hugh Stevens, Henry James and Sexuality, Cambridge University Press, 1998.

Merle A. Williams, Henry James and the Philosophical Novel, Cambridge University Press, 1993.

Judith Woolf, Henry James: The Major Novels, Cambridge University Press, 1991.

Ruth Yeazell (ed), Henry James: A Collection of Critical Essays, Longmans, 1994.
---
Other works by Henry James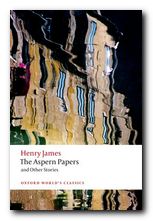 The Aspern Papers (1888) is a psychological drama set in Venice which centres on the tussle for control of a great writer's correspondence. An elderly lady, ex-lover of the writer, seeks a husband for her daughter. But the potential purchaser of the papers is a dedicated bachelor. Money is also at stake – but of course not discussed overtly. There is a refined battle of wills between them. Who will win in the end? As usual, James keeps the reader guessing. The novella is a masterpiece of subtle narration, with an ironic twist in its outcome. This collection of stories also includes three of his accomplished long short stories – The Private Life, The Middle Years, and The Death of the Lion.


Buy the book from Amazon UK


Buy the book from Amazon US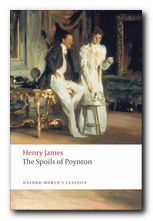 The Spoils of Poynton (1896) is a short novel which centres on the contents of a country house, and the question of who is the most desirable person to inherit it via marriage. The owner Mrs Gereth is being forced to leave her home to make way for her son and his greedy and uncultured fiancee. Mrs Gereth develops a subtle plan to take as many of the house's priceless furnishings with her as possible. But things do not go quite according to plan. There are some very witty social ironies, and a contest of wills which matches nouveau-riche greed against high principles. There's also a spectacular finale in which nobody wins out.


Buy the book from Amazon UK


Buy the book from Amazon US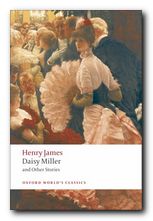 Daisy Miller (1879) is a key story from James's early phase in which a spirited young American woman travels to Europe with her wealthy but commonplace mother. Daisy's innocence and her audacity challenge social conventions, and she seems to be compromising her reputation by her independent behaviour. But when she later dies in Rome the reader is invited to see the outcome as a powerful sense of a great lost potential. This novella is a great study in understatement and symbolic power.


Buy the book from Amazon UK


Buy the book from Amazon US
---
Henry James – web links
Henry James at Mantex
Biographical notes, study guides, tutorials on the Complete Tales, book reviews. bibliographies, and web links.
The Complete Works
Sixty books in one 13.5 MB Kindle eBook download for £1.92 at Amazon.co.uk. The complete novels, stories, travel writing, and prefaces. Also includes his autobiographies, plays, and literary criticism – with illustrations.
The Ladder – a Henry James website
A collection of eTexts of the tales, novels, plays, and prefaces – with links to available free eTexts at Project Gutenberg and elsewhere.
A Hyper-Concordance to the Works
Japanese-based online research tool that locates the use of any word or phrase in context. Find that illusive quotable phrase.
The Henry James Resource Center
A web site with biography, bibliographies, adaptations, archival resources, suggested reading, and recent scholarship.
Online Books Page
A collection of online texts, including novels, stories, travel writing, literary criticism, and letters.
Henry James at Project Gutenberg
A major collection of eTexts, available in a variety of eBook formats.
The Complete Letters
Archive of the complete correspondence (1855-1878) work in progress – published by the University of Nebraska Press.
The Scholar's Guide to Web Sites
An old-fashioned but major jumpstation – a website of websites and resouces.
Henry James – The Complete Tales
Tutorials on the complete collection of over one hundred tales, novellas, and short stories.
Henry James on the Internet Movie Database
Adaptations of James's novels and stories for the cinema and television – in various languages. Full details of directors and actors, production features, film reviews, box office, and even quizzes.
© Roy Johnson 2014
---
More on Henry James
More on literature
More on the novella
More on literary studies
More on short stories
---