100 Industrial-Strength Tips and Tools
This book tells you how to get information from Amazon; how to contribute reviews, recommendation lists, and product advice; how to sell stuff; how to make money as an affiliate; and how to harness the power of Amazon's enormous database using tools they will provide – all for free! There are now lots of opportunities to sell, auction, and broker goods at Amazon. It's like being in eCommerce with all the headaches taken out.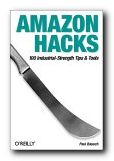 Paul Bausch tells you how to do it – using Amazon's marketplace and Zshops systems. The first part is about how to use and make contributions to the 'Amazon community' – how to submit book reviews, make reading suggestion lists, and send gifts to your friends. All of this can be done straight away, with no waiting or steep learning curves. The second part is how to sell through Amazon – which you can do by marketing what you have, or finding out what other people want. And this is either by straight sales or by auctions.
Next comes the affiliates programme, whereby you get a commission for every customer you send to Amazon – so long as they make a purchase. Some people have established full time jobs on the strength of this scheme. It's fairly simple, and all the steps are explained.
The last part of the book is an account of Amazon Web Services. These are free advanced tools and programs they offer for data recovery – XML, PHP, XSLT, databases, and SOAP. All the coding necessary for embracing these hacks is included.
Because Amazon lists everything about you – the books, CDs, or whatever you have bought or wish to sell – and because they allow you access to this information – you can even call up listings of products onto your own web site. This includes both what you want to sell, but it can also include lists of what other people want to buy.
Amazon are exploring innovations in eCommerce, even making their databases available to potential competitors. I suspect that anyone who follows all the opportunities offered here could make profits from these new departures.
If there is one small drawback, it's that he doesn't discuss the criticisms which many affiliates level against Amazon. They seem to offer more and more opportunities, yet squeeze the bonuses tighter and tighter. It's a cat and mouse world where clever entrepreneurs have to stay one step ahead of the game. But at least you can try it all out for free!
This is a book which will appeal to Amazon users, anyone who deals in books, music, and all the other products which Amazon retails – and in particular those who would like to join Amazon affiliates and need help in getting set up.
© Roy Johnson 2003

  Buy the book at Amazon UK

  Buy the book at Amazon US
---
Paul Bausch, Amazon Hacks: 100 Industrial-Strength Tips & Tools, Sebastapol CA: O'Reilly, 2003, pp.280, ISBN: 0596005423
---
More on eCommerce
More on media
More on publishing
More on technology
---