eCommerce for beginners
Affiliate selling programs have been described as 'making money whilst you're asleep'. You join a scheme – free of charge – run by a major e-Commerce retailer. Then you put links on your website to their products – and when visitors to your site click through to theirs, you get a commission. It's as simple as that. This might seem too good to be true – but the logic is quite simple. You are being paid a bonus for sending customers to somebody else's site. Some pay a small commission [$0.01] just for passing on the visitor, others pay more [15% of the price] if the visitor actually makes a purchase.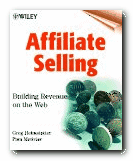 Some people make a living from this new type of enterprise, but the majority are happy to make modest commissions which pay for their online overheads. Helmstetter and Vetivier start with a very upbeat account of web developments in the last few years, the amazing rate of change, and the fairly safe prediction that these rates will continue increasing. One of their most powerful apercues, it seemed to me, was that the rate of interconnectivity is likely to increase – and this is good news for subscribers to affiliate programs. For instance, did you know that some search engines now rate your site's value by how many others have links to it?
Helmstetter (who seems to be lead author) outlines the different types of affiliate programs, and helpfully lists both the advantages and disadvantages of each. This will be very useful for beginners who are in the process of setting up in this new form of business.
The system works best if your site and the parent company are well matched – though it's true that some people have constructed successful sites that are nothing more than a collection of links to various paymasters – and you can have more than one.
The good thing about the advice given here is that it explains all the options – from low-commission links, through auctions, to multi-level portals. You should have no difficulty working out which is the best one for you.
They explain very carefully how to make the best choice, point out the hidden problems, and list a huge range of resources and web sites dealing with affiliate programs. They even show you how to start up an affiliates program even if you don't have a web site.
How can this be done? Well, you either use email, ready-made web page templates, or assemble collections of clips (recommended URLs, containing your code) which you offer for others to use. You can also establish a 'virtual storefront'. These are ready-made web sites which will set you up in e-Commerce within a few minutes. Basically, you customise the pages with products and advertising of your own choosing – though the companies which promote these services will even provide you with sample products.
What makes this book so good is that the sort of people it is aimed at will surely welcome this hands-on, step-by-step approach, with a minimum of technicalities and jargon. There is even a chapter on how and where to position items on a page in order to maximise click-through rate, and like the rest it is offered in a non-dogmatic manner. In fact they repeatedly encourage affiliates to 'stop fretting, and give things a try' – on the basis that you should experiment and test before committing to a major strategy.
This is certainly the most thorough and comprehensive book on the subject of affiliate programmes I have seen to date. Read it, spend no more than a couple of hours at the keyboard following their advice – and you could launch yourself into successful e-commerce.
© Roy Johnson 2002

  Buy the book at Amazon UK

  Buy the book at Amazon US
---
Greg Helmstetter and Pamela Metivier, Affiliate Selling: Building Revenue on the Web, New York/London: John Wiley, 2000, pp.346, ISBN: 0471381861
---
More on eCommerce
More on media
More on publishing
More on technology
---