tutorial commentary, study resources, plot, and web links
An International Episode was first published in The Cornhill Magazine for December 1878—January 1879. It later appeared in book form later the same year published by Harper in New York.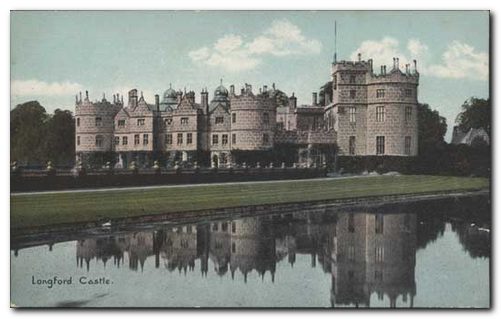 ---
An International Episode – critical commentary
This is one of many tales exploring the 'international theme' made famous by Henry James. As an American who had lived in Europe (and in England in particular) for many years, he very frequently put European characters in an American setting, and vice versa – exploring the manners, morals, and behaviour of one group on another.
And with feet in both camps (as it were) he was able to create satirical sketches which offered accounts of each group showing their characteristics as seen by the other. In An International Episode for instance it is obvious that he contrasts the voluble, good-natured hospitality of the Americans with the cold and unfriendly way in which the Americans are treated by the English upper class on their stay in London.
However, it has to be said that overall, this tale is marked by a sense of uncertainty in both its characterisation and construction – as if James was not quite sure how to handle the international theme at this relatively early stage. For instance, Mrs Westgate is introduced as a lightweight chatterbox, full of contradictory and repetitive soliloquies on the differences between American and European society.
Yet when she visits London only a few months later she is a different character altogether, guarded and scheming in her ambition to outdo the English aristocrats. As she declares to her younger sister: 'The policy I mean to follow is very deep'. And indeed, during the confrontation with the Duchess of Bayswater and her daughter Lady Pimlico, who arrive at their hotel determined to humiliate the two Yankees, she beats Lambeth's mother into submission over the invitation to Branches castle.
The constructional uncertainties are epitomised by the inclusion of characters such as Mr Westgate, Willy Woodley, and even Captain Littledale, who are introduced into the narrative as significant players – only to disappear, having made very little contribution to the story. They are cyphers whose only function is to move the story from one point to the next. As a result, the story lacks the structural cohesion and sense of thematic density which characterises his tales at their best.
The new American woman
The strongest feature of the tale is the development of what was to become an original character type – the 'new American woman' – similar to Daisy Miller and Isabel Archer. Bessie Alden is a well read intellectual young woman from Boston (a renowned centre of culture and learning). She has absorbed her impressions of England almost entirely from novels, and at first her naive enthusiasm to learn more is a vehicle for some mild satire.
But as soon as she travels to England and begins to question Lord Lambert about the country's history and its institutions, his complete lack of learning, culture, or historical consciousness reveals him to be an aristocratic blockhead. Moreover, she does not let him off the hook when he tries to counter her probes with flattery. She quizzes him about his role as a 'hereditary legislator', and he is forced to admit that he does not speak in the House of Lords because he has 'nothing to say'.
Even that point is driven further home when she exposes the iniquity of the hierarchical and snobbish English class system, and she disapproves profoundly with the English system of precedence. The same spirit of democratic egalitarianism is expressed by her sister Kitty when she tells Percy Beaumont:
I must say that I don't like to be patronised. I may be very eccentric and undisciplined and unreasonable; but I confess I never was fond of patronage. I like to associate with people on the same terms as I do in my own country; that's a particular taste that I have. But here people seem to expect something else.
Finally, she asserts her Yankee independence and free spirit by rejecting the invitation to share a weekend with his uber-snobbish mother the Duchess of Bayswater at his country seat at Branches castle. Marriage to an English aristocrat is sacrificed to her sense of intellectual curiosity and democratic self-respect. Kitty Westgate is worried that people might think they have been scared off by the Duchess, but Bessie 'seemed to regret nothing'.
---
An International Episode – study resources

The Complete Works of Henry James – Kindle edition – Amazon UK

The Complete Works of Henry James – Kindle edition – Amazon US

Complete Stories 1884—1891 – Library of America – Amazon UK

Complete Stories 1884—1891 – Library of America – Amazon US

Tales of Henry James – Norton Critical Editions

The Cambridge Companion to Henry James – Amazon UK

An International Episode – eBook formats at Project Gutenberg

Henry James at Wikipedia – biographical notes, links

Henry James at Mantex – tutorials, biography, study resources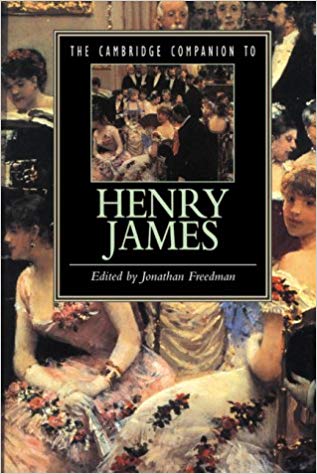 ---
An International Episode – story synopsis
Part I   Percy Beaumont and his cousin Lord Lambeth arrive in New York on business in the middle of summer. The city is very hot and they feel overwhelmed. When they present a letter of introduction to a lawyer Mr Westgate, he invites them to stay at his house in Newport where it will be cooler.
Part II   The two men sail overnight to Newport where they have breakfast in their hotel. They then visit Mrs Westgate who receives them very hospitably but subjects them to a barrage of contradictory over-generalisations about the differences between European and American society.
Part III   An excursion to the seaside is organised, during which Bessie Alden, Mrs Westgate's sister, makes a considerable impression on Lord Lambert. She is a Bostonian, is well read on English culture, and wishes to know a lot more. The two men move in to stay at the Westgate house, and Miss Alden makes further enquiries regarding Lord Lambert's social position, family, and expectations. She is super-enthusiastic about his position as an aristocrat, whereas he is comically self-deprecating. Percy Beaumont meanwhile warns him against Miss Alden's campaign to ensnare him, and even sends Lambert's mother a letter of warning. As a result, Lady Lambeth (the Duchess of Bayswater) writes a letter recalling her son on the pretext that his father is ill.
Part IV   The following year Mrs Westgate and Bessie are visiting London on their trip to Europe. They are joined by Willy Woodley, a young American acquaintance doing the same thing. Bessie wants to contact their two English friends, but Mrs Westgate warns her against expecting reciprocated hospitality, and she doesn't want it thought that Bessie has followed Lambert across the Atlantic in pursuit of a rich husband. The two sisters venture with chaperone Willy Woodley into Hyde Park, where they meet Lord Lambeth again, who invites them to his country estate at Branches castle.
Part V   Social contact is re-established, in which there is a lot of sparring and banter regarding the differences between English and American values. The two Englishmen are snobbish and protective of their class, whereas the two American women are proud of their democratic traditions. Mrs Westgate plans to shock the English aristocrats. When they go on excursions to historical locations such as the Tower of London and Hampton Court, Lord Lambeth is completely ignorant of his own country's history, which invokes criticism from Bessie. However, he continues his attentions towards her, and she begins to fall in love with him. Nevertheless, she challenges the snobbish and aristocratic traditions which he embodies.
Part VI   Meanwhile Percy Beaumont warns Lambeth that his mother disapproves of the American fortune hunter (as Bessie is seen) and that he should desist with the relationship. Lambert fixes a date for the visit to Branches castle to meet his family. This precipitates a visit from his mother, the Duchess of Bayswater. She arrives at Bessie and Kitty's hotel with the intention of intimidating them into staying away, and there is a frosty standoff in their exchanges. However, Bessie and her sister stand their ground, and it seems that the weekend party will go ahead. However, shortly afterwards it is implied that Bessie rejects the invitation, and by implication an offer of marriage from Lambeth, so the visit is called off. The two sisters move on to Paris instead.
---
An International Episode – characters
| | |
| --- | --- |
| I | the occasional outer narrator |
| Percy Beaumont | an English barrister |
| Lord Lambert | his rich young cousin |
| Mr Westgate | a busy American lawyer |
| Mrs Kitty Westgate | his pretty wife (30) |
| Captain Littledale | his friend, an English diplomat |
| Miss Bessie Alden | Mrs Westgate's young sister from Boston (20) |
| Willy Woodley | a young American |
| Duchess of Bayswater | Lord Lambeth's mother |
| Lady Pimlico | Lord Lambeth's sister |
---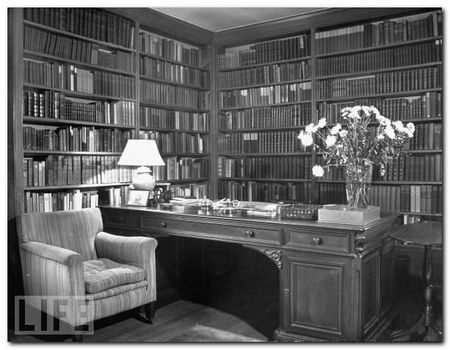 Henry James's study
---
Further reading
Biographical

Theodora Bosanquet, Henry James at Work, University of Michigan Press, 2007.

F.W. Dupee, Henry James: Autobiography, Princeton University Press, 1983.

Leon Edel, Henry James: A Life, HarperCollins, 1985.

Philip Horne (ed), Henry James: A Life in Letters, Viking/Allen Lane, 1999.

Henry James, The Letters of Henry James, Adamant Media Corporation, 2001.

Fred Kaplan, Henry James: The Imagination of Genius, Johns Hopkins University Press, 1999

F.O. Matthieson (ed), The Notebooks of Henry James, Oxford University Press, 1988.
Critical commentary

Elizabeth Allen, A Woman's Place in the Novels of Henry James London: Macmillan Press, 1983.

Ian F.A. Bell, Henry James and the Past, London: Palgrave Macmillan, 1993.

Millicent Bell, Meaning in Henry James, Cambridge (MA): Harvard University Press, 1993.

Harold Bloom (ed), Modern Critical Views: Henry James, Chelsea House Publishers, 1991.

Kirstin Boudreau, Henry James's Narrative Technique, Macmillan, 2010.

J. Donald Crowley and Richard A. Hocks (eds), The Wings of the Dove, New York: W.W. Norton and Company, 1978.

Victoria Coulson, Henry James, Women and Realism, Cambridge University Press, 2009.

Daniel Mark Fogel, A Companion to Henry James Studies, Greenwood Press, 1993.

Virginia C. Fowler, Henry James's American Girl: The Embroidery on the Canvas, Madison (Wis): University of Wisconsin Press, 1984.

Jonathan Freedman, The Cambridge Companion to Henry James, Cambridge University Press, 1998.

Judith Fryer, The Faces of Eve: Women in the Nineteenth Century American Novel, Oxford: Oxford University Press, 1976

Roger Gard (ed), Henry James: The Critical Heritage, London: Routledge, 1968.

Tessa Hadley, Henry James and the Imagination of Pleasure, Cambridge University Press, 2009.

Barbara Hardy, Henry James: The Later Writing (Writers & Their Work), Northcote House Publishers, 1996.

Richard A. Hocks, Henry James: A study of the short fiction, New York: Twayne Publishers, 1990.

Donatella Izzo, Portraying the Lady: Technologies of Gender in the Short Stories of Henry James, University of Nebraska Press, 2002.

Colin Meissner, Henry James and the Language of Experience, Cambridge University Press, 2009

John Pearson (ed), The Prefaces of Henry James, Pennsylvania State University Press, 1993.

Richard Poirer, The Comic Sense of Henry James, Oxford: Oxford University Press, 1967.

Hugh Stevens, Henry James and Sexuality, Cambridge University Press, 1998.

Merle A. Williams, Henry James and the Philosophical Novel, Cambridge University Press, 1993.

Judith Woolf, Henry James: The Major Novels, Cambridge University Press, 1991.

Ruth Yeazell (ed), Henry James: A Collection of Critical Essays, Longmans, 1994.
---
Other works by Henry James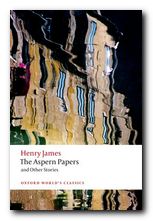 The Aspern Papers (1888) is a psychological drama set in Venice which centres on the tussle for control of a great writer's correspondence. An elderly lady, ex-lover of the writer, seeks a husband for her daughter. But the potential purchaser of the papers is a dedicated bachelor. Money is also at stake – but of course not discussed overtly. There is a refined battle of wills between them. Who will win in the end? As usual, James keeps the reader guessing. The novella is a masterpiece of subtle narration, with an ironic twist in its outcome. This collection of stories also includes three of his accomplished long short stories – The Private Life, The Middle Years, and The Death of the Lion.


Buy the book from Amazon UK


Buy the book from Amazon US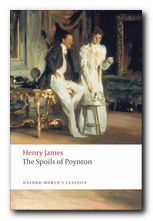 The Spoils of Poynton (1896) is a short novel which centres on the contents of a country house, and the question of who is the most desirable person to inherit it via marriage. The owner Mrs Gereth is being forced to leave her home to make way for her son and his greedy and uncultured fiancee. Mrs Gereth develops a subtle plan to take as many of the house's priceless furnishings with her as possible. But things do not go quite according to plan. There are some very witty social ironies, and a contest of wills which matches nouveau-riche greed against high principles. There's also a spectacular finale in which nobody wins out.


Buy the book from Amazon UK


Buy the book from Amazon US
© Roy Johnson 2014
---
Henry James – web links
Henry James at Mantex
Biographical notes, study guides, tutorials on the Complete Tales, book reviews. bibliographies, and web links.
The Complete Works
Sixty books in one 13.5 MB Kindle eBook download for £1.92 at Amazon.co.uk. The complete novels, stories, travel writing, and prefaces. Also includes his autobiographies, plays, and literary criticism – with illustrations.
The Ladder – a Henry James website
A collection of eTexts of the tales, novels, plays, and prefaces – with links to available free eTexts at Project Gutenberg and elsewhere.
A Hyper-Concordance to the Works
Japanese-based online research tool that locates the use of any word or phrase in context. Find that illusive quotable phrase.
The Henry James Resource Center
A web site with biography, bibliographies, adaptations, archival resources, suggested reading, and recent scholarship.
Online Books Page
A collection of online texts, including novels, stories, travel writing, literary criticism, and letters.
Henry James at Project Gutenberg
A major collection of eTexts, available in a variety of eBook formats.
The Complete Letters
Archive of the complete correspondence (1855-1878) work in progress – published by the University of Nebraska Press.
The Scholar's Guide to Web Sites
An old-fashioned but major jumpstation – a website of websites and resouces.
Henry James – The Complete Tales
Tutorials on the complete collection of over one hundred tales, novellas, and short stories.
Henry James on the Internet Movie Database
Adaptations of James's novels and stories for the cinema and television – in various languages. Full details of directors and actors, production features, film reviews, box office, and even quizzes.
---
More tales by James
More on literature
More on the novella
More on literary studies
More on short stories
---