practical guide to 'making money whilst you're asleep'
Associate and affiliate programs are a new form of e-commerce in which you don't have to sell anything. How does it work then? Well, you put links on your website which send visitors to the site of a major player such as Amazon, Fatbrain, or CD-NOW. If the visitor buys something, you get a small percentage – between five and twenty percent. As Daniel Gray puts it in this cheap and cheerful guide to the subject – 'Affiliate marketing is a way to be paid for wearing a T-shirt with a logo'.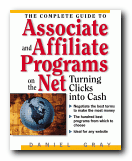 But although most affiliate programs pay only a small percentage, it's a quick and easy way to put some hard cash in your pocket with a little effort and no risk at all. Dan Gray even makes money from a site which specialises in DIY garden sheds! This quirkiness is reflected in the way he writes – jumping from one metaphor to another. But he knows his stuff on how the schemes work.
He offers sound advice on the technicalities of submitting to search engines and interpreting log files. I expected him to say a little more on the issue of how much comes in each month, but he does reveal that books are the best sellers; conversion rates of one percent are normal; and he offers an analysis of sites which have blossomed using affiliate programs – CD-NOW, Amazon, BarnesandNoble, and the BabyCenter.
The latter part of the book is devoted to what he calls the Top100 Directory. This is a very useful listing all those companies operating an affiliates program, with full details of how to contact them, what conditions apply, and how much they pay out. On some programs you can even buy through your own links. If you are going to buy that CD anyway, why not get another 20% off the discounted price? But beware! Amazon for instance don't allow this and might kick you off its list for infringements.
This isn't an in-depth view of associate programs, but there's enough information here to get you started. Click through to Amazon now and order this book – then you can see how the system works 🙂
© Roy Johnson 2001

  Buy the book at Amazon UK

  Buy the book at Amazon US
---
Daniel Gray, Associate and Affiliate Programs on the Net: turning clicks into cash, New York: McGraw-Hill, 2000, pp.227, ISBN: 0071353100
---
More on eCommerce
More on media
More on publishing
More on technology
---