the libraries of book lovers and book collectors
I once lived in a twelve-room Victorian house filled from top to bottom with a book collection which represented forty years of reading, studying, and loving acquisition. Then a few years ago, a change in life style led me to auction off my libraries – the whole lot – a decision about which I have felt ambivalent ever since. This book helped to remove every last trace of that ambivalence. I now feel like cutting my own throat.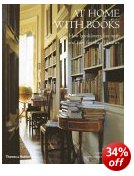 It's a superbly illustrated tour of private libraries and book collections, showing how people have integrated books into their homes. Of course, not many of them are stuck for space: but even those people who live in flats and who have to carve out space from relatively modest surroundings are revealed as book lovers who respect books as objects and who wish to display their collections in a way which combines practicality with a love of good design.
But it's also about a lot more than that: it covers all aspects of bibliographic enthusiasm. How to store your books so that you can get at them; how to organise your library; how to start a collection (and what to look for); how books should be bound; and even details such as bookplates, library ladders, and how the lighting of a library should be arranged.
The examples illustrated come from the homes of people whose entire lives revolve around the purchase, collection and love of books. People such as Seymour Durst whose five-storey house is devoted to books about the history of New York; Paul Getty who has his collection housed in a small castle; people such as the translator Richard Howard and the biographer John Richardson who actually live in the libraries they have created; and there are also some surprises such as the inclusion of Rolling Stones guitarist Keith Richards.
The one masterpiece of book storage I expected to find but didn't was that of Sir John Soane's house (now a museum) in Lincoln's Inn Fields, but that is perhaps because most of the examples shown are located in the USA.
There are all sorts of beautiful oddities: a collector who recovers all his books with cream paper so that they blend in with his furniture; bookspaces arranged by interior designers such as Bill Blass and David Hicks, who has most of his book bound in red to match his trademark colour scheme.
These people take their bibliophilic really seriously. Mitchell Wolfson Jr, who lives in Miami, where the climate is inimical to book life, has both climate control and insect-free environments in his home and his museum.
The advice also includes such curiosities as how to protect books against attack by bookworms and other vermin by putting them into plastic bags and freezing them overnight; plus how to best to design private libraries, and if you are stuck for the details, where to find bookdealers, book fairs, and makers of library furnishings.
This is a beautifully produced book which will appeal to both bibliophiles and lovers of interior design. It is elegantly designed, lavishly illustrated, and it makes me realise I made a terrible mistake.
© Roy Johnson 2007

Buy the book at Amazon UK

Buy the book at Amazon US
---
Estelle Ellis, At Home with Books, London: Thames & Hudson, 2006, pp.248, ISBN 0500286116
---
More on lifestyle
More on biography
More on the Bloomsbury Group
More on design
---