tutorial, study resources, plot summary, further reading
Aurora Floyd (1868) was the second of Mary Elizabeth Braddon's 'sensation' novels. It followed hard on the heels of her first major success, Lady Audley's Secret (1867) with which it has a lot in common. Braddon became the doyenne of this new genre that combined stories of polite English society with elements of crime, mystery, blackmail, and even murder. Her work was published in newspapers, magazines, and most importantly in the circulating libraries such as Mudie's. Braddon had been an actress before she took up writing, and her novels are full of dramatic incidents and well-organised, complex plots. She was an astonishingly prolific writer, with a total output of more than eighty novels.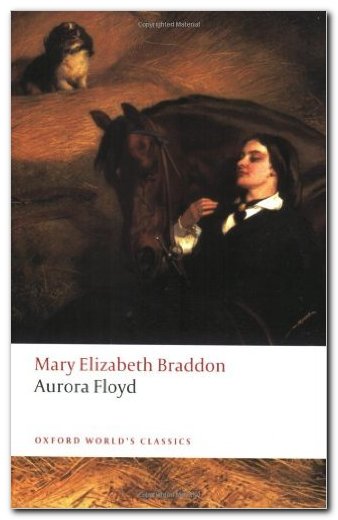 ---
Aurora Floyd – a note on the text
The novel first appeared as a serial in thirteen parts in the monthly magazine Temple Bar from January 1862 to January 1863. The publishers, Tinsley Brothers, paid Braddon £1,000 (almost £100,00 today) for two years exclusive rights. The novel went through five editions in its first year. Its initial appearance as a single volume edition was at the end of 1863. No manuscript of the novel has survived, though Braddon made substantial changes (and deletions) to the original. For a full bibliographic account of the text, see P.D. Edwards' note in the Oxford World's Classics edition of the novel.
---
Aurora Floyd – critical commentary
The sensation novel
It was Wilkie Collins who is credited as the originator of the sensation novel, with the publication of The Woman in White in 1859. But Braddon adopted its features with relish and made them her hallmark. The sensation novel. sometimes described as 'the novel with a secret', pushed the limits of anti-social behaviour as far as they were allowed to be expressed in the mid-Victorian age.
The plots of these novels included mysterious identities, crime, blackmail, forged wills, secret marriages, illegitimacy, melodramatic revelations, madness, and incarceration. These were elements inherited from the Gothic romances of the late eighteenth century – but events were taken away from haunted castles in the Apennines and transposed to settings in polite English society.
Mystery
The mystery that drives the first two thirds of the novel is the 'missing' twelve moths in Aurora's life after she leaves the finishing school in Paris. We do not know why she left the school, and she refuses to give an account of what happened to her. There is also a secondary mystery in her father's distress, which is similarly unexplained. To these ingredients is then added the second major puzzle – how and why does the former jockey James Conyers have any hold over her?
Blackmail
Conyers exhorts a diamond bracelet from Aurora, and then a bribe of two thousand pounds to leave the country – but the secret of their marriage is withheld as long as possible in the narrative. After it is revealed, the element of the two thousand pounds is transposed into yet another staple feature of a sensation novel – the murder.
Murder
The murder in the plot serves two functions. It produces the violence and disruption threatening the peace and security of rather complacent upper class life. Braddon makes quite clear that John Mellish feels existentially threatened by the mere proximity of social disruption to his privileged and well-ordered estate.
He sat down to-night, and looked hopelessly round the pleasant chamber, wondering whether Aurora and he would ever be happy again: wondering if this dark, mysterious, storm-threatening cloud would ever pass from the horizon of of his life, and leave the future bright and clear.
The murder also introduces yet another element of 'whodunnit' mystery, since we do not know (at first) who shot the bullet that kills James Conyers. However, readers with 'Chekhov's gun' theory in mind will know the identity of the culprit in advance of its being revealed.
This theory is a dramatic principle established by the Russian dramatist and short story writer Anton Chekhov – that everything in a narrative should be necessary and anything unnecessary should be removed.
If you say in the first chapter that there is a rifle hanging on the wall, in the second or third chapter it absolutely must go off. If it's not going to be fired, it shouldn't be hanging there.
We know that Stephen Hargraves stole a pistol from Archibald Floyd's house – so, despite the circumstantial evidence of a connection between Aurora and Conyers at the murder scene that can throw suspicion onto her, we know Hargraves is likely to be the assailant.
Social pedigree
Eliza (and hence Aurora) comes from an indeterminate lower class. Eliza was an actress and her brother Samuel was abandoned as a child to become a cabin boy. This is counterposed with the snobbish Bulstrode who comes from the aristocracy and will not marry the woman he loves because she will not reveal a twelve month gap in her social history. He (rightly) fears that this might be a potentially damaging stain on the reputation of his family. Even though he later regrets that decision and assists her in defending her name, his caution is justified by the scandal that ensues in the narrative.
Bigamy
Until the later part of the twentieth century, bigamy was considered a serious crime. that had originally been punishable by prolonged imprisonment and even execution. Yet strangely enough, female bigamists were treated more leniently, because of their perceived lack of 'moral agency'.
The issue that provides the plot of Aurora Floyd is the power that Conyers holds over Aurora because they are still married. He exploits this power by blackmailing her – and he nurtures the outside hope that when her wealthy father dies, he will 'inherit' all the money left to her. Until the Married Woman's Property Act of 1882 a woman's personal property automatically went to her husband – and she ceased to exist as a legal identity.
Aurora believes that her first husband James Conyers has been killed in a riding accident, but in fact he is only injured. Consequently, she becomes guilty of bigamy when she marries John Mellish – and Mellish is not only guilty himself, but he takes on 'responsibility' for his wife's guilt as well.
There is a possibility that the element of bigamy is acting as a surrogate for sexuality in the novel. Adultery or sex out of wedlock would not have been acceptable as a literary subject at that time. But bigamy by 'accident' or through mistaken identity would pass the censorship 'guidelines' imposed by the circulating libraries, which were notorious for their prudishness.
Aurora as a spirited young girl is seduced by a handsome lower-class groom with dark hair, long eyelashes, and god-like looks. There is no mention of any sexual intimacy between them, but they are united by their interest in horses. Most commentary on the novel and its kind emphasises the fact that 'horsey' heroines were equated with 'fast' women who enjoyed the spice of danger and overt eroticism in their lives.
Moreover, having married once and believing her husband to be dead, Aurora has very little hesitation in marrying again. The gauche and good-hearted John Mellish is hardly an erotically charged figure at all, but by her early twenties Aurora has had two husbands and (statistically therefore) a considerable amount of sexual experience.
Marriage
Interestingly enough, in a novel whose central mystery and plot device is bigamy, Braddon seems to incorporate a great deal of direct and indirect comment on the subject of conventional 'love and marriage'.
The aristocratic Bulstrode falls passionately in love with Aurora – almost at first sight. His snobbish notions of family pride prevent him from accepting her as a wife, and so he chooses Lucy instead. She is presented (and behaves) in a far less exciting manner, and yet their union is successful and happy.
Similarly, Mellish is presented as a bumbling and gauche countryman who Aurora accepts as a second-best choice to Bulstrode. Yet they too eventually establish a loving and trustful relationship from which passion seems to have been excluded.
It's as if Braddon is presenting the case that passionate love is not necessarily a good recipe for a successful marriage, whereas concern, respect, and admiration are more likely to lead to happiness.
---
Aurora Floyd – study resources

Aurora Floyd – Oxford Classics – Amazon UK

Aurora Floyd – Oxford Classics – Amazon US

Aurora Floyd – Immortal Classics – Amazon UK

Aurora Floyd – Immortal Classics – Amazon US

Aurora Floyd – Kindle eBook – Amazon UK

Aurora Floyd – Kindle eBook – Amazon US

The Complete Works of Mary Elizabeth Braddon – Kindle eBook
---
Aurora Floyd – chapter summaries
I.   Archibald Floyd, a retired city banker, suddenly marries Eliza Prodder, a young and beautiful actress he meets in Lancashire. Polite society regards her as an upstart, but she is proud and devoted to her husband. However, after only one year of marriage she dies.
II.   The widower Floyd devotes all his attention to his daughter Aurora, who grows up to become a spirited and attractive young woman. He sends her to a Parisian finishing school, from which she returns just over a year later in a poor physical condition.
III.   Aurora has bad feelings about her time in Paris. She meets a man to whom she owes money. He father throws a ball to celebrate her nineteenth birthday, where she meets the proud Talbot Bulstrode.
IV.   Bulstrode is conscious of being remote and unloved. He thinks Lucy Floyd would make a suitable wife, but he is intrigued by Aurora, whose mysterious behavior he attributes to horse-racing gambling debts.
V.   Floyd employs the very unsympathetic Mrs Powell as governess to Aurora. They go to stay in Brighton, where Bulstrode has bought himself out of the army. Lucy is anguished because she loves Bulstrode, who is besotted with Aurora. They are joined by Bulstrode's gauche Yorkshire friend John Mellish.
VI.   Bulstrode proposes to Aurora, but she rejects his offer (as she has just rejected an offer from Mellish). But then she accepts the offer next day – after reading of the death of an English jockey in Germany..
VII.   Preparations are under way for the marriage, but then out on a drive they meet Matthew Harrison, who demands money from Aurora. Bulstrode asks how she comes to know him – but she refuses to divulge the information.
VIII.   John Mellish returns from exile in Paris and accuses Bulstrode of 'treachery'. He then confides in Lucy, and realises she loves Bulstrode. Constance Trevyllian, Bulstrode's cousin, returns from the Paris finishing school, much to Aurora's consternation.
IX.   Next day (Xmas) Bulstrode receives a letter from his mother revealing that Aurora ran away from her Parisian school and was missing for the following year. When Bulstrode asks for an explanation she pleads with him for understanding, but will not reveal where she was for the twelve months. He breaks off their engagement and leaves.
X.   Aurora falls seriously ill with a fever that lasts for four months. Floyd takes his daughter to Leamington for recovery, where they are joined by John Mellish. Floyd gives Mellish his blessing to wait for a possible change in Aurora's feelings towards him.
XI.   The Floyd party go to northern France. Aurora continues to think about Bulstrode, but Mellish pressures her emotionally and offers to marry her without knowing the secret of her 'missing year'.
XII.   Aurora becomes engaged to Mellish and is regarded by many as rather fickle. Bulstrode enters parliament, and is angry when he reads of the marriage. Aurora goes to live at Mellish Park where she develops two enemies – Mrs Powell and Stephen Hargraves, the repugnant groom, who is fired for mistreating her dog.
XIII.   John Mellish allows Aurora to dominate him, and Lucy is dismayed that her cousin can forget Bulstrode so easily. The Floyd party visit York races where they meet Bulstrode, who still feels bitter regarding Aurora.
XIV.   Bulstrode is invited to stay at Mellish Park, where he meets Lucy Floyd and realises that she is in love with him. He proposes to her and they are married shortly afterwards.
XV.   Aurora sees Stephen Hargraves lurking in the woods at Mellish Park. A letter arrives recommending the horse trainer James Conyers. Aurora faints at the mention of his name.
XVI.   Mellish questions his wife, who will only reveal that Conyers knows her secret. Mrs Powell is peeved on being excluded. The adventurer Conyers arrives at Mellish Park as trainer. Mrs Powell spies on him opening his letters – one of which is from Aurora.
XVII.   The unscrupulous rogue Conyers hires Stephen Hargraves as his servant. He forces him to deliver a letter to Aurora, who angrily assents to its contents.
XVIII.   Mellish decides to trust his wife, despite her enigmatic behaviour. Aurora goes to see Conyers at night, followed by Mrs Powell, who eavesdrops with Stephen Hargraves whilst Aurora tries to buy off Conyers. On return Mrs Powell locks Aurora out of the house in the rain, which alarms Mellish.
XIX.   Archibald Floyd is lonely without his daughter Aurora. He is entertaining Bulstrode and Lucy when Aurora and Mellish arrive to discuss 'money matters'. Aurora asks her father for two thousand pounds, refusing to tell him what it is for. He gives her the money, making a record of the banknote numbers.
XX.   Captain Samuel Prodder arrives from Liverpool at Felden Woods where he is warmly welcomed by Mr Floyd. He has come in search of his sister Eliza, but learning of her death would like to see his niece Aurora.
XXI.   Conyers neglects his duties and abuses Hargraves. When Conyers arrives home drunk one night, Hargraves finds a paper in his clothes confirming that the two thousand pounds 'agreement' with Aurora is for him to quit England.
XXII.   Hargraves steals Mellish's pistol at the house. Aurora arranges a meeting with Conyers. Mrs Powell snoops on all concerned.
XXIII.   The Mellishes have boring guests to dinner, but Aurora manages to leave the house to keep her late night appointment with Conyers.
XXIV.   During dinner Captain Prodder arrives at the house, but is turned away. He walks through the grounds and overhears Aurora rebuking Conyers. There is a pistol shot. Prodder reports back to the house that there has been a murder.
XXV.   Mellish and Prodder go out, recover Conyers' body, and take it back to the Lodge. Hargraves is in bed and pleads innocence. A policeman discovers the message sewn into Conyers' waistcoat. Prodder suddenly disappears. Mellish realises Aurora might be a suspect, and Mrs Powell refers to her being close to the scene. Aurora reveals that Conyers was formerly in her father's employment. Mellish feels shattered by the onset of unhappiness and thinks he has not been socially virtuous enough.
XXVI.   The inquest is inconclusive and returns a verdict of 'murder by person(s) unknown'.
XXVII.   However, Mellish is recalled by the coroner, who produces the blood-stained marriage certificate between Conyers and Aurora.
XXVIII.   Hargraves tells Aurora that the marriage certificate has been found. She feels ashamed of having deceived Mellish, and she runs away – intending to consult Bulstrode.
XXIX.   Mellish returns home, forgiving Aurora for her youthful indiscretion. Discovering that she has left, he prepares to follow her – but first he dismisses Mrs Powell.
XXX.   Aurora visits Bulstrode for his advice. She recounts the history of her youthful marriage to Conyers, his blackmailing, and his recent death. Lucy comforts her.
XXXI.   Next day Bulstrode meets Mellish, who is then reunited with Aurora. Bulstrode advises Mellish to re-marry Aurora as soon as possible.
XXXII.   The Mellishes visit Archibald Floyd, where Aurora confesses the truth to her father, who wonders where his two thousand pounds are. They return to London and are re-married – although they are being followed by two strange men.
XXXIII.   Samuel Prodder buys himself a new suit and returns to Doncaster where he overhears Stephen Hargraves implicating Aurora in the murder via mixture of circumstantial evidence and half truths. Prodder attacks him in outrage, but Hargraves produces Aurora's note to Conyers to support his claims.
XXXIV.   The Mellishes return home, but Aurora feels the effects of the murder hanging in the air. The servants are suspicious of her sudden unexplained flight. Mellish's pistol is found in the grounds.
XXXV.   The Bulstrodes arrive and realise that something is wrong. Aurora lies to Lucy, claiming John no longer loves her. Bulstrode badgers Mellish into revealing the truth – that suspicion points to Aurora. They meet detective Joseph Grimstone who reveals the existence of two letters accusing Aurora – both written by Mrs Powell.
XXXVI.   Bulstrode persuades Mellish to reveal what he knows, then relays this information to Grimstone, who has found a brass button at the crime scene.
XXXVII.   Grimstone locates the origin of the brass button on a pawn shop waistcoat, then traces the garment as a gift from the gardener to Hargraves.
XXXVIII.   Grimstone inspects Hargraves' room in his absence but finds nothing, then he discovers that his assistant Chivers has lost track of Hargraves whilst stalking him.
XXXIX.   Mellish and Bulstrode wait impatiently at the house for news. Bulstrode visits Grimstone in Doncaster but there is nothing new to report. However, on his way back to Mellish Park he spots Hargraves in the Lodge. Hargraves attacks him, but Bulstrode is rescued by the sudden arrival of Prodder. The waistcoat and the money are recovered. Hargraves is hanged at York assizes, Mellish and Aurora travel to the south of France, where a baby is born and they are joined by Bulstrode and Lucy.
---
Aurora Floyd – principal characters
| | |
| --- | --- |
| Archibald Martin Floyd | a rich and retired city banker |
| Falden Woods | his estate in Kent |
| Eliza Prodder | a beautiful but poor actress, Aurora's mother |
| Aurora Floyd | a strong-willed and attractive young woman |
| Lucy Floyd | Aurora's friend and cousin |
| Talbot Bulstrode | the proud intellectual son of an ancient family |
| John Mellish | a rich, generous, but gauche Yorkshireman |
| Mrs Walter Powell | Aurora's unsympathetic governess |
| Steeve Hargraves | a repugnant groom at Mellish Park |
| Joseph Grimstone | a Scotland Yard detective |
| James Conyers | a horse trainer, rogue, and adventurer |
| | |
---
Aurora Floyd – further reading
Richard D. Altick Victorian Studies in Scarlet, New York: W.W. Norton, 1979.
Jennifer Carnell, The Literary Lives of Mary Elizabeth Braddon: A Study of Her Life and Work, UK: Sensation Press, 2000.
Ann Cvetkovich, Mixed Feelings: Feminism, Mass Culture, and Victorian Sensationalism, New Jersey: Rutgers University Press, 1992.
P.D. Edwards, Some Mid-Victorian Thrillers: The Sensation Novel, Its Friends and Its Foes, Queensland: University of Queensland Press, 1971.
Winifred Hughes, The Maniac in the Cellar: Sensation Novels of the 1860s, Princeton: Princeton University Press, 2014.
Lyn Pykett, The 'Improper' Feminine: The Woman's Sensation Novel and the New Woman Writing, London: Routledge, 2013.
Anthea Trodd, Domestic Crime in the Victorian Novel, London: Palgrave-Macmillan, 1988.
Robert Lee Wolff, Sensational Victorian: The Life and Fiction of Mary Elizabeth Braddon, New York: Garland Publishers, 1979.
© Roy Johnson 2016
---
More on literature
More on the novella
More on literary studies
More on short stories
---