tutorial, study resources, and chapter summaries
Lady Audley's Secret was one of the best-selling novels of the nineteenth century – outselling even Dickens, Wilkie Collins, and other popular writers of the period. It belongs to a literary genre known as the 'sensation novel' which preceded (and overlapped with) the vogue for Gothic horror stories that became popular later in the century.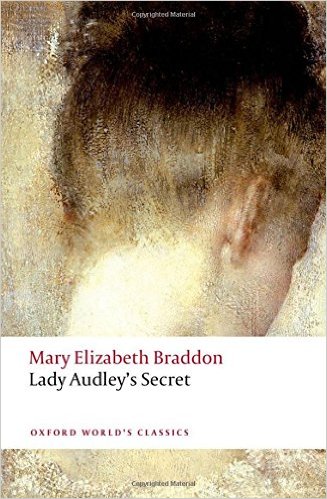 Indeed Braddon produced her own version of a vampire novel The Good Lady Ducayne in 1896 – which was her sixty-ninth novel. She was known as the 'queen of the circulating libraries' because of her enormous productivity and her ability to supply the popular demand for dramatic fiction. She is now mainly remembered for this one novel – and it has to be said that whatever its shortcomings, it is a novel which once read, will not easily be forgotten.
---
Lady Audley's Secret – a note on the text
Lady Audley's Secret first appeared. as weekly instalments in the magazine Robin Goodfellow, running from July to Septermber 1861. It was then serialized as monthly instalments in the Sixpenny Magazine between January and December 1862. The first three-volume book edition was published by Tinsley Brothers in October 1862. Elizabeth Braddon made substantial additions (and some deletions) as the novel passed through new editions. For a detailed account of these changes see the Oxford University World's Classics edition.
This publishing history emphasises Braddon's completely professional approach to writing novels as a career and a source of income. Each of these commercial formats (magazines and books) were aimed at slightly different readers, and she maximised her financial success by exploiting both popular and intellectual readerships. Braddon made a lot of money from the sales of this one novel – enough for her to remain financially independent for the rest of her life. Her publisher William Tinsley also made enough to build a villa on the Thames at Barnes, which he called very appropriately 'Audley Lodge'.
---
Lady Audley's Secret – critical commentary
This murder-mystery novel was very successful when it first appeared, and Lady Audley's Secret remains an excellent example of its kind – to remind us that the serialized narrative with multiple plot lines was a staple of the Victorian circulating libraries – and that it remains a strand of popular culture today in its contemporary forms of the soap opera and the multi-part television series.
Despite its suspense, mystery, multiple plot lines, and the intriguing relationships of its characters, Lady Audley's Secret is founded upon a rather weak proposition. The novel is based on the idea that a rich aristocrat would marry an unknown person without making any enquiry into her family background or social provenance. Sir Michael Audley is a peer of the realm, and no matter how he might be enchanted by a pretty face and golden curls, it is almost unthinkable that such a man would marry someone who came from what turns out to be a dubious background. She has a father who is a drunk and a mother who is mad, and she herself is already married.
This would be statistically unlikely, since the aristocracy traditionally guarded its priviledges and power largely on the basis of inherited wealth and would not wish to dilute any of that power by marriage and association with a lower class. However, it has to be said that Lady Audley's Secret is based upon the real life scandal and mystery of 1860 in which Constance Kent was convicted of murder based on the fact that her father had married a second time
Braddon also takes some liberties with the presentation of her anti-heroine Lady Audley – whose real name is initially Helen Maldon. She then becomes Helen Talboys on her marriage to George Talboys, and finally adopts the name Lucy Graham before marrying Sir Michael Audley. She is also given the fictitious name of Mrs Taylor when she is sent into the Belgian 'madhouse'. The liberty Braddon takes is primarily that she presents Lucy for the first two thirds of the novel as an unblemished beauty with no social baggage or moral weak points – though she does betray some unexplained reservations when accepting Sir Michael's proposal of marriage.
We are given clues that all might not be as it seems in the first two volumes of the novel. Her former maid Phoebe Marks obviously has compromising information about her in the form of the child's slipper and lock of hair. Later in the novel, Robert Audley and George Talboys see a portrait which reveals something sinister beneath her attractive outward appearance.
Most of the narrative is relayed from Robert Audley's point of view, as he tries to solve the problem of the sudden disappearance of his friend George Talboys. But then at the end of Volume II the point of view suddenly switches to the so-called Lucy Graham herself, as she reflects on her former 'wickedness' – without at this stage revealing specifically what she has done. She is suddenly presented as a scheming and ruthless woman. This rather gives the game away (unnecessarily) and reveals that Robert's suspicions are well founded – though the clinching fact of George Talboy's fate is still witheld.
Robert Audley also gives up on his search for George Talboys in the last Volume of the novel. Since this had been the main focus of his efforts in the first two volumes, it becomes clear that Braddon is merely dragging out the revelation of Lady Audley's murderous attack until the final chapters. The fact that George's 'death' is mentioned so often also arouses suspicions in the attentive reader that he will in the end still be alive – which turns out to be the case. His barely credible account of escaping from the bottom of the well is delayed until the final pages of the novel This is giving precedence to suspense over narrative logic – which is one of the factors that makes the novel a second rather than a first rate classic.
The sensation novel
In the middle of the nineteenth century there was a vogue for what was called the 'sensation novel'. This was a variation of the Gothic horror story and normally featured plot elements of murder, disguise, bigamy, madness, blackmail, fraud, theft, kidnapping, incarceration, or disputed wills. Mary Elizabeth Braddon distinguishes herself by including several of these elements in one novel.
Lady Audley's Secret is all the more effective because it appears to start out as a conventional novel of polite society. A rich widowed landowner with a country estate marries a beautiful young woman who is popular with everyone in his circle. Some members of his family become involved in amorous relationships and vaguely mysterious searches for information. The novel could in its early stages be a production out of the Jane Austen, Charlotte Bronte, or George Eliot tradition.
But as the story unfolds it gets darker and darker in tone. First, suspicion falls on Lady Audley herself. How could such an attractive and popular young woman be involved in issues of duplicity, disappearance, and identity theft? The answer turns out to be even worse than the question. The literary critic Elaine Showalter summarises the plot of Lady Audley's Secret as follows: "Braddon's bigamous heroine deserts her child, pushes husband number one down a well, thinks about poisoning husband number two and sets fire to a hotel in which her other male acquaintances are residing".
We know from the title of the novel that Lady Audley has a secret, but at first we are not sure what it is. Braddon plays fair by scattering clues throughout the narrative. Lucy has kept mementoes of what appears to be a child, and when Robert Audley begins to dig into her past life we suspect her of bigamy. But this thread of the story is overlaid with the disappearance of George Talboys. This muddies the picture for some time, and Robert Audley's suspicion that Lady Audley has murdered George occupies the central sections of the novel. The reader appears to be dealing with a murder mystery.
But the story is more complex than that. Lady Audley in fact has multiple secrets. She is from a very poor background. She has already married George Talboys. She has then abandoned their child to the care of her drunken father. She has changed her name not once but twice – from Helen Maldon to Helen Talboys on marrying George, and then (to erase her past) to Lucy Graham – prior to marrying Sir Michael Audley to become Lady Lucy Audley.
Her other secrets, not revealed until much later in the novel, are that she tried to murder her first husband George when he re-appeared from Australia. In addition, when her wrongdoing is in danger of being exposed by Robert Audley (and her former maid Phoebe and husband Luke) she tries to kill them all of them by setting fire to the Castle Inn.
Helen Maldon-Lucy Graham is first presented as an attractive, golden-haired heroine by whom everyone is enchanted, but she turns out to be an unscrupulous psychopath. This is one very strong reason why the novel could also be considered a Gothic tale, and Lucy certainly ends up in Gothic circumstances – incarcerated in a Belgian maison de santé where she later dies, leaving the heroes and heroine of the novel to live on in bliss in their rustic fairy-tale cottage on the Thames.
It is worth noting that this element of sensationalism was still prevalent towards the end of the century in the work of writers such as Henry James and Thomas Hardy. James's late novel The Other House (1896) is a mystery thriller involving the murder of a child, and Hardy's The Mayor of Casterbridge (1886) involves a cast-off wife who returns unexpectedly.to cause problems for her bigamous husband. Hardy was also toying with bigamy and technically illegal sexual relationships as late as his last novel, Jude the Obscure (1895).
---
Lady Audley's secret – study resources

Lady Audley's Secret – Oxford Classics – Amazon UK

Lady Audley's Secret – Oxford Classics – Amazon US

Lady Audley's Secret – Wordsworth Classics – Amazon UK

Lady Audley's Secret – Wordsworth Classics – Amazon US

Lady Audley's Secret – Penguin Classics – Amazon UK

Lady Audley's Secret – Penguin Classics – Amazon US

The Complete Works of Mary Elizabeth Braddon – Amazon UK

Mary Braddon: A Study of her Life and Work – Amazon UK
---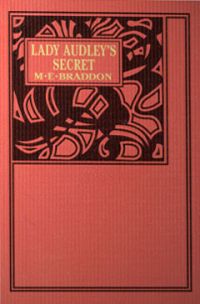 first edition 1862
---
Lady Audley's Secret – chapter summaries
Volume I
I   Rich widower Sir Michael Audley falls in love with young governess Lucy Graham. She harbours some secret reservations, but accepts his proposal of marriage.
II   George Talboys and Miss Morley compare their apprehensions on returning from Australia. She has been away eduring fifteen years of hardship, and is hoping her fiance will still want her. He has been away for three and a half years after deserting his wife and child, and after much privation has struck gold.
III   Lady Audley and her maid Phoebe Marks have returned from a European tour. Phoebe shows her cousin and lover Luke Marks around Audley Court and its lavish furnishings. They discover a baby's shoe and some hair in a secret drawer – which Phoebe keeps.
IV   Playboy barrister Robert Audley meets fellow old Etonian George Talboys in the city. Talboys banks his money, then reads in the Times that his wife has just died.
V   Robert and George travel to Ventnor on the Isle of White where Helen Talboys has died. They confirm her identity and locate her grave.
VI   Talboys arranges the financial support for his son by his father-in-law Captain Maldon, then plans to travel to St Petersburg with Robert Audley.
VII   A year later Robert and George go to Audley village, where Lady Audley avoids meeting them. She sends Phoebe Marks to London on a secret errand. A telegram arrives calling Lucy to London, where .
VIII   George and Robert continue their visit Audley Court and inspect Lucy's private chambers via a secret passageway. They see a portrait of her which looks rather sinister.
IX   Talboys and Lady Audley are both frightened by thunder and lightning during a storm in the night. George has dropped his glove in Lady Audley's room.
X   Whilst George and Robert are fishing, Robert falls asleep and wakes to find George missing. He searches the estate for him, without success.
XI   Robert dines at Audley Court, where Lucy reports on her fruitless trip to London.. Robert notices bruises on Lucy's arm, and he vows to find his friend George.
XII   Robert goes to London in search of George, then on to Southampton, where he is told that George visited his son the day before, prior to leaving for Australia.
XIII   Robert goes to Liverpool, but finds no signs of George. On returning to London he draws up a list of all essential facts surrounding the disappearance of his friend. He begins to think in legal terms.
XIV   Alicia and Lady Audley agree to disagree. Lady Audley makes an offer to help Phoebe's fiance Luke- but he asks for more, with a veiled threat that he has information about her.
XV   Luke and Phoebe get married and take on the Castle Inn nearby. Robert Audley discusses his theories about George Talboys with Lucy, who faints as a result.
XVI   Alicia refuses an offer of marriage from a rich landowner. Robert (with whom she is in love) advises her to be patient. Robert is asked to leave by his uncle as a matter of good form: Robert takes lodgings at the Castle Inn.
XVII   Robert quizzes Phoebe and Luke. He suspects that they have compromising information about Lady Audley.
XVIII   Lady Audley visits Robert at the Castle Inn. They discuss Talboys and his disappearance. When Robert reveals he has letters written to Talboys by his wife, Lucy takes the next train to London. Robert follows her immediately.
XIX   In London he meets Lucy going back to Colchester, and wonders what she has been doing. Returning to his chambers he discovers that a locksmith has been summoned, but when he checks with the man he is told there was a mistake.
Volume II
I   Robert discovers that George's wife's letters are missing from his effects., but when he inspects. George's books he finds an inscription in Helen Maldon's handwriting which he seems to recognise.
II   Robert goes to Southhampton where young Georgey is living with his drunken grandfather, supervised by the dubious Mrs Plowson. It seems they are in someone's pay.
III   Georgey tells Robert about 'the pretty lady'. Robert wishes to take Georgey away and tells and tells Maldon that he thinks George Talboys is dead. Georgey turns out to have very adult tastes in food and drink.
IV   Robert visits Harcourt Talboys, George's stern and uncompromising father in Dorset. He thinks George's disappearance has been staged to influence him. Robert spells out his fears, but Mr Talboys refuses to believe him or to alter his attitude.
V   Clara Talboys wishes to avenge her brother's death: she has two of her brother's letters which she promises to send to Robert.
VI   Robert returns to London, reflecting on the changeable nature of his quest, and the fact that he has become entangled particularly by so many <em.women in the case.
VII   Sir Michael Audley is ill. Robert visits him and quizzes surgeon friend Mr Dawson, Lucy's previous employer, who refers him to Lucy's earlier employed Mrs Vincent.
VIII   Robert traces Mrs Vincent in London. He establishes that the telegram sent to Lucy was a lie, that Lucy's family came from 'the seaside' and that she has travelled abroad. He removes an incriminating address label from her hat box.
IX   Robert travels to north Yorkshire where he discovers the history of Helen Talboys and her relationship to Lucy Graham, and her bankrupt father Captain Maldon. He wonders therefore who is buried in the grave at Ventnor.
X   Robert returns to. Audley where he hears Clara Talboys playing the organ in church. . She quizzes him about his quest for news of her missing brother, and what he knows about Lucy.
XI   Robert forces Lady Audley to listen to his evidence about the disappearance of George, most of which suggests that she is guilty. But she refuses to accept or explain the evidence and accuses Robert of being mad.
XII   Lucy reports Robert's accusations to her husband (without giving any specific examples). Phoebe Marks arrives blackmailing Lucy for more money, and she brings a letter from Robert threatening further exposure.
Volume III
I   Lucy agrees to pay the money, but insists on doing so in person. She goes back with Phoebe in the middle of the night to the Castle Inn (where Robert is staying) and after locking him in his bedroom, sets fire to the building.
II   The next day Lucy is anxiously awaiting news of the fire to reach Audley Court – but it doesn't. Robert Audley realises Alicia is in love with him, but he has been enchanted by Clara, George's sister. Eventually, to Lucy's astonishment, Robert arrives at Audley.
III   Lucy is cornered by Robert's circumstantial evidence, and agrees to tell her true story. This includes her mother's madness, her poverty, marrying George Talboys, their separation, farming out her son's upbringing to her drunken father, and using Matilda to fake her own death.
IV   In order to avoid scandal, Robert asks Alicia to accompany her father in his exit from Audley Court to London and onwards. Robert telegraphs for details of a psychiatric physician.
V   Doctor Mosgrave arrives next day and listens to Robert's account of events and of Lucy's life, and he pronounces her not mad, but dangerous. He also spots that her account of events omits any details of George Talboys. He interviews Lucy then writes a letter of recommendation to a maison de santé in Belgium.
VI   Robert escorts Lucy to the maison fermée, where in an angry outburst she finally reveals that she murdered George Talboys and threw his body into the garden well at Audley.
VII   Robert is conflicted regarding how much of Lucy's misdeeds he should reveal, since he wishes to protect the family' name and honour. Sir Michael Audley and Alicia go to Germany. Robert gets a letter from Clara saying that the dying Luke Marks= wants to see him. He is troubled by thoughts of the 'ghost' of George Talboys.
VIII   Marks reveals that he has had a secret – which is that he rescued George after Lucy's murderous attack. George gave him two letters for Robert and Lucy – but they were never delivered. Phoebe witnessed Lucy's attack on George, but kept the secret together with Luke, who dies the day after his revelation.
IX   Robert visits Harcourt Talboys and wonders how they can contact George in Australia. Robert is in love with Clara, and declares himself to her, but when he returns to London to begin the search, George is there waiting for him, having been in America.
X   Robert marries Clara and lives in an idyllic cottage in Teddington on the Thames, working as a lawyer. Lucy dies in the Belgian sanctuary.
---
Lady Audley's Secret – principal characters
| | |
| --- | --- |
| Sir Michael Audley | a wealthy baronet and estate owner (56) |
| Alicia Audley | his spirited daughter by his first wife |
| Robert Audley | his nephew (and heir) who is studying law (27) |
| Lucy Graham | Sir Michael's second wife – an ex-governess |
| George Talboys | an ex-Etonian friend of Robert (25) |
| Harcourt Talboys | George's strict and puritannical father |
| Clara Talboys | George's beautiful sister |
| Phoebe Marks | maid to Lady Audley |
| Luke Marks | cousin and lover of Phoebe |
| Mr Dowson | the parish surgeon, Lucy's previous employer |
| Mrs Vincent | private school head (in debt) Lucy's referee |
| Captain Maldon | Lucy's drunken father in Portsmouth |
---
Lady Audley's Secret – further reading
Richard D. Altick Victorian Studies in Scarlet, New York: W.W. Norton, 1979.
Jennifer Carnell, The Literary Lives of Mary Elizabeth Braddon: A Study of Her Life and Work, UK: Sensation Press, 2000.
Ann Cvetkovich, Mixed Feelings: Feminism, Mass Culture, and Victorian Sensationalism, New Jersey: Rutgers University Press, 1992.
P.D. Edwards, Some Mid-Victorian Thrillers: The Sensation Novel, Its Friends and Its Foes, Queensland: University of Queensland Press, 1971.
Winifred Hughes, The Maniac in the Cellar: Sensation Novels of the 1860s, Princeton: Princeton University Press, 2014.
Lyn Pykett, The 'Improper' Feminine: The Woman's Sensation Novel and the New Woman Writing, London: Routledge, 2013.
Anthea Trodd, Domestic Crime in the Victorian Novel, London: Palgrave-Macmillan, 1988.
Robert Lee Wolff, Sensational Victorian: The Life and Fiction of Mary Elizabeth Braddon, New York: Garland Publishers, 1979.
© Roy Johnson 2016
---
More on literature
More on the novella
More on literary studies
More on short stories
---