tutorial,  commentary, study resources, plot, and web links
Benvolio first appeared in magazine form in The Galaxy for August 1875. It was then reprinted in book form amongst The Madonna of the Future and Other Tales in 1879.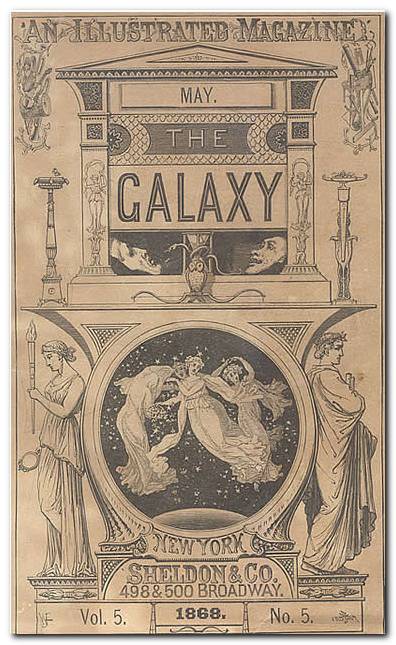 ---
Benvolio – critical commentary
The fairy tale
James playfully opens this story with the sentence "Once upon a time (as if he had lived in a fairy tale) there was a very interesting young man". Thus he simultaneously quotes a traditional fairy tale and pretends to distance himself from it. But what follows piles up one cliché of the genre after another
There is no attempt whatever to locate the character or events within the framework of realistic fiction. No place names or geographic location are specified. The names of the characters are either generic (the Professor, the Countess) or are 'invented' (Benvolio – which is not actually his real name).
All the details of the story are from the stock repertoire of the fairy tale: the Countess has a 'court' and she takes Benvolio to her country estate where there is 'bear hunting'; messages arrive on 'parchment'. None of the interaction of the characters is dramatised: everything is given in generalized summary ('as the years went by'). The young women are beautiful; the Professor is naturally a wizened old man; and journeys to the other side of the world are accounted for within a single sentence.
The atmosphere of a late Renaissance period is reasonably well summoned up (not unlike Virginia Woolf's similar efforts in Orlando) – with the exception of minor anachronisms such as mention of bookshops, publishers, and magazines.
Theme
But to what end? It is very difficult to say if James was exploring any serious theme or ideas in this tale or not. The principal issue (which he drags out to inordinate length) is Benvolio's divided attraction to the worldly glamour offered by the Countess and the somewhat puritanical life of research and editorship symbolised by Scholastica.
The only way of making sense of this is to take a reading (supported by so many other of James's tales) which sees this as a psychological exploration of what James himself saw as the dangers that women represented to him as a writer.
He knew that the worldly life of dinner parties and invitations from aristocratic ladies to weekends at country estates took him away from his work – though it gave him a great deal of his material in terms of gossip and anecdotes. On the other hand, marriage to a bluestocking or a librarian might lead to the drying up of his inspiration. After all, as soon as Benvolio settles with his scholastic muse, his talent evaporates.
In this reading Benvolio is yet another cautionary tale against the dangers of women and emotional commitment. Whatever sense is made of the story, it is without doubt one of the most laboured, repetitive, and unsuccessful in all of James's hundred-plus tales.
---
Benvolio – study resources

The Complete Works of Henry James – Kindle edition – Amazon UK

The Complete Works of Henry James – Kindle edition – Amazon US

Complete Stories 1874—1884 – Library of America – Amazon UK

Complete Stories 1874—1884 – Library of America – Amazon US

Benvolio – eBook versions at Gutenberg

Benvolio – facsimile of original text

The Cambridge Companion to Henry James – Amazon UK

Henry James at Wikipedia – biographical notes, links

Henry James at Mantex – tutorials, biography, study resources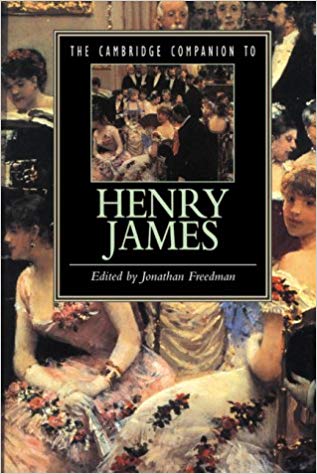 ---
Benvolio – plot summary
Part I.   Benvolio is a rich, poetic young man who is full of contradictions. He lives in comfort, writes, and reflects philosophically. But he gradually becomes blas&eacute and feels that he needs more purpose in his life. He decides that he will write about great ideas and truths, and begin to engage with the world.
Part II.   He engages with a beautiful and rich widow, the Countess, then falls in love with her – but will not propose marriage. She is much sought after, and cannot understand his reticence. He doesn't think she has all the qualities required in a wife. She decides to keep him at bay, and he discovers that other women are not nearly as interesting. One romantic night he breaks into her castle to see her – but still does not propose. So she leaves him.
Part III.   Benvolio stays at home during the summer months. He buys a Venetian painting, then becomes enchanted with a girl who sits in his shared back garden. He thinks she might be reading one of his own books. But when rain sets in he pines for the Countess. When he sees the girl in a bookshop he impulsively offers to deliver all the books she has ordered.
Part IV.   He delivers the books and meets the girl and her father, the Professor, an old blind man. They live in an adjacent house owned by the Professor's brother, who is a miser. Benvolio engages in philosophic discussions with the Professor, and he grows to rate highly the qualities of the girl, Scholastica.
Part V.   However, he also perceives limitations in Scholastica and goes back to the court of the Countess, where he develops his talent for dramatic poetry. He writes a masterpiece in which the Countess is the star. On going back home he returns to his back garden and feels guilty that he has neglected his neighbours. He tells Scholastica all about the Countess.
Part VI.   He also tells the Countess all about Scholastica, and feels personally divided between the studious and social life. His new comedy is a great success. The Countess becomes jealous of his attentions to Scholastica. She proposes a winter holiday on her estate where Benvolio finally declares his complete love for her. But when they return to town they quarrel. He wishes to marry, but she is not sure, and suggests that they travel.
Part VII.   He takes a cold leaving of Scholastica and travels in Italy with the Countess. However, they quarrel over Scholastica again and he returns home alone to discover that the Professor has died. He offers to help Scholastica edit the Professor's papers. Meanwhile her uncle gives her an allowance but threatens to cut it off if she marries 'a poet'. Benvolio meets the Countess again and writes new verse dramas.
Then Scholastica's uncle withdraws her allowance. The Countess arranges for Benvolio to be sent on a diplomatic mission, and engineers a job abroad for Scholastica. However, Benvolio tells the Countess that her main attraction was as a contrast to Scholastica, and after six months he sails off to bring Scholastica back home. But his subsequent literary productions are 'dull'.
---
Principal characters
| | |
| --- | --- |
| Benvolio | a rich and poetic young man (not his real name) |
| Madam | the person to whom the story is addressed |
| The Countess | a beautiful young widow (not her real name) |
| The Professor | a learned and blind old man |
| Scholastica | his pretty young daughter, 'a learned maiden' (not her real name) |
---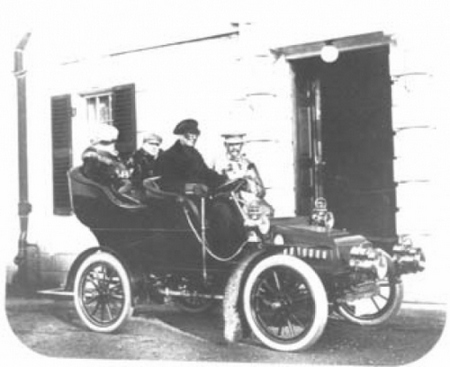 Henry James travelling with Edith Wharton
Benvolio journeys with the Countess?
---
Further reading
Biographical

Theodora Bosanquet, Henry James at Work, University of Michigan Press, 2007.

F.W. Dupee, Henry James: Autobiography, Princeton University Press, 1983.

Leon Edel, Henry James: A Life, HarperCollins, 1985.

Philip Horne (ed), Henry James: A Life in Letters, Viking/Allen Lane, 1999.

Henry James, The Letters of Henry James, Adamant Media Corporation, 2001.

Fred Kaplan, Henry James: The Imagination of Genius, Johns Hopkins University Press, 1999

F.O. Matthieson (ed), The Notebooks of Henry James, Oxford University Press, 1988.
Critical commentary

Elizabeth Allen, A Woman's Place in the Novels of Henry James London: Macmillan Press, 1983.

Ian F.A. Bell, Henry James and the Past, London: Palgrave Macmillan, 1993.

Millicent Bell, Meaning in Henry James, Cambridge (MA): Harvard University Press, 1993.

Harold Bloom (ed), Modern Critical Views: Henry James, Chelsea House Publishers, 1991.

Kirstin Boudreau, Henry James's Narrative Technique, Macmillan, 2010.

J. Donald Crowley and Richard A. Hocks (eds), The Wings of the Dove, New York: W.W. Norton and Company, 1978.

Victoria Coulson, Henry James, Women and Realism, Cambridge University Press, 2009.

Daniel Mark Fogel, A Companion to Henry James Studies, Greenwood Press, 1993.

Virginia C. Fowler, Henry James's American Girl: The Embroidery on the Canvas, Madison (Wis): University of Wisconsin Press, 1984.

Jonathan Freedman, The Cambridge Companion to Henry James, Cambridge University Press, 1998.

Judith Fryer, The Faces of Eve: Women in the Nineteenth Century American Novel, Oxford: Oxford University Press, 1976

Roger Gard (ed), Henry James: The Critical Heritage, London: Routledge, 1968.

Tessa Hadley, Henry James and the Imagination of Pleasure, Cambridge University Press, 2009.

Barbara Hardy, Henry James: The Later Writing (Writers & Their Work), Northcote House Publishers, 1996.

Richard A. Hocks, Henry James: A study of the short fiction, New York: Twayne Publishers, 1990.

Donatella Izzo, Portraying the Lady: Technologies of Gender in the Short Stories of Henry James, University of Nebraska Press, 2002.

Colin Meissner, Henry James and the Language of Experience, Cambridge University Press, 2009

John Pearson (ed), The Prefaces of Henry James, Pennsylvania State University Press, 1993.

Richard Poirer, The Comic Sense of Henry James, Oxford: Oxford University Press, 1967.

Hugh Stevens, Henry James and Sexuality, Cambridge University Press, 1998.

Merle A. Williams, Henry James and the Philosophical Novel, Cambridge University Press, 1993.

Judith Woolf, Henry James: The Major Novels, Cambridge University Press, 1991.

Ruth Yeazell (ed), Henry James: A Collection of Critical Essays, Longmans, 1994.
---
Other works by Henry James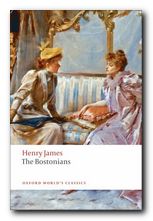 The Bostonians (1886) is a novel about the early feminist movement. The heroine Verena Tarrant is an 'inspirational speaker' who is taken under the wing of Olive Chancellor, a man-hating suffragette and radical feminist. Trying to pull her in the opposite direction is Basil Ransom, a vigorous young man to whom Verena becomes more and more attracted. The dramatic contest to possess her is played out with some witty and often rather sardonic touches, and as usual James keeps the reader guessing about the outcome until the very last page.


Buy the book at Amazon UK


Buy the book at Amazon US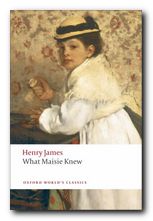 What Masie Knew (1897) A young girl is caught between parents who are in the middle of personal conflict, adultery, and divorce. Can she survive without becoming corrupted? It's touch and go – and not made easier for the reader by the attentions of an older man who decides to 'look after' her. This comes from the beginning of James's 'Late Phase', so be prepared for longer and longer sentences. In fact it's said that whilst composing this novel, James switched from writing longhand to using dictation – and it shows if you look carefully enough – part way through the book.


Buy the book at Amazon UK


Buy the book at Amazon US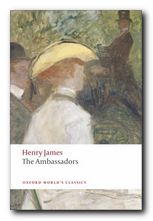 The Ambassadors (1903) Lambert Strether is sent from America to Paris to recall Chadwick Newsome, a young man who is reported to be compromising himself by an entanglement with a wicked woman. However, Strether's mission fails when he is seduced by the social pleasures of the European capital, and he takes Newsome's side. So a second ambassador is dispatched in the form of the more determined Sarah Pocock. She delivers an ultimatum which is resisted by the two young men, but then an accident reveals unpleasant truths to Strether, who is faced by a test of loyalty between old Europe and the new USA. This edition presents the latest scholarship on James and includes an introduction, notes, selected criticism, a text summary and a chronology of James's life and times.


Buy the book at Amazon UK


Buy the book at Amazon US
© Roy Johnson 2013
---
Henry James – web links

Henry James at Mantex
Biographical notes, study guides, tutorials on the Complete Tales, book reviews. bibliographies, and web links.

The Complete Works
Sixty books in one 13.5 MB Kindle eBook download for £1.92 at Amazon.co.uk. The complete novels, stories, travel writing, and prefaces. Also includes his autobiographies, plays, and literary criticism – with illustrations.

The Ladder – a Henry James website
A collection of eTexts of the tales, novels, plays, and prefaces – with links to available free eTexts at Project Gutenberg and elsewhere.

A Hyper-Concordance to the Works
Japanese-based online research tool that locates the use of any word or phrase in context. Find that illusive quotable phrase.

The Henry James Resource Center
A web site with biography, bibliographies, adaptations, archival resources, suggested reading, and recent scholarship.

Online Books Page
A collection of online texts, including novels, stories, travel writing, literary criticism, and letters.

Henry James at Project Gutenberg
A major collection of eTexts, available in a variety of eBook formats.

The Complete Letters
Archive of the complete correspondence (1855-1878) work in progress – published by the University of Nebraska Press.

The Scholar's Guide to Web Sites
An old-fashioned but major jumpstation – a website of websites and resouces.

Henry James – The Complete Tales
Tutorials on the complete collection of over one hundred tales, novellas, and short stories.

Henry James on the Internet Movie Database
Adaptations of James's novels and stories for the cinema and television – in various languages. Full details of directors and actors, production features, film reviews, box office, and even quizzes.
---
More tales by James
More on literature
More on the novella
More on literary studies
More on short stories
---